Unlikely comparison, certain curiosity. This time Dakar winners Rider and Motorcycle against a "commercial derivative" of the World Rally Champion Machine
19 maggio 2023
Sussex, UK, May 17. That of comparisons, of unlikely challenges it is a niche of attention kept firmly alive by curiosity. And revitalized, from time to time, by the parameters put in place. Put on a starting grid a cow and a railway crossing and the deluge of clicks is guaranteed. Innocent, carefree curiosity, a panacea.
The difficulty lies in identifying not only the means to be compared, but also and above all the terms and objectives of the challenge. That is, to create the "reliable" link of that otherwise more than improbable, out of place challenge. A "classic" is the challenge between the supersonic jet and the subsonic supercar. It is clear that the challenge no longer exists if it goes off the airport runway. Just give the jet a curve, or remove the asphalt under the wheels of the supercar, and you end up in the hospital in a comedy of morons.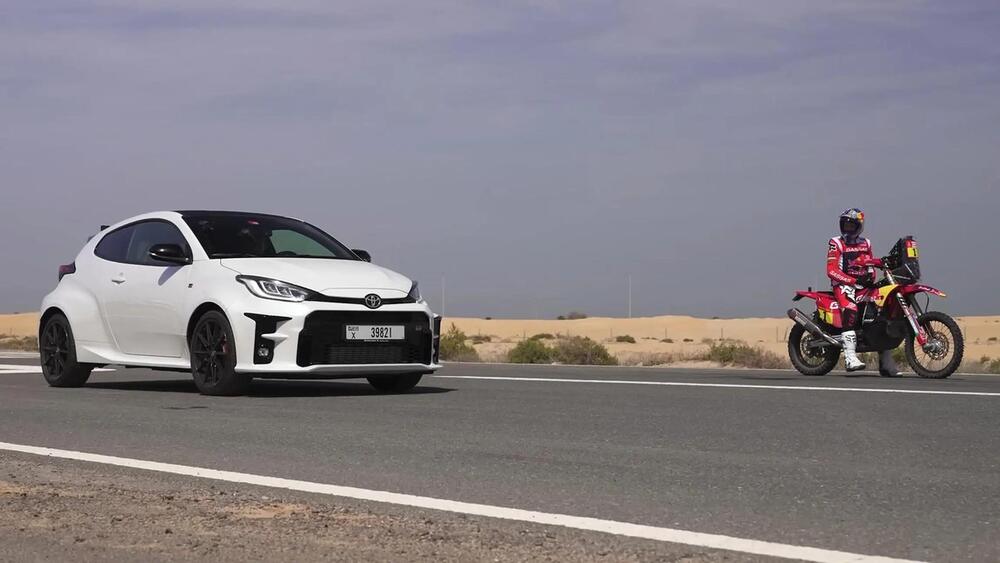 This time the ideacertainly not new, is to compare a motorcycle and a car. But two particular means. There Dakar winning bike and the car that more than any other closely resembles the Gazoo Racing car winner of the WRC World Rally Championship. On the one hand the GasGas 450 Rally Factory of the English champion Sam Sunderland (two Dakars active in the palmares), on the other the Yaris GR. The idea comes from Carwow magazine, which found the Yaris (and the Supra necessary for "cheating") the quarter mile on the free runway of the English airport, and which chose the popular matt watson as a Pilot.
The video of the challenge is worth seeing, because it breaks the mold by proposing curious variables during construction, altering the rules and parameters in such a way as to redistribute an otherwise one-way glory. For this reason it is interesting.
GasGas vs. Yaris under acceleration, then against GR Supra. Nothing to do, the Moto wins. Then change of surfaces by moving the bike on the sand, finally no more acceleration but… braking. Let's see beyond the obvious showcase for the two Toyotas (still a good idea, at least out of the very boring chorus-style) and find out how it ended…
GasGas Factory Rally. 450cc, 72 HP of power and 150 Nm of torque, 150 kg.
Toyota GR Yaris. . . . 1.6-liter, 264 hp, 360 Nm, 1280 kg.
Toyota GR Supra. 3 liter, 386 hp, 500 Nm. 1502 kg