Lots of fights, a pinch of exploration, some dialogue… this is our new test of Final Fantasy XVI. Did we like it? You bet!
Developer / Publisher: Square Enix / Square Enix Prezzo: € 69,99 Location: complete Multiplayer: Absent GO: 18 Available on: PlayStation 5 Exit date: June 22nd
We are almost there. The countdown continues unabated and, day after day, the release date of Final Fantasy XVI is inexorably approaching. By now, I say it for those who read this preview that has just "gone to press", only a month separates us from taking on the role of Clive Rosfield and from living an adventure that, between political intrigues, feelings and fights, will lead us to cross the length and breadth of Valisthea.
Thirty days that, after having had the opportunity to try new game sequences during an event organized by Plaion, seem too many. But first, a warning: the build on which this preview is based was created specifically for the press/influencer experience, ergo the contents may differ from the final version.
ENGINE… ACTION… FIGHT!
I already wrote it in mine reportage dedicated to the first test of Final Fantasy XVI, I repeat it with equal certainty in this new preview: I like the decision to opt for a combat system with a markedly action soul. I understand that there may be mistrust, and I understand that the most extremist fans of the saga may consider this choice almost heretical, but I can only reiterate how the solutions adopted by Ryota Suzuki, combat director with twenty years of experience at Capcom, truly have all the credentials for ensure a challenge that is both varied, fun and challenging enough.
The succession of clashes in which I ventured showed a rather wide range of situations, with a set of opponents that ranged from simple soldiers to small platoons, from "one-time" monsters to creatures already known to those who have haunted the Final Fantasy universe (a nice Molboro, just to name one…). A sequence of fights in which my Clive juggled with extreme precision, moving with agility and performing simple attacks, dodging and using special powers with an enviable naturalness. This is precisely the aspect that left me with the most positive sensations: pad in hand, it's easy to get to the heart of the action and take control of every single technique, without however ever being too obvious and banal.
pad in hand, it's easy to get to the heart of the action and take control of every single technique, without however ever being too obvious and banal
It seems to me, but obviously a more detailed test will be needed to reach a definitive judgment, that an excellent balance has been found between accessibility and complexity, and that for this very reason it is possible face even the most chaotic moments without ever being enveloped in an aura of confusion. This does not mean, it should be emphasized, that Final Fantasy XVI is an easy game, in which you proceed without the slightest effort. Dodges require the right timing to be performed effectively, the Eikon's special powers have cooldowns that prevent "spamming" (or maybe it's "spamming"?) and the enemies are bad enough.

In short, there is always something to be done, with the inclusion of an aid system instead of the classic difficulty level selector which allows you to change the degree of challenge during construction, making it suitable even for those who are uncomfortable with pure action but still wants to visit Valisthea and its regions. Finally, an element not to be underestimated, Final Fantasy XVI manages to cloak the most important battles of a magical aura, creating an engaging atmosphere resulting from truly spot-on aesthetic solutions. The short interludes during the fights, the shot changes and the quick time events are all positioned in strategic moments, in order to increase the spectacularity without however causing slowdowns and dead times.
A TOUR TO VALISTHEA
In addition to being the protagonist of a series of fights, during the test I was also catapulted into two substantially different places, Cid's lair and an open area called Three Reeds. The first is the canonical setting that acts as a central hub, within which you can obtain secondary missions, interact with the numerous NPCs present, acquire goods and modify the equipment at your disposal. I couldn't spend much time there, but the impression I got is that his tunnels, which form the operational base of Cid and his troop, do not hide particular surprises and that everything takes place in a rather classic way.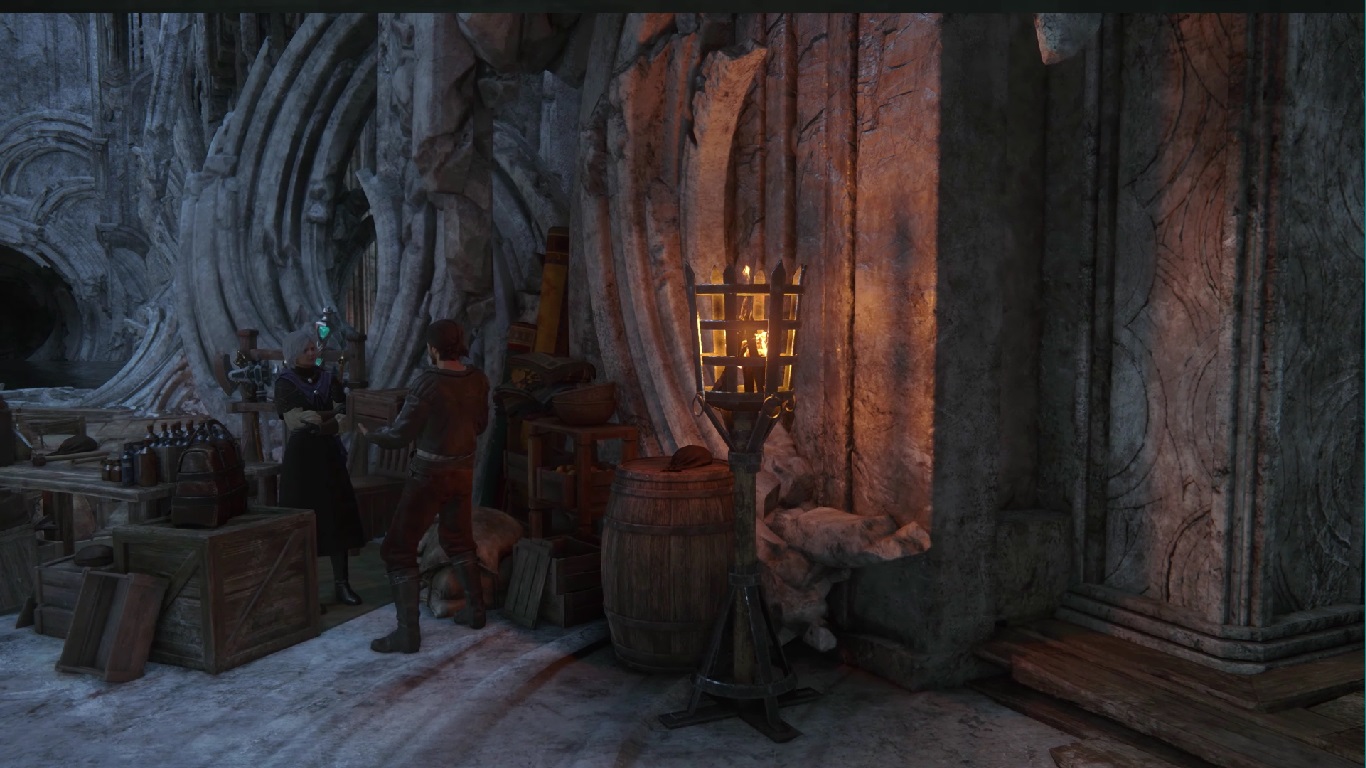 As far as Three Reeds is concerned, it represents one of the "open but closed" areas in which combat mixes with the exploratory component.
I sincerely hope that the game map also offers larger and more structured areas
Regardless, I do not reject the development team's choice not to opt for an open world that is completely connected in all its parts, but after spending a few minutes wandering around, I sincerely hope that the game map also offers larger and more structured areas, which offer paths less guided and which leave greater freedom of movement. In fact, the spaces for maneuver seemed rather limited to mewhile the amount of content seemed adequate to me, with some tough creatures that grazed happily waiting to fight and several side missions just waiting to be activated.
COUNTDOWN TO FINAL FANTASY XVI
Having said that I prefer to avoid launching myself into any type of examination of the narrative sector, also because I admit that I have "skipped" a good part of the interlude films that scrolled before my eyes in order not to run the risk of spoilers. what I saw in the prologue introduces several potentially interesting themeswith personal crossings and some surprises that lay the foundations for a story that has all the credentials to develop in an intriguing and engaging way.
In case you don't trust my opinion, you will soon be able to get an idea of ​​what are the basis of the plot of Final Fantasy XVI, seen the next release of a demo that will focus precisely on the prologue of the story. Precise details on the launch date have not yet been provided, but Naoki Yoshida has confirmed that it should not be long before its release.
after the uncertainties in the mix revealed during the previous test, this time the audio in Italian seemed decidedly more balanced
Probably a matter of days, which will offer everyone the opportunity to appreciate not only the narrative component, the structural solutions and the visual impact, but also the excellent audio sector, with the spectacular musical accompaniment by Masayoshi Soken which serves as the perfect background to the action and an Italian dubbing which, after some uncertainty in the mix revealed in a previous version I tested, seemed decidedly more balanced and convincing.
N.B. With reference to the video sequences used for the video preview, from which the preview images are also taken, Square Enix specifies that "the contents shown come from a special version created for the press, for the same reason they could differ from the final experience."
Previous article
TGM 399 arrives, minus one at 400!