A video game is reshaping the marketing of the agricultural industry. Well, rather, from the tractor industry. Normally, these vehicles for the rural world were advertised at industry fairs or specialized press, but now companies have discovered a place to advertise that provides them with much more visualization and notoriety: the Farming Simulator video game.
Farming Simulator allows its players (which we could actually call customers) test new vehicles, trailers, combines and other machinery in a very realistic way. And that has attracted many people willing to buy products or who have doubts about which tractor to buy. The manufacturers, realizing the popularity of the video game and the use that many farmers were giving it, concluded that the best way to advertise their products in front of millions of people was by paying to add their vehicles to the video game. The problem is that now everyone wants to do the same thing.
Such has been the phenomenon that the developer, Giants Software, explained in this Observer article that receives hundreds of requests a year from manufacturers about how they can appear in the game. To the point that this already provides them a stream of income enough to cover the costs of developing the game. "At first, we had to ask manufacturers to include them in the game," said Wolfgang Ebert, the company's marketing manager. "Today we have to consider who we can integrate and what benefit it brings – we have many, many brands waiting to be included."
It should also be noted that the video game only has the capacity to house 500 products in its PC and console versions and 130 for mobile. That means that there is a whole battle to enter that virtual world and that the developer has to decide who to give such a privilege to and who to take out of the game. It is also an obstacle for companies, who cannot simply advertise their entire catalogue, but have to be selective. That is why many end up placing their largest and most expensive machines. "The really interesting thing is above nine meters, that's what everyone wants to announce," explains the company.
Realism is the key
Farming Simulator is already so heavy in the industry that some companies are even releasing their products in real life simultaneously with updates to the game. Finnish manufacturer Valtra, for example, announced its latest series of tractors at the same time it entered Farming Simulator 2022. Literally, the trailers they were released the same day. "We have been collaborating since 2014 and we see if our schedules coincide, and that makes things cooler," explained Pamela Engels, Valtra's senior manager of communications and digital marketing in this Guardian article.
In order for this to be possible and for the products to be represented faithfully to reality, the companies send technical drawings with all kinds of engineering details so that the accurately simulate. "We work closely with manufacturers to get the physics and methods of operation right to ensure that each piece of equipment works as closely as possible to its real-world counterpart," said Giants Software partner manager Martin Seidel.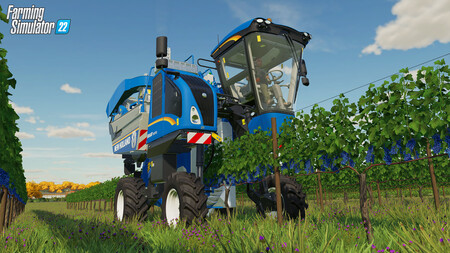 But wait, what is Farming Simulator really about? You don't need to know much about tractors to be able to play it. Players start with a sort of barn, some equipment, and some dirt. And the goal is to grow food, sell it, expand your farm and buy better equipment. But what makes it unique is that, like Microsoft Flight Simulator or the Formula 1 saga, it is extremely realistic.
Although unlike these, while players who like racing or airplanes cannot afford these vehicles, there are many farmers who can test drive a new tractor they want to buy before spending half a million euros on it. And it is precisely that realism which makes it a great marketing tool. In addition, Farming Simulator has no rival in the video game industry, since most of the games are mobile and have not been so concerned with that realism, but with playability and entertainment. FarmVille and Stardew Valley are some examples.
It is not the first time that video games serve as a medium for advertisers. We have seen how some have included advertising and placed products, from mobile phones to junk food. H&M went so far as to sell add-on clothing packs in The Sims, and Sony managed to advertise the PlayStation on electronic billboards in FIFA stadiums.
Images: Farming Simulator
In Xataka | In the tractor industry, the tractor matters less and less. The future goes through software and John Deere knows it