Coinciding with the warm months ahead, suitable for hay and forage production, when the grass is at its best green, the publisher and developer GIANTS Software announces the Hay & Forage Packcoming up Farming Simulator 22. Will be released on June 13th per PC e console.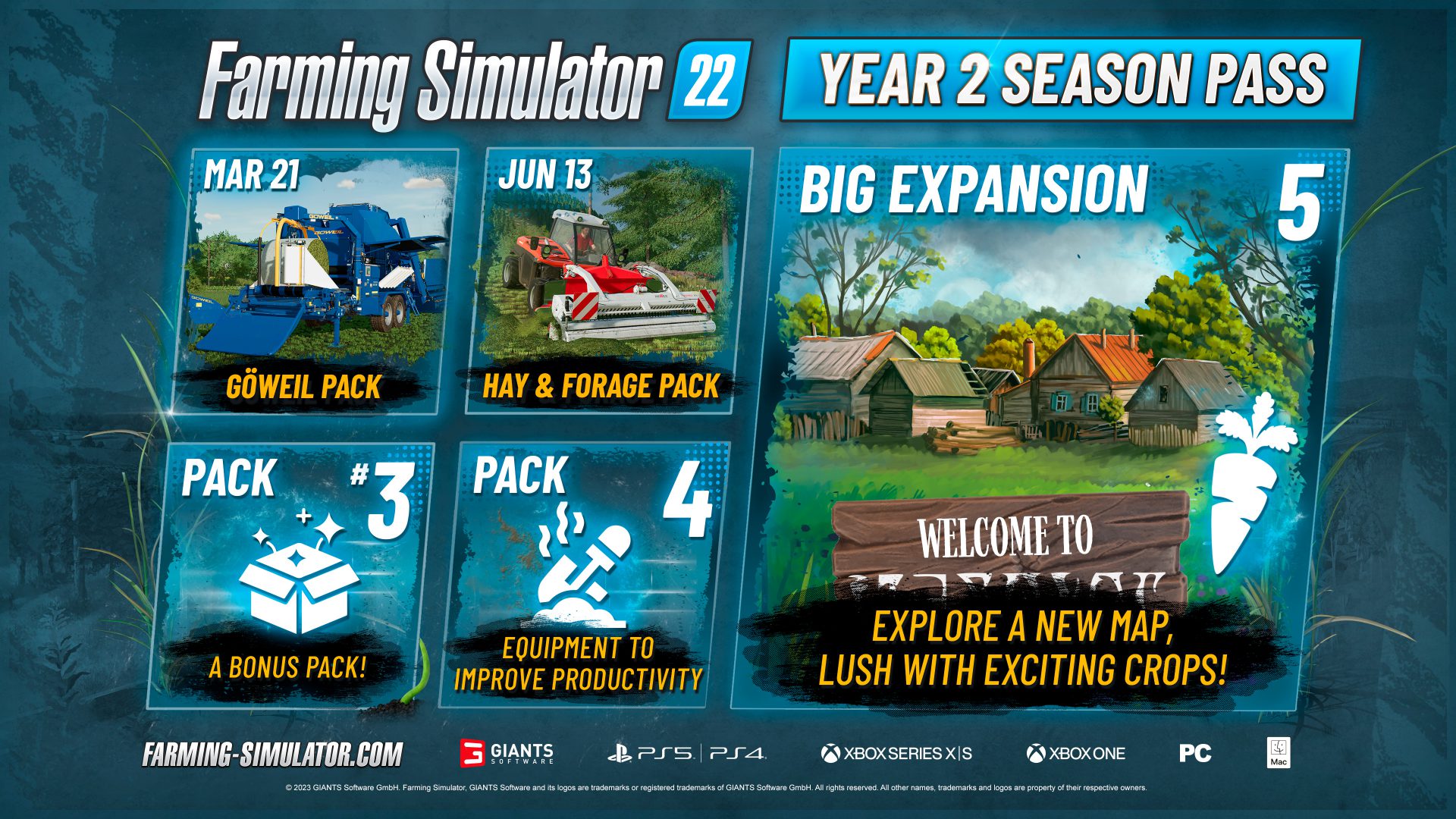 NEW BRANDS AND SPECIALIZED MACHINERY
It's time for a bigger fleet: 17 new specialized vehicles and tools are included in the Hay & Forage Pack. Furthermore, GIANTS Software welcomes three new brands to the world of Farming Simulator: The German mower specialist Brielmaier and the Austrian manufacturers REFORM and Reiter enter the game with authentically digitized machines.
In general, there are seven brands in the pack, such as, for example, KRONE, PÖTTINGER, Rigitrac and Sepp Knüsel which in turn expand the fleet of machinery. Each machine, real or virtual, is designed to make agricultural life easier and more enjoyable while operating on vast prairies or more difficult green areas inserted within hilly landscapes.
MODERN MACHINES WITH FUN FEATURES
With the new pack, fans can enjoy a wide range of agricultural machines: from specialized tractors, such as the REFORM MOUNTY 110V or the Rigitrac SKH 60 with its cab that adapts to different slopes, to loading wagons such as the modular REFORM PrimAlpin or the PÖTTINGER JUMBO 8450 DB. From mowing to unloading at collection points, the new pack covers all the important steps in hay and forage production.
Mowers like the KRONE Easy Cut F 320 Highland feature a side slip functionality, while rakes will be more efficient thanks to adjustments for more difficult terrain and the unique design of the Reiter RESPIRO rotary rake.
MACHINES INCLUDED IN THE HAY & FORAGE PACK
Brielmaier – Motor Mower S250KRONE – EasyCut F 320 HighlandKRONE – Swadro S 350 HighlandKRONE – Vendro 820 HighlandPÖTTINGER – JUMBO 8450 DBPÖTTINGER – TOP 1403 CREFORM – MOUNTY 110VREFORM – MULI T8XREFORM – MetracREFORM – PrimAlpinREFORM – Tipper UnitReiter – R3 compact 700Reiter – R7 rdReiter – R9 profiRigitrac – SKH 60Sepp Knüsel – TornadoSepp Knüsel – Tornado Plus
Farming Simulator 22 is available for PC, Mac, PlayStation 5, Xbox Series X|S, PlayStation 4 e Xbox One; the Hay & Forage Pack is ready for pre-order and will be released on June 13th.
A Year 2 Season Pass is available, which includes the Hay & Forage Pack, three other additional packs and an expansion – fans will be able to save 30% compared to purchasing separately.
For more information, you can visit the official Farming Simulator website.