Freeman wins on Saturday, Garcia on Sunday. The Englishman was impregnable on the first day of the GP of Finland, then he fell and the Spaniard in a state of grace managed to interrupt his series. Kevin Cristino with full points in Youth
29 maggio 2023
Heinola, Finland, May 28. Very high level, incredible show, stratospheric Champions. The World Enduro is this! And much more if the three elements are distributed equally on the days of competition and on the results. World EnduroGP Paulo Duarte lives his first boreal act in Finland, next in line will be Sweden. The physiognomy of the Competition and the terrain conditions change. This time it's mud, humid forest, variable weather, characteristics that make the Finnish double round look like the Regularity of the Anthology. Someone seems to take advantage of it, but running away is impossible: even in the most apparently defined conditions there is always someone who breaks the lines and shoot to chase, to overtake, to victory.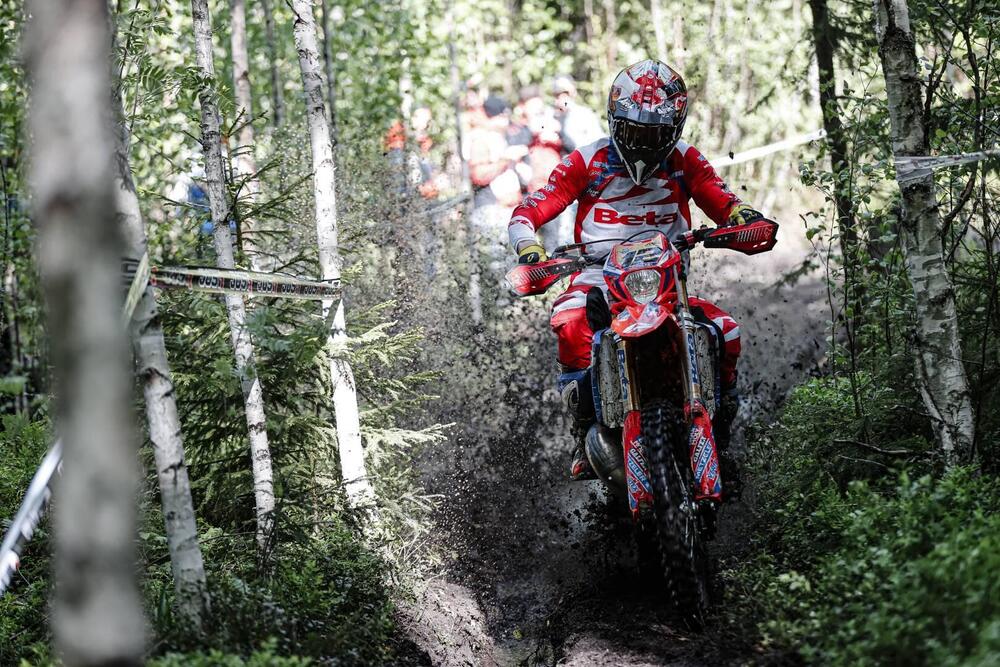 A line was drawn on Saturday. The budget was pretty clear. Brad Freeman he had lined up everyone, starting with the high-performing teammate Steve Holcombe. A Beta double almost sensational than the official Red Bull KTM Factory Joseph Garcia he had had to watch from the third step of the podium, and not too close in terms of results. 30 seconds from Holcombe and a minute and a half from Freeman. That northern sunset had suggested that that Freeman was difficult to negotiatepractically impossible to achieve. For English of Fabrizio Dini it was the fifth consecutive victory, a phenomenal en plein at the beginning of the season with full loot in Italy, Spain, and a "trend" confirmed on the first day of Heinola.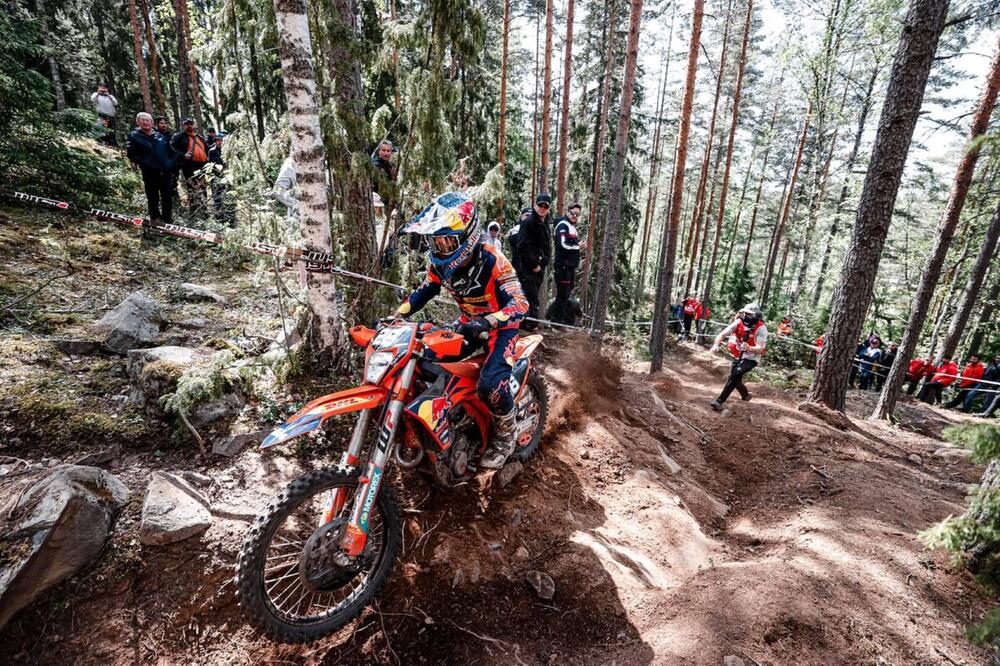 Freeman had won six of the ten SpecialsSuper Test on Friday included, and apart from a small break due to a mistake in the first test on Saturday, which had launched for a moment Holcombe's testa, had been firmly in command from start to finish. Garcia had grown up, but he still paid too much, Hamish McDonaldSherco, had done his race and Andrew Verona, GasGas, did not seem up to last year's triumphant season. Perhaps the change of engine capacity between the "cousins" was not, judging from the moment, the happiest choice of Fabio Farioli? Dunno, then we'll see, things aren't clear yet, luckily for everything and everyone in Sport. In fact Freeman stretches in EnduroGP and E3, Verona still plays with Holcombe in E2, e Garcia has no significant rival in E2.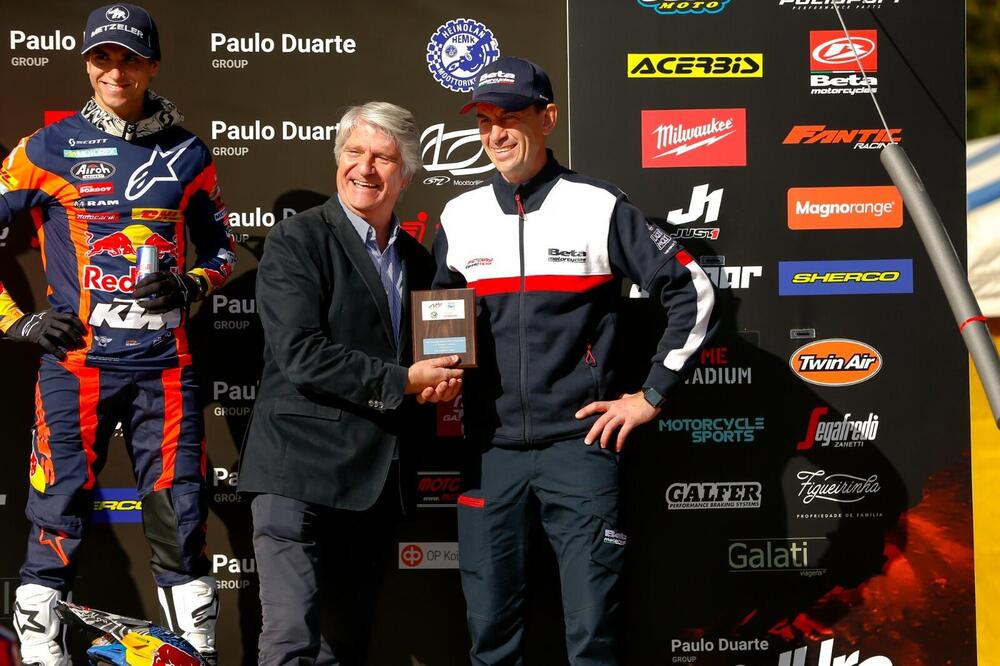 Something changes on Sunday. That is, something happens that calls into question the now Easy prediction. Everything, however, starts more or less like Saturday. Garcia wins the first and Freeman takes the lead in the second. The Englishman remains in command until the fourth round, and in the meantime Garcia grows. The fifth is the keystone of the second day of the Enduro World Championship in Finland. freeman falls badly on the second line, the bike flies into him and crushes his head inside the helmet. Nothing serious, neither in terms of the accident, Freeman recovers but will bring a big headache until the end, nor of the result. Holcombe wins the next Extreme and takes the lead. Nice race. 4 specials at the end, Garcia goes wildreturns to giving the best of itself that we know. He wins three times and takes the lead in the last Cross Test to stay there until the end. Handsome. The podium with the top three of the EnduroGP, Garcia, Freeman and Holcombe, in a nine-second handkerchief. Beautiful! Holcombe wins E2 but Verona is closer, Albin Norrbin takes over from Jed Etchells in the Junior, but we always talk about Fantic, while the Youth is Kevin Cristino's highway, Fantic, who scores another brace. same speech, and same Motion, for Jane Danielswhich continues to rage uncatchable in Women.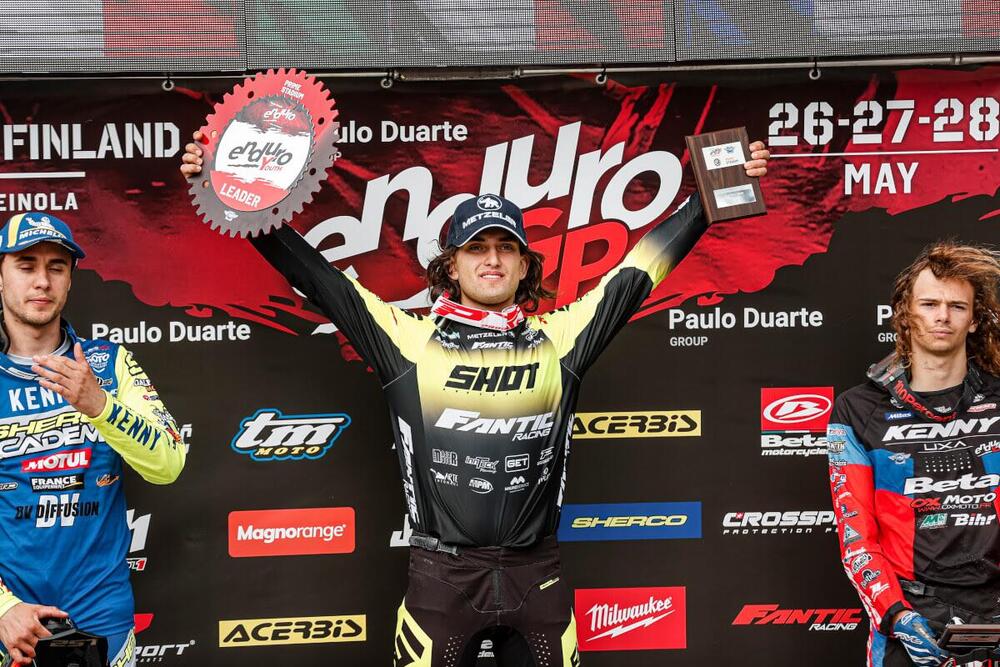 World situation. Freeman vola still high and lonely in the EnduroGP (and let's not talk about the E3!), but Garcia has reached Holcombe in second place. As they said, Garcia has no opponents in E1, while in E2 if Holcombe stretches slightly with the fourth consecutive victory this does not mean that Verona is far away (8 points behind). "Called" Freeman in Enduro GP after five consecutive wins, a full score only two Drivers remain, Daniels (Francesca Nocera is third) and the elusive Cristino. This is as we approach the halfway point of the championship. Indeed, in a week's time in Sweden, the halfway round race will be staged on Saturday in Skövde.
© Imagini Paulo Duarte EnduroGP – Beta Media – TM Boano – KTM – GasGas – JET Racing – Sherco Media
EnduroGP Finland. Saturday. . . . 1. Brad Freeman (Beta) 58:05.88; 2. 59:00.60; 2. Steve Holcombe (Beta) 59:00:60; 3. Jose Garcia (KTM) 59:33.84; 4. Hamish MacDonald (Sherco) 1:00:04.96; 5. Andrea Verona (GASGAS) 1:00:28.09; 6. Theo Spinasse (Beta) 1:00:28.55; 7. Zach Pichon (Sherco) 1:00:53.27; 8. Matthew Horse (TM Racing) 1:01:05.57; 9. Michael Persson (Husqvarna) 1:01:26.06; 10. Jamie McCanney (White) 1:01:26.11.
EnduroGP Finland. Sunday. . . . 1. Jose Garcia (KTM) 56:50.87; 2. Brad Freeman (Beta) 56:59.11; 3. Steve Holcombe (Beta) 56:59.82; 4. Andrea Verona (GASGAS) 57:51.70; 5. Hamish MacDonald (Sherco) 58:06.09; 6. Theo Spinasse (Beta) 58:44.72; 7. Michael Persson (Husqvarna) 59:15.04; 8. Nathan Watson (Honda) 59:22.03; 9. Zach Pichon (Sherco) 59:24.45; 10. Anthony Magain (Sherco) 59:35.05.
EnduroGP General after 6 Tests:
1. Brad Freeman (GBR), Beta, 117 points
2. Josep Garcia (ESP), KTM, 92 pts
3. Steve Holcombe (GBR), Beta, 92 pts
4. Andrea Verona (ITA), GASGAS, 84 pts
5. Hamish MacDonald (NZL), Sherco, 63 pts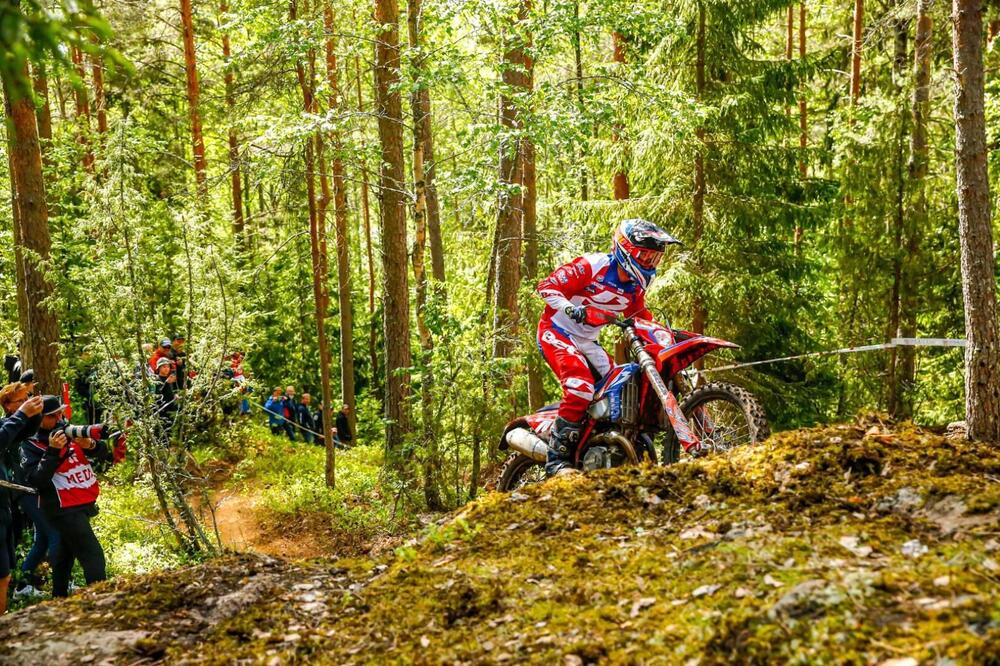 FIM Enduro World Championship 2023:
31 March-2, April, Italy – San Remo/Arma di Taggia
5-7 Maggio, Spain – Moon
26-28 Maggio, Finland – Heinola
1-3 June, Sweden – Skovde
June 30-July 2, Slovakia – Gelnica
September 29-October 1, Portugal – Valpacos
6-8 October, Portugal – St Andre/Santiago do Cacem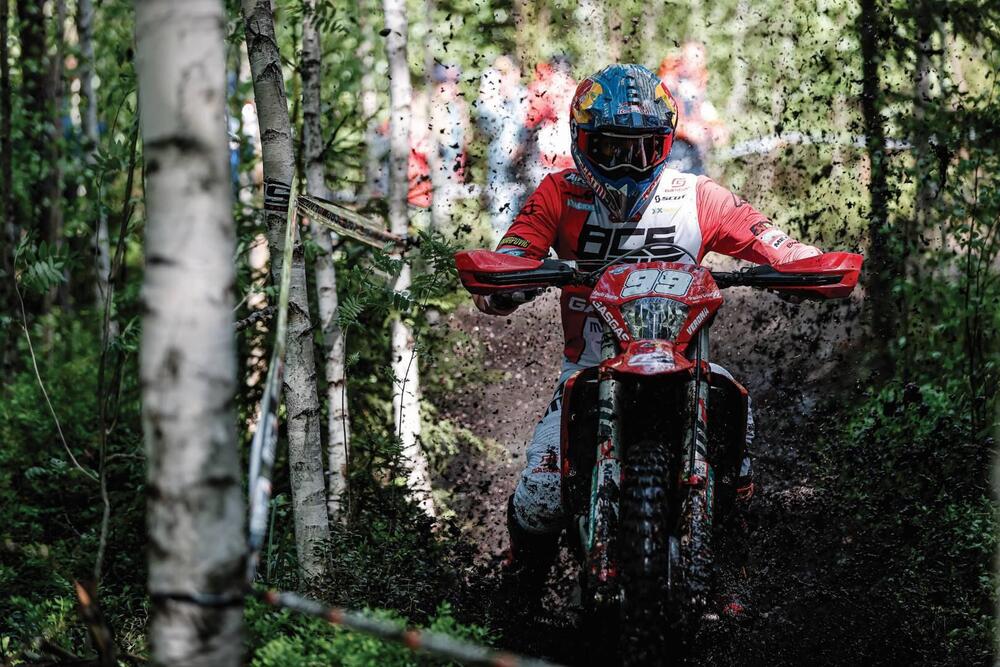 EnduroGP #3 Finland. Freeman, Beta, and Garcia, KTM, Gods of the North