Marta and Encarni are starring in great duels in 'Pasapalabra', and in the musical 'La Pista' they have made us have a great time with their song 'Dama, dama'.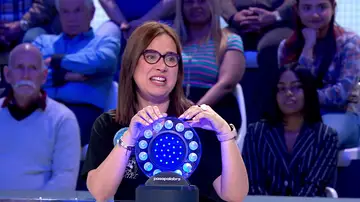 The contestants play for a jackpot of 286,000 euros in 'El Rosco'. Marta is the first to start the turn with 164 seconds to her credit. For her part, Encarni starts with 136 seconds and gets a round of four hits in which the word 'second prize' stands out. A term on which Roberto Leal has given us his explanation.
In her next turn, Marta has hit a word as colloquial as 'lettuce', a term that has served Roberto Leal to explain the origin of that word derived from milk.
Encarni gets a turn of seven consecutive hits in the middle of his first round in 'El Rosco' of 'Pasapalabra'.
Marta gives her rosco a good push and gets six consecutive hits.
Encarni fails at the 'extreme' a football definition that gives him his first failure in this Rosco of 'Pasapalabra'. The contestant ends the first round with 18 correct answers and one failure.
Marta ends her first round with fifteen hits and no misses. Encarni stands with 22 hits and one miss, leaving all the responsibility in the hands of his rival. Will he achieve a comeback in 'El Rosco'?