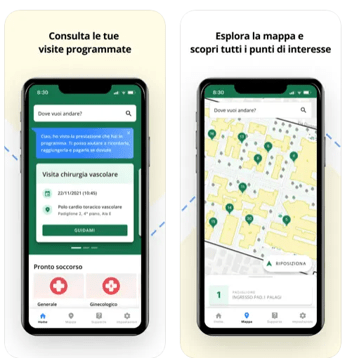 Orient and guide patients in their visit to the Policlinico di Sant'Orsola in Bologna. This is the objective of 'Easy Hospital', the new App developed by Engineering, leader in the digitization of processes for businesses and Public Administrations, to facilitate user access to the health services offered in the hospital citadel. The solution – reads a note – created in collaboration with the Polyclinic, the Emilia-Romagna Region and the technological partner Tap My Life, integrates the services offered in the digital space (Cup, eliminate queues, payments), creating hybrid, fluid experiences and without interruptions in the passage with the physical environment (totems, waiting rooms, clinics) in which the services are located.
The App, available free of charge in the stores for iOS and Android smartphones – details the note – is always up-to-date and able to accompany the patient step-by-step on his or her visit journey: from confirming the booking via SMS to tracing the route within the hospital citadel, from the payment of the ticket to the entrance to the clinic, where you will be notified with an alert when it is time for the visit.
Acceptance also becomes automatic: upon accessing the pavilion the user is recognised, if necessary he makes the payment and receives the number with which he will be called once he arrives in the waiting room. Thanks to indoor and outdoor navigation, enabled by GPS, Bluetooth and sensors that transmit data for indoor location to mobile devices such as tablets and smartphones (beacons) suitably positioned inside the pavilions, the user will be guided through a map from entrance of the Polyclinic up to the waiting room to which it is directed, possibly with the support of a vocal guide instead of the interactive map.
At the end of the service, Easy Hospital will also offer the patient other useful services to complete his experience: return to the parking area, access to local public transport stops, location of other useful services, such as pharmacies and bars. Once the experimentation at the Sant'Orsola Hospital has been completed and the feedback from the service users has been processed, which is useful for measuring results and evaluating the integration of further services such as the implementation of a chatbot or integration with the electronic health record or Spid, the App may also be adopted by other hospitals in Emilia-Romagna.
The areas of application – concludes the note – are potentially multiple because any space that hosts public services can allow the activation of the online guide: it could be extended to sectors such as culture or tourism, for example to create an interactive guide in museums or to discover historic centers and places of interest.