We are going to explain to you how to download ChatGPT for iOS directly on your iPhone, using the ChatGPT app, which is already available in Spain. This is the official OpenAI app, and the only one you need if you want to use the free version of ChatGPT on your iPhone without having to pay anything or resort to third-party applications.
But if you are not convinced by this application, we are also going to give you some suggestions to find free alternatives to the official app to have ChatGPT on your mobile. In this way, you will be able to know other ways to interact with GPT-based AIs from your mobile, even from Android.
Download ChatGPT on iOS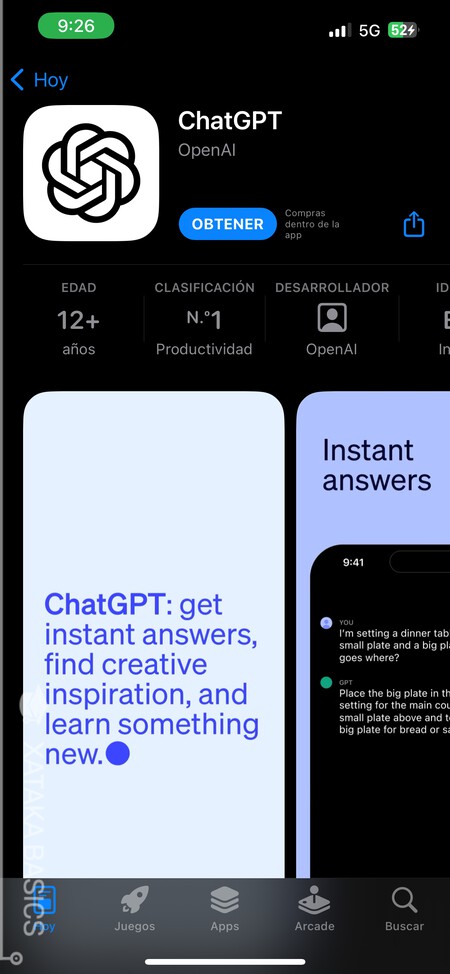 Although initially it was not, now the ChatGPT app is already available in Spain, which means that you can download it without any complications. All you have to do is look for it in the App Store, or enter the address apps.apple.com/es/app/chatgpt/id6448311069 so that it opens in the app store. Here, download it like any other app.
Once you download the application and open it, you will go to the screen for create your account or login in an account that you already have in OpenAI. If you have used ChatGPT on the web or some other company tool, then you can use the same account on your mobile by clicking on Log in. And if not, you can create a new account.
After logging in, you will go to a screen where you are given some important notices. The first thing is that ChatGPT is not accurate or up-to-date, so the information it gives you may not be completely true. In addition, it is also recommended that you do not share private information, and you are told that you can decide whether to delete your chat history. Click on Continue to continue.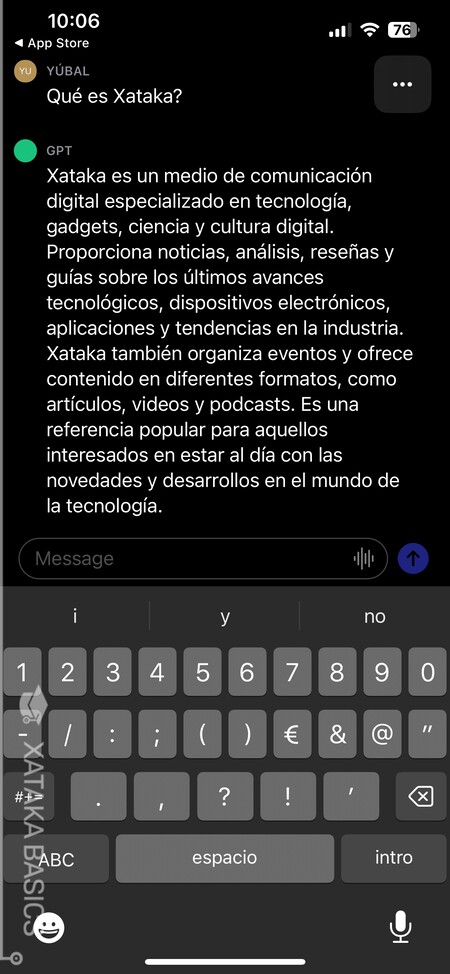 And from here, yeah you can start using ChatGPT normally. You can write what you want or send a voice message to transcribe it and thus enter the command. Also, if you have a ChatGPT Plus subscription you can use it with GPT-4 also in this app.
Other alternatives to the official app
In the event that you are an Android user or you do not want to use the official app, you still have some alternatives. The first is Bing Chat, in which you will be able to use ChatGPT for free with the GPT-4 version adapted to the browser. You got it in the Bing app for your mobileso you can download it on Android and iOS.
You also have available bots like LuzIA for WhatsApp, a Spanish initiative that allows you to interact with GPT directly in the messaging app. Here, the good thing is that you can send him voice messages and he will understand them, and that you can ask him to draw pictures for you.
Another alternative, obviously, is to use the website is chat.openai.com. This is the official ChatGPT website, and it will allow you to use this chatbot in any browser without having to download an application. Possibly, it is the best alternative to the official app because they are exactly the same.
In Xataka Basics | 22 functions and things you can do with ChatGPT to get the most out of this artificial intelligence