Marta returns to face the 'Silla Azul', after being offside in that test by her opponent in the previous program and being surpassed in correct answers in 'El Rosco' against Encarni.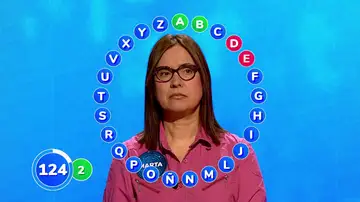 Marta confronts an Asturian with a degree in Hispanic philology, Diana. A contestant who confesses to being a fan of the program: "I like to see it with my 96-year-old grandmother," said the applicant in the 'Blue Chair'.
They both begin to play and Diana makes the first mistake in the test, but immediately afterwards Marta is not able to find the word with 'E' that Roberto Leal asks her.
After nine rounds of questions, Diana ends up failing to find the word that defines "the chain shape", a great rival who has come to do it has a hard time with Marta in the 'Blue Chair'.