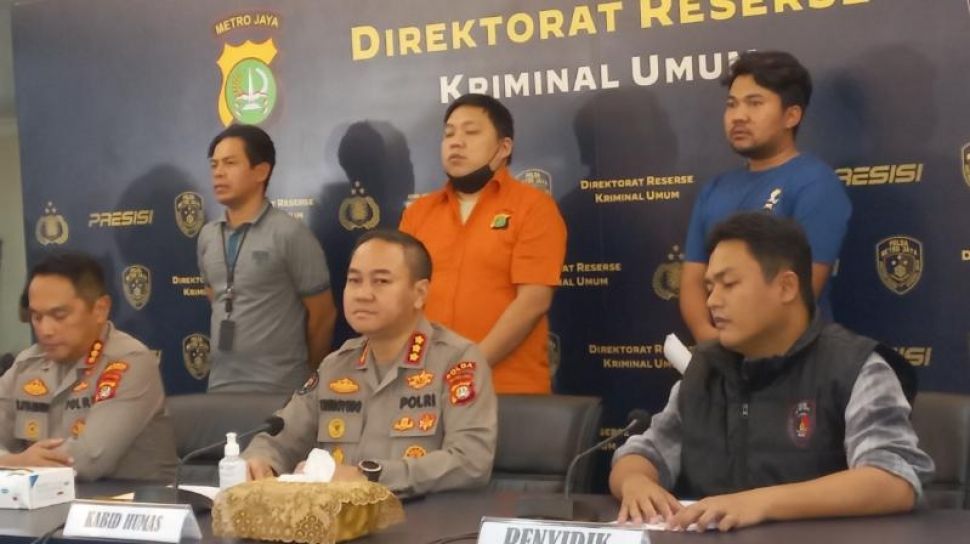 Suara.com – Polda Metro Jaya revealed the identity of a street cowboy who abused an online taxi driver named Hendra (42) in West Jakarta. The perpetrator was a 32-year-old man named David Yulianto, a resident of Duren Seribu, Depok, West Java.
Kabid Humas Polda Metro Jaya Kombes Pol Trunoyudo Wisnu Andiko said, David was arrested by a joint team from West Jakarta Metro Police, Ditreskrimsus and Ditreskrimsus at the M Town Apartment, Serpong, Tangerang Regency this afternoon.
"In his statement, the person concerned is a private employee," said Trunoyudo at Polda Metro Jaya, Jakarta, Friday (5/5/2023) evening.
Now, said Trunoyudo, investigators have named David a suspect. He was charged with Article 352 Juncto Article 335 of the Criminal Code and/or Article 1 Paragraph 1 of the Emergency Law of the Republic of Indonesia Number 12 of 1951.
Also Read: Street Cowboy Arrested, Here's Uya Kuya's Message to Victims
"A maximum of 20 years in prison," said Trunoyudo.
Fake Plates
A video related to this incident was uploaded to the Instagram account of Deputy Chairman of Commission III DPR RI Ahmad Sharoni. In the video, the perpetrator appears to be using a Mazda sedan with the number plate for the Polda Metro Jaya Police 10011-VII.
The perpetrator allegedly committed this act because he did not accept that his vehicle was cut off by the victim's car. The man then got out of his car, cursed, hit, while carrying a gun.
"You cut me gob *** an **** you don't have any regrets," said the perpetrator quoted from the video, Friday (5/5/2023).
Also Read: Seconds of the Arrest of a Street Cowboy at the Serpong Apartment
Trunoyudo has confirmed that the National Police official plate 10011-VII mounted on David's Mazda sedan is fake. According to him, the original plate with the number was attached to the 2003 Toyota Kijang type official car belonging to Polda Metro Jaya.
"The TNKB (motorized vehicle registration number) used by the reported party is currently still registered on a 2003 Toyota Kijang type vehicle belonging to Polda Metro Jaya and is still installed according to its designation with a validity period of 13/4/2022 to 13/4/2023," he said .