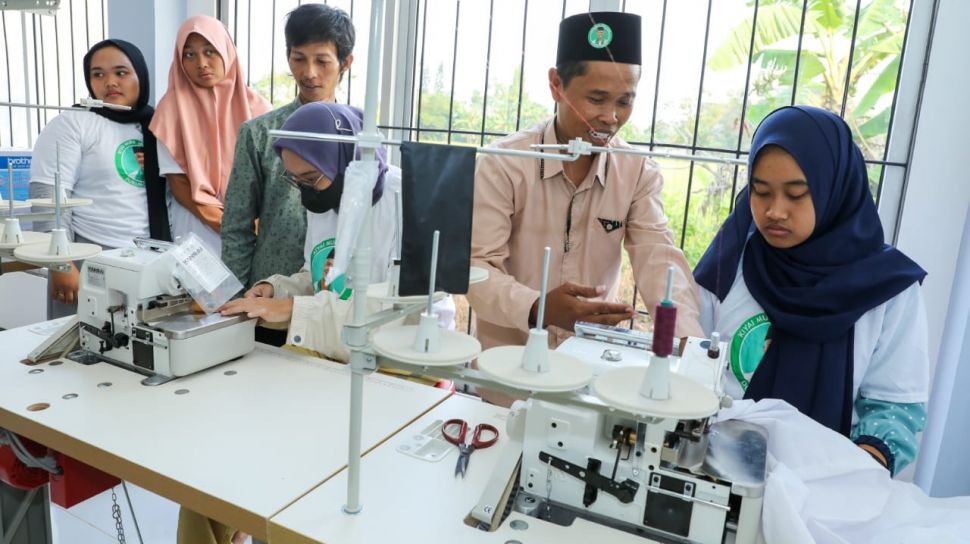 Suara.com – In order to realize the creation of superior human resources (HR), East Java Young Kiai held sewing training.
The activity targeted hundreds of students and alumni of the Al Mansyur Islamic Boarding School in Sambeng Village, Kasiman District, Bojonegoro Regency, East Java. The surrounding community, which was dominated by women, also attended to enliven the event.
Before the training started, they first performed dhikr and prayed together so that Ganjar Pranowo's wish would be successful next year.
"Today the Young Kiai of East Java are holding training and also educational education about sewing convection, overlock, placing buttons on clothes, ironing the laundry business, and so on," said Regional Coordinator of the East Java Kiai Muda, KH Ali Baidlowi, written on Wednesday (31/5/2023) ).
Also Read: Consistent in Producing Quality HR, Bank Mandiri Tops the 2023 LinkedIn Top Companies Ranking
Beginning with the provision of material regarding pattern making and cutting of cloth, the training was guided by a tutor who is competent in his field, namely a convection management named Nadirin.
After that, then the participants were taught directly the practice of how to sew clothes in the form of clothes. It didn't stop there, they also learned how to use a steam iron which is usually used for laundry businesses.
"Our first goal is to continue to support Pak Ganjar Pranowo to become President of the Republic of Indonesia in 2024. The second is that we are trying to realize the aspirations of this nation to create superior human resources," said KH Ali Baidlowi.
According to him, the convection business is one of the businesses that is growing rapidly in today's society.
Apart from that, this business is also very promising in the modern era, which prioritizes fashion.
Also Read: Consistent in Producing Quality HR, Bank Mandiri Tops the 2023 LinkedIn Top Companies Ranking
KH Ali Baidlowi hopes that the benefits of the training will continue to be felt on an ongoing basis for students and the community.
Kiai Muda East Java will connect participants with existing convection businesses so they can create promising new business opportunities in the future.
Thus, the goal of becoming an independent nation through superior human resources can be achieved in the context of improving the economy.
"And finally also creating new economic nodes, new MSMEs, and new businesses and improving their economy. We hope that students and the community will be more independent in terms of business, to be more independent in terms of the economy," hoped KH Ali Baidlowi .
"The dream of the East Java Young Kiai is for them to open their own business and have their own employees so that the nation's economy will be more independent," he continued.
The same thing was conveyed by the Leader of the Al Mansyur Islamic Boarding School, Anang Nur Aziz. He wants, so that the training can continue to benefit from it on an ongoing basis.
"Alhamdulillah, thank you for the program from Kiai Muda, we hope that this program will be sustainable, local residents will get a lot of benefits from these activities," said Anang.
As a form of gratitude, Anang continues to support Ganjar Pranowo. Because, in Anang's eyes, Ganjar is a leader who represents the figure of the santri.
"Our hope is that in the future Mr. Ganjar will always be trustworthy," he said.