The visit of Miguel Ángel Muñoz, Mónica Cruz and Beatriz Luengo has left great moments tonight during their visit to 'El Hormiguero'. The actor has become a Platinum guest and is already part of the most VIP club on television. In addition, Monica Cruz and the actor have talked about her relationship when they were young and how they lived it.
After his interview, Carlos Latre has come to 'El Hormiguero' to talk about his secret daughter and the coronation of Carlos III: "I didn't go because I didn't want to eat broccoli," he joked.
In addition, Carlos Latre has spoken about his stay in Sanxenxo: "We couldn't get on the boat, but I was fed up with shellfish", he pointed out.
Playing chipped phone
Later, the emeritus king has played the broken telephone with Mónica Cruz, Miguel Ángel Muñoz and Beatriz Luengo and left us very funny moments.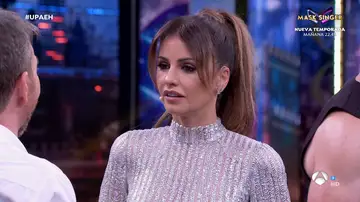 The actors have had to do an imitation on a character indicated with a characteristic phrase of his and the others have had to guess it.
Could the actors have been able to hit all the imitations? Find out in the video and share a moment of laughter with our great Carlos Latre!