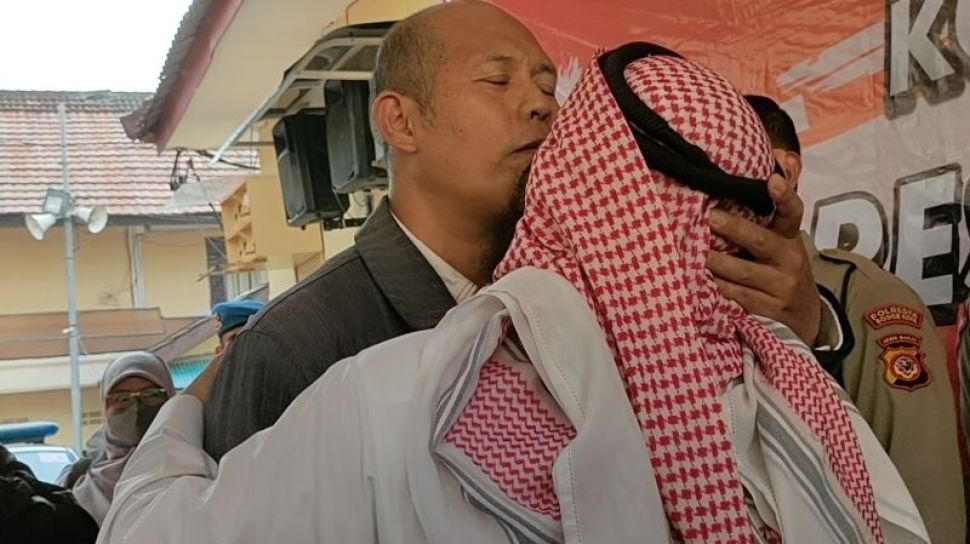 Suara.com – Bogor City Police, West Java Regional Police submitted a notice of violation of the Saudi Arabian foreign citizen (WNA) with the initial TM which went viral blocking the PKS ambulance from taking critical patients to the local hospital, to the Immigration Office Class I Non TPI Bogor for follow-up.
Bogor City Police Chief Kombes Bismo Teguh Prakoso during a press conference regarding the case which presented the Bogor City PKS DPD ambulance driver Rudianto, TM, his wife to submit the notification letter of the foreigner's violation to the Head of Class I Non-TPI Immigration Office Bogor Ruhiyat M Tolib.
"And (holding the letter) this is a letter from the Bogor City Police to the head of the Immigration office and I hand it over," said Bismo at the Bogor City Police Headquarters, Wednesday (10/5/2023).
In front of the police and media crew, TM and the PKS DPD ambulance driver Rudianto warmly embraced each other, expressing forgiveness, despite receiving a fine from TM and sending a letter to the Immigration.
Also Read: 6 Facts about Australian Citizens Spitting on Mosque Imams: Allegedly Disturbed by the Voice of the Koran, Now Arrested by the Police
Bismo explained that in the letter it was stated that for violations of the TM against the Road Transport Traffic Act RI Law No. 22 of 2009 article 287, which does not provide an opportunity for motor vehicles to use warning devices with sound and light for ambulances, they have been subject to sanctions. ticket.
TM has paid a fine of Rp. 250 thousand which entered the Indonesian state treasury.
"Later, of course, with evidence of a traffic violation and also having been notified to the Immigration, of course, it will be studied further between agencies," he said.
Head of Immigration Office Class I Non TPI Bogor Ruhiyat M Tolib said that in the case of a foreigner, the Immigration party needs to clarify the liability of the guarantor, namely his wife, to determine the follow-up for TM.
"Because this person holds a permanent permit, it means that this foreigner has a guarantor and it is the guarantor who is responsible for the activities and whereabouts of (TM). Maybe we will communicate with the guarantor next," said Ruhiyat.
Also Read: Seconds of Angry Caucasians Spitting on Mosque Officers in Bandung, Netizens: It is Better to Use the Toa of the Mosque for Adhan
Ruhiyat explained that regarding the existence of TM or his residence permit in Indonesia, he was waiting for the results of his interview with his wife.