The coaches have given the starting signal singing two very special songs. Aitana and David Bisbal have conquered the public with 'Si tú la quieres' and Sebastián Yatra and Rosario have sung their song 'Dharma'.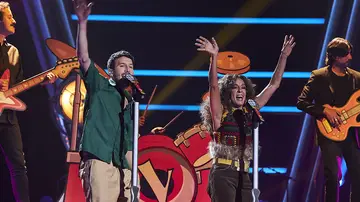 The first talent was Béty Dumitru, this 13-year-old girl comes from Valencia and to lose her fear and shame she sings in the street.
The young woman has chosen to sing 'Bohemian Rhapsody', creating a spectacular version with which the coaches have not taken long to turn around.
Sebastián Yatra and David Bisbal turned at the same time, followed by Rosario and Aitana. The four have hallucinated with the voice of the little girl and at the end of the song they have had nothing but praise for her.
In fact, Aitana has regretted not having blocked Bisbal or Yatra, convinced that the little girl was not going to leave with her. For her part, Bisbal is clear that she is 'The Voice Kids' of this country, no matter what.
The coaches themselves have been nervous about Béty's decision because they all dreamed of him leaving for their team. Finally, Béty has chosen to go with Sebastián Yatra who has exploded with happiness upon hearing his name. It certainly seems that his team is one of the great voices of the edition.