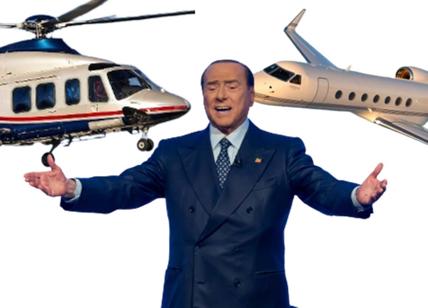 Silvio Berlusconi, Gulstream 550, Agusta AW139
Berlusconi's fleet weighs on Fininvest's balance sheets
Even Silvio Berlusconi's little Ita continues to fly red, and much worse than before. The 2022 financial statements of Alba Servizi Aerotrasporti (Asa), controlled by Fininvest, in fact closed with a loss of over 5.7 million euros, much worse than the deficit of 3.9 million the year before. The deficit was fully covered by the shareholders' meeting held on 27 April last through the use of 6 million paid by Fininvest in capital account, gone for 305 thousand to settle a previous debt.

READ ALSO: Paluani, the king of sweets fails miserably: submerged by millions of debts
The fleet consists of a Hawker 750 jets, a Hawker 800 entered in the middle of last year, an Agusta Aw 139 helicopter and a Gulfstream 550 jet, co-owned with the Gavio family. Due to the end of the pandemic, planes flew more than the previous year (1,158 hours compared to 932 in 2021), resulting in an increase year-over-year revenues from 4.2 million to 5.4, e even the rent of the planes to third parties are progressed from 5.8 to 5.9 million.
Total revenue of 11.3 million however, they were weighed down by costs which jumped year on year from 17 to over 19.3 million mainly due to the increase in the price of fuel. The net financial position of Asa, of which he was reconfirmed as managing director Augusto Barbieri, remains in debt and has also significantly worsened year on year from 7.6 to 9.2 million.
Subscribe to the newsletter