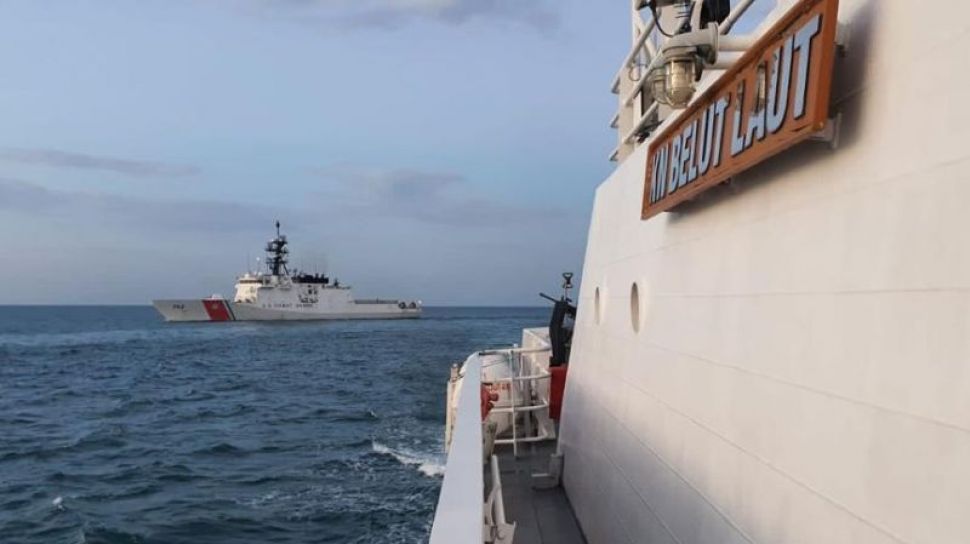 Suara.com – The Republic of Indonesia (RI) Maritime Security Agency (Bakamla) ship KN Belut Laut-406 held a joint exercise with the "Republic of Singapore Navy" and "United States Coast Guard" ships in the North Waters of Tanjung Berakit, Riau Archipelago Province, Tuesday (23/5/ 2023).
Head of West Bakamla Zone Laksma Bakamla Syufenri from information received by Antara in Batam, said that this joint exercise was held to improve the ability of RI Bakamla personnel to man ships.
"Joint exercises or what are commonly called passing exercises are a means of increasing the ability of Bakamla RI personnel with related agencies in manning ships to support maritime security duties, especially in Indonesian waters and in Indonesian jurisdiction," said Syufenri.
He explained, as for the implementation of this joint exercise, it includes radio check exercise, photo exercise, as well as flaghoist or flag waving exercise.
Also Read: Former Head of TNI Chief Questions Teddy Minahasa's Statement Losing 20 M During Arrest Operations in the South China Sea
"The purpose is as a means to deepen communication knowledge with flag signals and semaphores for the crew," he said.
He mentioned that the training activities ran smoothly, and that the material and personnel conditions were healthy and safe.
"The training with Bakamla RI with the Republic of Singapore Navy and the US Coast Guard was successful and there were no obstacles," he said.
Indonesia and a number of countries in Southeast Asia, assisted by the US, are known to often hold joint exercises to anticipate China's threat in the South China Sea.
Also Read: Netizens Raid Bakamla After the CPNS Died During Military Training, the Special Staff of the Minister of Finance spoke up