With June at the gates, Amazon once again offers us many of its products from the ranges Echo, Fire o Kindle and some others at discounted prices. If you were waiting to save some money by adding a Dot or Show to your home automation installation, a Stick to your TV or a Kindle to manage your electronic library, here are the best offers.
Kindle (2022)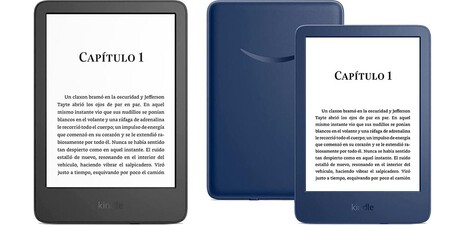 Starting with e-books, the Amazon bestseller, the Kindle (the 2022 model), it can be ours right now for 94.99 euros, with a discount of 15 euros Compared to the usual 109.99 euros, both in black and blue.
This e-book reader is Amazon's most basic model and offers us 16GB of storage plus an electronic ink screen of 6 inches con 300 ppp of resolution with front lighting con adjustable brightness to be able to read at night or in any situation.
New Kindle (2022 Model): Our Thinnest and Lightest Kindle, with a High-Resolution 300 ppi 6-Inch Display and Twice the Storage | Black, no ads
Kindle Paperwhite
We also have reduced Kindle Paperwhite. It is the most balanced member of Amazon's range of e-books and the version on offer, that of 16 GB with advertising and without Kindle Unlimited, it is usually priced at 159.99 euros, but now we find it for 20 euros lessreduced to 139.99 euros.
With it we ensure hours and hours of reading anywhere, with capacity for lots of titles on a single device the same size or even smaller than a single conventional book.
Kindle Paperwhite (16GB) | Now with a 6.8″ screen and adjustable warm light, with advertising
Fire TV Cube
We have the Amazon TV Box on sale again. The powerful next-generation Fire TV Cube can be ours once again for €129.99 instead of the usual €159.99. Thus, if we decide on it now, we will be taking it with us. 30 euro discount.
It's a monta streamer 2.2GHz octa-core Amlogic POP1 processor and an ARM Mali-G52 MP8 GPU, and carries 2 GB of RAM memorywith a storage capacity of 16 GB for apps. Offers 4K resolution and compatibility with Dolby Vision, HLG, HDR10 and HDR10+.
Fire TV Cube | Streaming media player with voice control via Alexa, Wi-Fi 6E and Ultra HD 4K
Fire TV Stick 4K Max
For those who are looking for the highest image quality and want all the possible features but in Stick format, Amazon has also once again reduced the Fire TV Stick 4K Max. It can be found for 42.99 euros, with 22 euros discount compared to the usual 64.99.
With it we will have voice control, WiFi 6, a more powerful processor than the one found in the rest of the Stick range and 2 GB of RAM instead of the GB or GB and a half of the other models. In addition, we will have control of our television with the included remote and we will also be able to install Android apps.
Fire TV Stick 4K Max with Wi-Fi 6 and Alexa Voice Remote (includes TV controls)
Fire TV Stick
An even cheaper option that will be appreciated above all by those who do not need 4K resolution, either because they are not so demanding, or because they want to install it on a television that does not have it, we have it in the Fire TV Stick "conventional" which is also discounted. Specifically in 15 eurogoing from 44.99 to 29.99 euros.
In this case, it is the 2021 model, which, not because it is a couple of years old, lacks features: it has integrated voice control with Alexa as well as control for our TV, allows the installation of apps and offers us dedicated buttons for Prime Video, Netflix, Amazon Music or Disney+.
Fire TV Stick with Alexa Voice Remote (includes TV controls), HD streaming device
Echo Dot 5th generation
Already in devices of the Echo range, we can get hold of a Echo Dot fifth generation for 39.99 euros instead of the usual 64.99, with which we we will be saving 25 euros.
As you know, for now it is still the most recent model in Amazon's Dot range of smart speakers. It offers practically the same features as the previous model although it is slightly smaller. With it we can have control through our voice thanks to Alexa, to listen to music, digital radio or podcasts and control our home automation installation and compatible devices. In addition, it has a dedicated button to turn off the microphone if we want to preserve our privacy. Also we have 3 colors to choose from.
Echo Dot (5th generation, 2022 model) | Bluetooth Smart Speaker with Alexa | Anthracite
Echo Dot 5th generation with clock
Nor is this consignment of offers missing Echo Dot 5th generation with clockwhich can be ours too for 25 euros lessgoing from 74.99 to 49.99 euros.
With it we can enjoy the same features as with the conventional model, although we will also have a digital clock to use as an alarm clock on our nightstand.
Echo Dot (5th generation, 2022 model) with clock | Bluetooth Smart Speaker with Clock and Alexa | Bluish gray
Echo Show 5 2nd Gen
To finish we do it with him Echo Show 5 of 2nd generation Those who are looking for a device with Alexa but with a screen will appreciate it. Amazon leaves it to us this week at 64.99 euros, reduced by 20 euros compared to the usual 84.99.
Thanks to its 5.5-inch screen, we will have a device with a very suitable size for the bedside table or for when we do not have plenty of space, with it we can make video calls or see what is happening in our home if we have a video surveillance camera. installed and connected to it.
Echo Show 5 (2nd generation, 2021 model) | Smart display with Alexa and 2 MP camera | Anthracite
more offers
If you sign up for Amazon Prime, you have a 30-day free trial (after 49.90 euros per year) to enjoy free fast shipping, priority access to offers, services such as Prime Video, Prime Music and unlimited photo storage. Also, if you are a student, becoming a Prime Student costs half as much and you have a 90-day trial. You can also try services like Kindle Unlimited or Audible free for 30 days.
You can be up to date and at all times informed of the main offers and news of Xataka Selección on our Telegram channel or on our profiles TwitterFacebook and Flipboard magazine.
Some of the links in this article are affiliated and may benefit Xataka.
Images | Amazon
In Xataka Selection | The new Amazon speaker with Alexa has a new design and wants you to enjoy your music more and better at a very attractive price
In Xataka | Amazon Fire TV Cube (2022), analysis: the most powerful media player is one of a kind