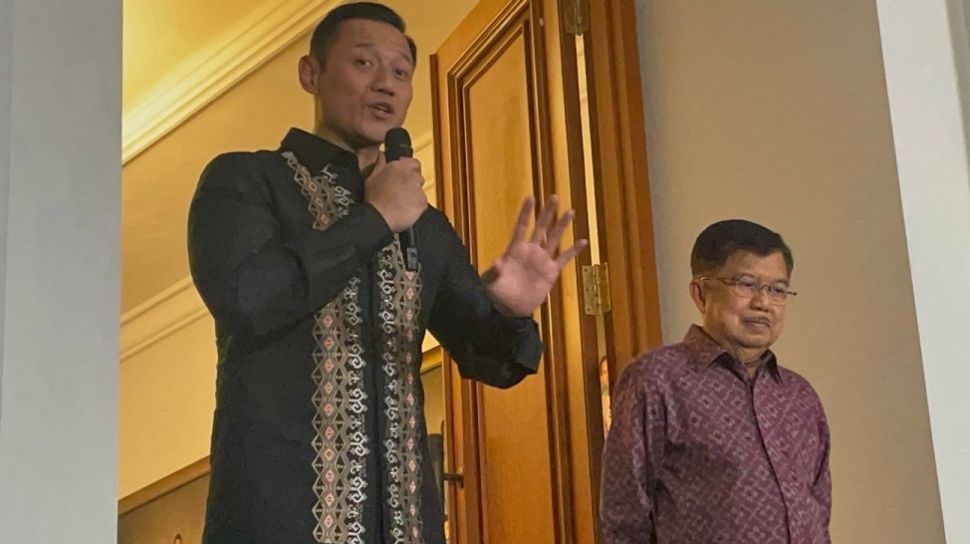 Suara.com – The general chairman of the Democratic Party DPP, Agus Harimurti Yudhoyono alias AHY, admitted that he received various inputs after meeting former Vice President Jusuf Kalla (JK) at his residence in the Brawijaya area, Kebayoran Baru, South Jakarta, Monday (15/5/2023) evening.
AHY and JK did hold a closed meeting for about one and a half hours. On that occasion, AHY wished JK a happy birthday, who is turning 81 years old.
AHY explained that he had come to meet JK to continue the friendship and at the same time ask for views.
"I came tonight with the intention of continuing friendship but also getting his views as a national figure, a statesman who had been vice president of the Republic of Indonesia twice, with President SBY and also accompanied President Jokowi," AHY said after the meeting, Monday night.
Also Read: 2024 Vice Presidential Candidate Electability Survey: Top Sandiaga Uno, Mahfud MD Salip AHY and Erick Thohir
As a politician, AHY admits that he wants to hear the views of JK, especially those related to current national issues.
"About an hour earlier we discussed people's issues, national issues which are today's challenges as well as how we look at Indonesia in the future," he said.
Furthermore, AHY said that he received a lot of input from JK during the meeting. This is in line with the principle of carrying out the movement for change and improvement.
"Hopefully what has been done so far, in the community and of course after receiving Mr. Jusuf Kalla's input will add enthusiasm and certainly add great energy in the struggle going forward," he said.
"I also said earlier that yesterday, the 14th was the last day for submission of legislative documents, this is also a momentum for political parties in Indonesia to become an important part of the contestation in the 2024 Pileg," he continued.
Also Read: Ms. Denise Chariesta is furious that her child is determined to meet JK in Thailand: Oh, her brain is fading
As for JK, on ​​the same occasion, he thanked AHY for visiting him. According to him, he and AHY discussed various things, starting from the past and the future.