The next gala will have truly luxurious performances. On the stage of 'Your face sounds familiar' they will be, nothing more and nothing less, than Bruno Mars and Amy Winehouse. These are the imitations that Jadel and Miriam Rodríguez will have to face. What a test!
The controversy has come with Susi Caramelo, who had to 'steal' and has chosen the Raffaella Carrà who had been Andrea Guasch's turn. The anecdotal thing is that Andrea… had just given her the prize for her victory! The challenge for the three-time champion will finally be Jerry Lee Lewis, a big change after his Ariana Grande with Famous as The Weekend.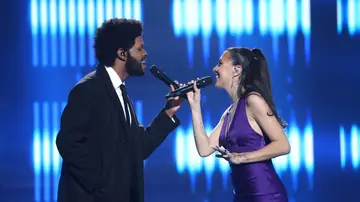 In addition, Ana Torroja will visit the program to do a 'vip training' for Anne Igartiburu. And Alfred Garcia will be Zac Efron in his 'High School Musical' times: he will imitate Troy and Gabriella. Which friend will he convince? Do not miss all the challenges in the video!