Gala 9 of 'Your face sounds to me' has been a torrent of emotions for Alfred García. The contestant had the fabulous challenge of imitating David Civera, a benchmark for him, as well as singing 'Bye bye' with him on stage.
Among the audience were Alfred's parents, who have shared a very cute video of a little Alfred, on stage, imitating David Civera! Both have seen, excited, the contestant in his debut on stage in the skin of his reference.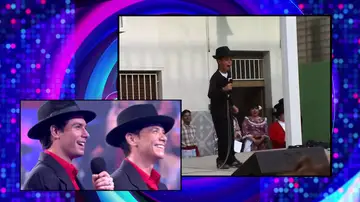 Alfred has also shared his emotion on social networks, with a picture of the two together on stage, and the video in question in the background. "After a lifetime telling me that we look like brothers, there has been no choice but to prove it," Alfred began to later ensure that a "childhood dream" has been fulfilled.
The contestant has also assured that Civera "continues to fit the suit", to later point out the "beast" that is on stage. To finish, Alfred has thanked 'Your face sounds familiar' for making all this possible. What a moment!