Tonight, we put the finishing touch to the week at 'El Hormiguero' with the visit of the Cádiz-born singer Niña Pastori to introduce us to her new album, entitled "Camino", which goes on sale the following day, on April 28, and with the one that commemorates his twenty-five-year career. The album contains ten songs full of strength that can be enjoyed on the concert tour that the woman from Cádiz is going to undertake in our country in the coming weeks.
Niña Pastori is a Spanish flamenco and copla singer. At the age of 15, she began to sing professionally and at the age of 20 she released her first album. Since then, she has released numerous albums, such as 'Desde la azotea', 'Cai' or 'Amor de San Juan'. Due to her musical career, the singer-songwriter has won important awards such as the National Music Award and the Ondas Award. Her music has been celebrated around the world, making her one of the most recognizable voices in flamenco.
It is not the first time that the Andalusian has visited the set of the program, we were already able to enjoy her visit on other occasions such as the time she sang a flamenco song live and capella. During the time of confinement, the singer surprised us with one of her most famous songs: 'Cai', dedicating her lyrics to her southern land, in a sweet and delicate way: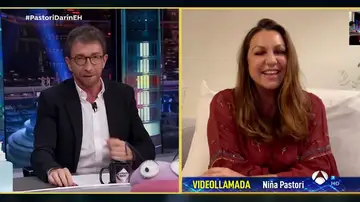 For all this and much more, you cannot miss the interview that Pablo Motos will do tonight and we are sure that he will give us great moments with his passing. Tonight, at 9:45 p.m. on Antena 3!