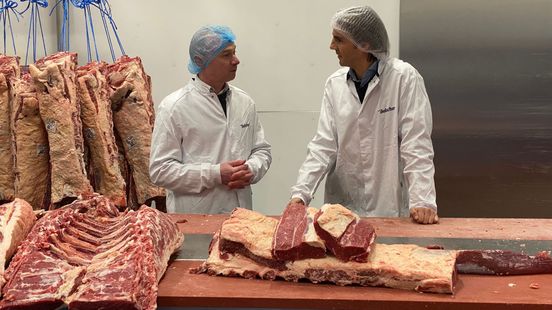 Beef cows as nature manager
Quality meat from our own region, combined with nature management. Focus less on quantity, more on quality. In short, these are the reasons for Bolscher to manage the Enters Reggedal nature reserve with their farm Harry's Farm, with the help of Black & Red Angus cattle. This meat also becomes available for consumption through natural wastage. "No pesticides, no special feed, and much tastier meat. Yes, you can taste that", say the brothers.
But the consumer is still looking at the price. For the time being, it is therefore an expensive hobby project, and a way of giving the next generation not money, but land. With the expectation that the meat market will tilt. CO2 pricing, reduction of livestock, possibly a meat tax. They take into account less meat consumption. And so, if people eat meat, it must be quality.
And 'sustainable', they give as an alternative to the term sustainable. "If you always keep pinning and pinning, the bank will say stop at some point. Then you have to return some money every now and then. So it is with nature too. We think we have found a way in which we dump just as much into nature as we take out."