Aleix Ortiz has a very rock-oriented family and that is why he has sung 'Still loving you' by Scorpions. The 12-year-old has shown a lot of strength on stage and has covered the theme very well.
The talent has conquered Rosario who has not hesitated to turn around in the middle of the performance. Aleix has been very happy when he has discovered that he is already in 'La Voz Kids'.
Rosario has stamped it with the letter 'M' for Monstruo and, therefore, it is already in the contest. !! Congratulations!!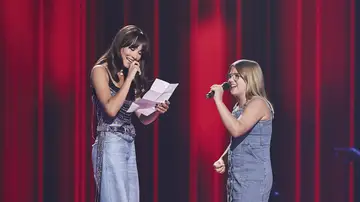 In 'La Voz Kids' there is always a place for dreams to come true, and Ana Valero knows it very well, and that is that the talent was able to share the stage with Aitana during these blind auditions to sing together 'En el coche'. How much magic!