Peugeot already has availability and price for its new electric compact. He Peugeot e-308 It will complete the mechanical offer of a model that began to see the light of day long before and that has also received a plug-in hybrid version during this time, a car that promises sportiness and more than 60 kilometers of electric autonomy.
But in this case we will focus on the Peugeot e-308, the completely electric version of the French who wants to play the daily car with aspirations to leave the city punctually, in more or less close getaways or, on the contrary, leaving in the hands of the drivers if they assume certain inconveniences during the longer trips.
Peugeot e-308 technical sheet
New Peugeot e-308
body type
Five-seater electric compact
Measurements and weight
4,367 meters long, 1,852 mm wide and 1,465 meters high. Wheelbase of 2,675 meters. 1,834 kg.
Trunk
To confirm.
maximum power
115 kW (156 CV)
WLTP consumption
15.1kWh/100km. Autonomy of 410 kilometers.
DGT environmental label
Zero emissions.
Driving aids (ADAS)
Adaptive cruise control with emergency braking, blind spot sensor, lane center keeping. Front and rear cameras.
Others
Screen for the instrument panel with 3D presentation and central 10-inch touch screen with configurable digital space below it. Compatible with Android Auto and Apple CarPlay.
Electric hybrid.
No.
plug-in hybrid.
No.
Electric
Yes. Front-wheel drive version with 115 kW (156 hp) engine and 54 kWh battery (50.8 useful kWh).
price and release
First deliveries in 2023. Starting price with the First Edition of 44,440 euros.
54 kWh battery and waiting to know its consumption
Peugeot now has the fully electric version of its most famous compact available. Aesthetically, the electric compact hardly differs from the combustion options. It will add the letter E to its bodywork, some tweaks in the front area to improve its efficiency and it comes standard with more closed and aerodynamic 18-inch wheels to improve consumption.
Inside, the Peugeot e-308 stands out again for its i-Cockpit, a design that already has the latest innovations that the firm has been introducing in the design of its large central screen and that we analyzed in depth in our first shot. contact with the Peugeot 408.
In other words, the Peugeot e-308 has a screen for the dashboard with 3D menus and a 10-inch central touch screen with configurable hands in its lower area that are combined with some physical buttons. The great advantage of its configurable touch panel is that it allows us to establish some of the shortcuts that we use on a recurring basis.
The price announcement also comes accompanied by the launch of a first First Edition version. In it, the heated steering wheel, electrochromic interior mirror, heated mirrors, rear camera, front and rear parking sensors and advanced autonomous driving system are included as standard, such as adaptive cruise control with blind spot sensor, emergency braking or alert and maintenance in the center of the lane.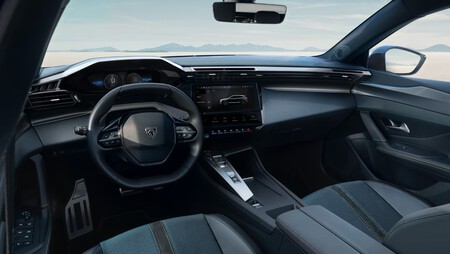 Regarding its capabilities mechanical, much of the virtues of the Peugeot e-308 will be subject to its actual consumption. The engine is located on its front axle and has a power of 115 kW (156 hp) with 260 Nm of torque. The battery remains at 54 kWh (50.8 useful kWh) and is of the NMC type. Its charge supports powers of up to 100 kW, going from 20 to 80% autonomy in 25 minutes.
At the moment, the approval under the WLTP cycle places the Peugeot at an interesting 15.1 kWh/100 km. With these data, you should be able to travel 410 kilometers. The question is whether it will be able to maintain similar figures on the road, where this type of vehicle suffers the most and that it will allow it to be considered as an attractive alternative to other options on the market.
Regarding its price, the Peugeot e-308 comes to the market with a First Edition that places it in 44.440 euros. The output version is the one that will come with the most equipment and we will have to wait for cheaper options in the future. However, Peugeot has exclusively reserved the Allure and GT equipment packages for its compact electric. They are the most equipped packages of the firm, so great discounts are not expected either.
A discount of up to 7,000 euros may be added to this price for those who take advantage of the MOVES III Plan.
In Xataka | Peugeot 408 PHEV, first contact: the new plug-in hybrid stands out where it has to do the most
Photos | Peugeot