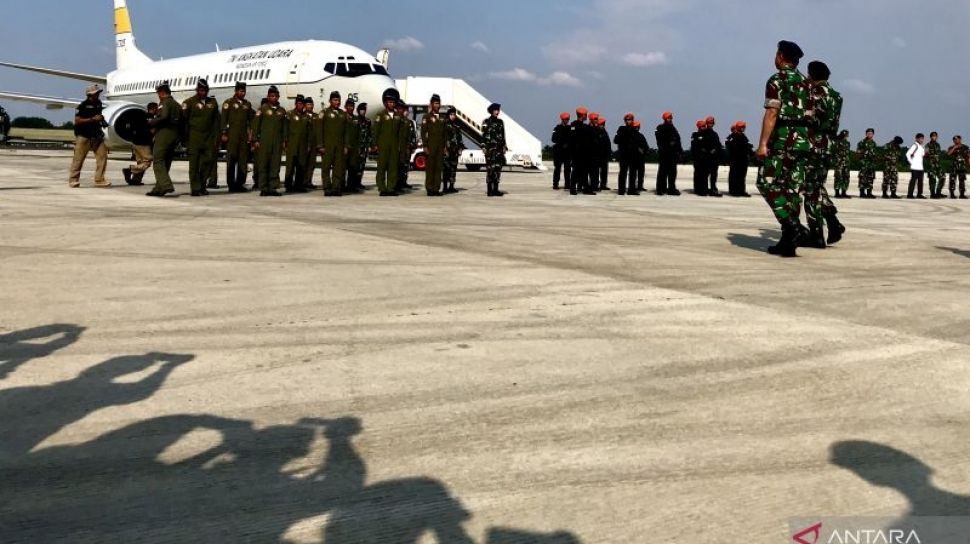 Suara.com – The Indonesian National Armed Forces or TNI has scheduled an Evacuation Team for Indonesian citizens to leave for Sudan on Tuesday (25/4/2023) this morning, using an Indonesian Air Force Boeing A-7305 type 737-400 aircraft. In one flight, the plane can carry 100 people.
Quoted from the Antara news agency, the Indonesian Citizen Evacuation Team consisted of soldiers from the elite troops of the Air Force's Fast Action Command (Kopasgat), Indonesian Air Force pilots, BAIS TNI, then the TNI Puspen. The number of rescue teams reached 39 people.
The evacuation team led by Flight Colonel Noto Casnoto, was also filled with doctors from the TNI to anticipate Indonesian citizens who were sick during the evacuation.
The main goal of the team is to ensure the safety of Indonesian citizens (WNI) when they are evacuated from Sudan to be returned to Indonesia.
Also Read: Kuwait and Egypt Hold Rescue Operations for Citizens of Their Individual Countries Stuck in the Sudanese War
"Because of that (the conflict in Sudan) fellow military and paramilitaries have a huge potential (threat to safety), but yesterday there was a humanitarian pause, the term is a ceasefire to make room for foreigners (foreign nationals in Sudan) to be evacuated. Yesterday there was information, during the pause there was another attack, that's why we sent a Kopasgat team which will secure the airport where the evacuation took place," explained TNI Commander Admiral Yudo Margono after the evacuation team's departure ceremony at Halim Perdanakusuma Air Force Base, Jakarta.
Even though there is a potential security threat during the evacuation process, the Commander in Chief said that the TNI has no plans to add troops, especially for TNI soldiers who are currently serving with UN peacekeeping forces in countries around Sudan.
"Not yet. We don't want to interfere in their domestic affairs, unless they are really threatened by Indonesian citizens. There will be further orders later. We will also monitor this (evacuation) activity," continued Admiral TNI Yudo Margono.
The focus for the evacuation point is Port Sudan, because the flight from here to Jeddah takes 45 minutes, while from the Sudanese capital, Khartoum, it takes 1.5 hours.
"The flight from Port Sudan to Jeddah takes 45 minutes, while from Khartoum it takes around 1.5 hours, so we take the one that can be transported faster first," he explained.
Also Read: A total of 298 Indonesian citizens in Sudan will be evacuated in the second phase
So far, the evacuation team from the Indonesian Embassy in Khartoum in Sudan and a team from the Indonesian Ministry of Foreign Affairs have transported Indonesian citizens from several cities in Sudan to be collected at Port Sudan and Khartoum using the land route.
"A 45-minute trip a day can be completed (evacuation) if the situation is safe, of course, the situation is supportive. If it takes 45 minutes to go back and forth 2-3 times, it can," continued Admiral TNI Yudo Margono.
At least 291 Indonesian citizens will be evacuated by the TNI evacuation team. The Commander in Chief said that they were prioritizing Indonesian citizens who were pregnant, sick, the elderly and children.
"Meanwhile, what we have received (the information) is that there are approximately 291 (WNI) who are on standby at Port Sudan. This is from the Ministry of Foreign Affairs, priority is given to pregnant women, there are also those who are sick, there are old people, and children. Maybe later we will put that first," detailed TNI Admiral Yudo Margono.
Armed conflict broke out in Sudan on Saturday (22/4/2023) between the army (SAF) and the paramilitary group Rapid Support Forces (RSF). Tensions began to arise when there was an attempt to merge the RSF into part of the Sudanese army.
The fighting took place mostly in the Sudanese capital, Khartoum, and spilled over into the surrounding region. At least 100 more people were reported dead, and thousands of people were injured as a result of the armed conflict.
In Sudan, the Ministry of Foreign Affairs noted that there were 1,209 Indonesian citizens living, and most of them were students and students.