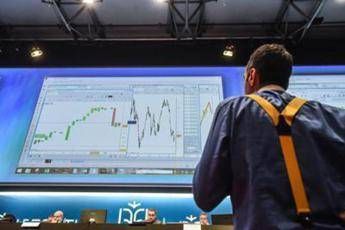 Positive session for the European stock exchanges, unlike the United States. The start of Wall Street is mixed, with the market weighing data on retail sales in the US, which fell beyond expectations, and on industrial production which grew above estimates, but also the quarterly reports of some of the major American financial groups. In general, then, the attention of the markets is concentrated on the moves of the central banks to raise interest rates, with signals expected from the Fed and the ECB.
At the TTF in Amsterdam, gas fell to 41 euros per megawatt hour. On the other hand, the price of oil rose, with Brent and Wti rising by around 0.5%. In Milan, the Ftse Mib closes positively: it marks an increase of 0.89% to 27,872.24 points. The spread between BTPs and German Bunds remained stable, moving around 182 basis points. The yield on ten-year bonds increased, around 4.28%.
Bank stocks are doing well on the main list of Piazza Affari. Intesa Sanpaolo gains 3.37%, Unicredit 2.92%, Bper 4.67%, Banco Bpm 3.35%, Fineco 4.52%. Well then, Ferrari (+1.72%). The shareholders' meeting approved the 2022 financial statements, which closed with a consolidated net profit of 932.61 million euros and resolved to distribute a cash dividend of 1.81 euros per share. The coupon will be detached in 10 days. As for Generali (+0.48%), it placed a new Tier 2 security maturing on April 20, 2033, issued in a "green" format, for an amount of 500 million euro.
At the bottom, however, Hera (-2.82%). The company announced that it has placed the second green bond and activated a new Sustainability-Linked Revolving Credit Facility. These transactions will allow the multi-utility to allocate more than one billion in loans to projects in favor of the green transition. A2a (-1.54%), Diasorin (-1.80%), Snam (-2.19%) and Terna (-2.10%) were also bad. (in collaboration with Money.it)