NZXTa leading provider of hardware, software and services to the PC gaming community, has announced new Kraken and Kraken Elite. Characterized by the unmistakable design of NZXT, the new line of AIO coolers guarantees ever better performance, with the possibility of visualizing the most important data via NZXT CAMfree software that allows you to monitor, control and customize NZXT products.
Il Kraken Elite offers a 2.36″-inch LCD screen with higher resolution and frame rate, better viewing angle and higher color fidelity. The display can clearly show system temperatures and static or animated images, all controllable via the NZXT CAM. The Kraken it features a 1.54″ inch LCD screen capable of displaying system temperatures and static images, again via NZXT CAM support. The new series Kraken is available in formats from 240 mm, 280 mm e 360 mm and offers exceptional performance thanks to the pump Asetek seventh generation, silent and performing. Users can choose between high static pressure F-series fans or the new Core RGB F-series fans, capable of efficiently cooling the latest CPUs from Intel and AMD. In the end, installing components is now easierwith a single breakout cable e reinforced tubes for a longer life.
I nuovi Case NZXT H5 Flow, H7 Flow e H7 Elite
Additionally, NZXT features RGB versions of the cases H5 Flow e H7 Flow and a refreshed version of the case H7 Elite. The H7 Elite houses the new F-series Core RGB fans as standard and includes an RGB controller for a simple and intuitive RGB experience, powered by NZXT CAM. The latter has been updated with new features dedicated to Kraken Elite and all series Kraken Z-3, such as double infographics and carousel mode for visualizing system data. Thanks to the integration of GIPHY, a huge library of GIFs can now be accessed and displayed on the Kraken's screen. The new stream browser mode allows users to view data from websites such as Google Photos, Spotify and more.
Key Features of the NZXT Kraken Series
Stay Cool
The seventh generation Asetek pump guarantees high performance and maximum silence. The F series fans provide high static pressure to optimize the air thrust through the radiator. This allows for better and superior heat dissipation. Fluid Dynamic Bearing (FDB) ensures smooth and quiet operation with a proven longevity. PWM precision control, which allows the fans to cool quickly when needed, remaining silent at lower loads for maximum efficiency.
Simplified installation
Installation is now easier with a single breakout cable that eliminates the guesswork. Tubing is protected by reinforced nylon sleeves for increased durability and safer handling. Mounting accessories are included for the latest Intel and AMD motherboards .
NZXT CAM Compatibility
User-friendly customization via NZXT CAM of screen contents. Fan and pump control with the ability to spin fans at 0 RPM at low temperatures for silent operation. RGB settings of the Kraken and other NZXT components to suit your setup.
Real-time performances
View custom images and real-time system information on the 1.54″ LCD screen. 262K color transmissive TFT display with 240p x 240p resolution, 300 cd/m² brightness, and 80° viewing angle.
Exclusive features of the Kraken Elite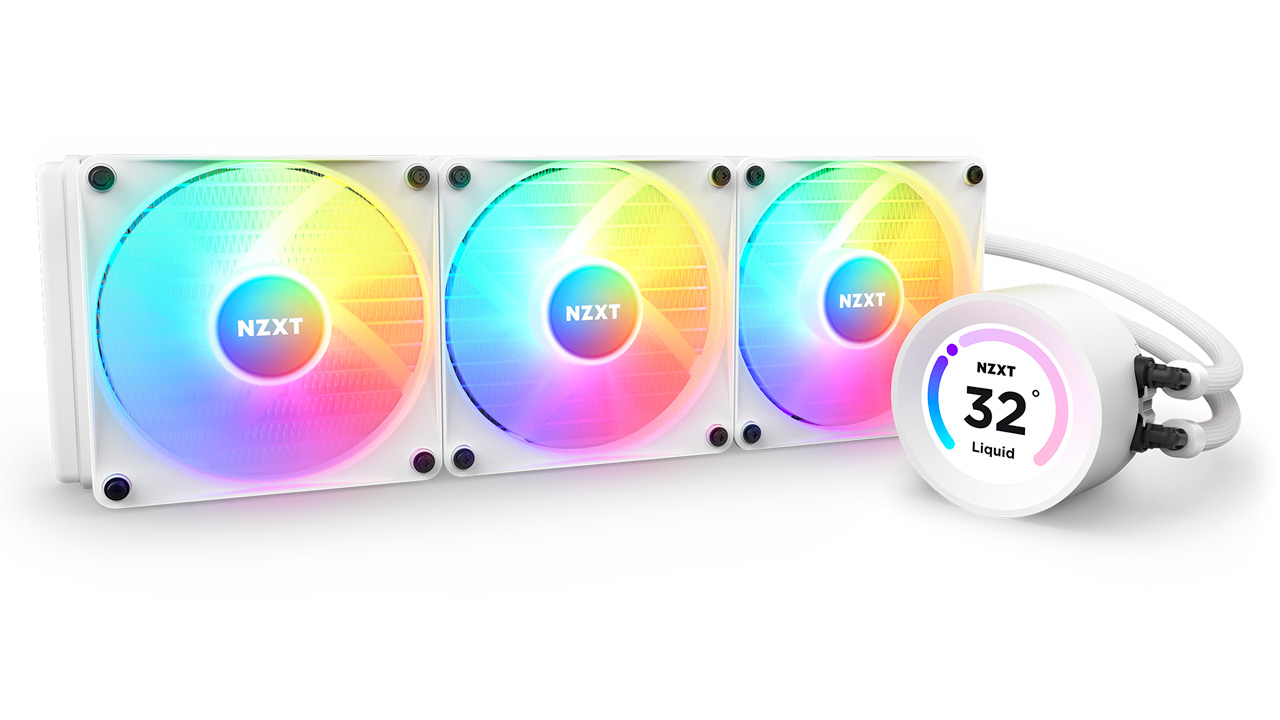 Amazing quality
Showcase your favorite images, animated GIFs, and CAM information in exceptional visual quality. The Kraken Elite's 2.36″ wide-angle TFT-LCD screen has a resolution of 640 x 640, a brightness of 690 cd/m², and a frequency of refresh of 60 frames per second, all in favor of a clear and sharp image with greater color fidelity and a wide viewing angle.
Advanced customization of on-screen content via NZXT CAM:
Thanks to the integration of GIPHY now present within NZXT CAM, it will be possible to easily choose and show your favorite GIFs. New Browser Stream mode to view Google photo albums, Spotify "Now playing" and much more. show system information with animations and infographics. Screen rotation in 30° increments to support different pump orientations. (before the 90° increment).
We leave you with the video that introduces the new aio heatsinks and cases of the H7 range, for more information on the prices of the components go to the official website.