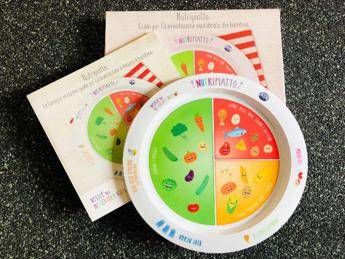 Nestlè's Nutripiatto program has been recognized as a valid food education tool thanks to the results of the survey carried out by the Campus Bio-Medico University of Rome on 115 children between 4 and 5 years of age, published in March in the magazine 'Plos One' . If used appropriately and combined with food education interventions held by experts in the school context – explains the multinational in a note – the nutritional program can gradually make small changes in correct nutrition and empower families to make healthier food choices in terms of quality, quantity and frequency of food consumption.
"One month after using Nutripiatto and following the educational meetings at school with parents and children – says Laura De Gara, president of the master's degree course in Food and Nutrition Sciences at the Campus Bio-Medico University of Rome – Children's adherence to nutritional guidelines in terms of portion of animal protein eaten has increased.For example, the percentage of children who consumed fish in the correct amount increased from 18.5% to 64% and the percentage of children who drank 6 or more glasses of water per day increased from 21% to 51%.At the same time, a significant number of children significantly reduced their intake of french fries, soft drinks, and there was also an increase in consumption of vegetables for 76% of children. Nutripiatto can be considered a practical and effective food education tool to improve the quantity and quality of foods chosen by children and their families".
Created by Nestlé with the scientific contribution of the Campus Bio-Medico University of Rome, Nutripiatto – recalls the note – is a project to help children between 4 and 12 years of age and educators (family and school) to make healthier and more balanced food choices . It is a series of Guides with balanced recipes divided into age groups and an 'intelligent dish' designed to show and encourage a correct combination between the various food groups that make up a balanced meal. Like its predecessors – My Plate and The Healthy Eating Plate – Nutripiatto shows the correct proportions of the different food groups that make up the main meals: lunch and dinner. Vegetables take up half of the plate while grains and proteins take up a quarter each.
The alarm of the institutions on the issue of correct nutrition for children – the note highlights – does not seem to have subsided compared to the pre-pandemic data which indicated a percentage of overweight children of 20.4% and 9.4% for the obese. In fact, research shows how lifestyle habits are orienting the new generations more and more towards being overweight, with Italy rising to fourth place worldwide for the highest obesity rates.
After the success of the past editions, with more than 500,000 children sensitized and various awards obtained, Nutripiatto continues to be, in this context – the promoters conclude – a point of reference for the little ones and for correct nutrition. All of this was also made possible thanks to the Nestlé for Healthier Kids international project, born in 2018 to help parents and teachers raise healthy children through constant product innovation and nutritional education projects.