Suara.com – PDIP DKI Jakarta Regional Leadership Council (DPD) Secretary, Gembong Warsono, said that his party responded positively after Ganjar Pranowo was named as a presidential candidate from PDIP. Furthermore, he will carry out internal consolidation for the party's movement going forward.
"The general chairman has decided to nominate Ganjar as the best cadre to be designated as a presidential candidate," said Gembong when confirmed, Sunday (23/4/2023).
"And of course this will build party solidity to be able to win what has been decided," he continued.
Furthermore, he admitted that his party had not yet formed a winning team to win Ganjar in the capital city. He is still waiting for directions from the Head of the Winning Team, Puan Maharani.
Also Read: Fact Check: Ganjar Pranowo PDI P Presidential Candidate, E-KTP Corruption Scandal is Back to Busy, Really?
"Not yet (form a winning team). This has just been announced, of course after this we will immediately consolidate, close ranks to prepare what winning tools have been determined by our general chairperson," he said.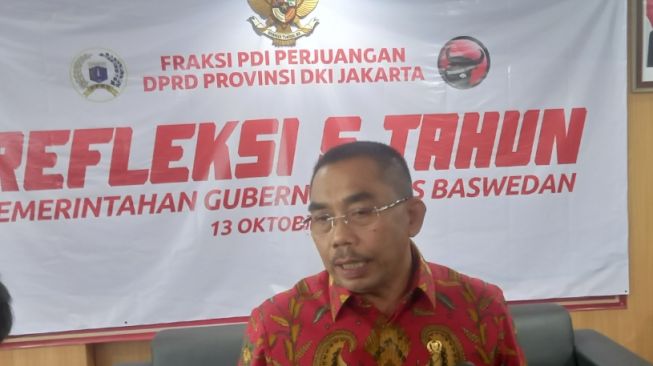 Chairman of the PDIP faction in the DPRD DKI Jakarta, Gembong Warsono. (Suara.com/Arga)
He said the announcement by PDIP Chairperson Megawati Soekarnoputri who appointed Ganjar Pranowo as vice president was a moment to unite all cadres down to the branch level. Preparations will be made after Puan's direction until the upcoming 2024 Presidential Election.
"So the line later, when Ms. Puan gets the mandate from the general chairperson, of course Ms. Puan will develop a strategy for how to be able to seep it up to the provincial, district/city levels, and reach the RW level administrators," he concluded.
Previously, Megawati Soekarnoputri announced Ganjar Pranowo as a presidential candidate for the 2024 presidential election.
"At 1:45 p.m., by saying bismillahirrohmanirrohim, appointed brother Ganjar Pranowo, now the Governor of Central Java, as a cadre and party officer to increase his assignment as (future) candidate for president of the Republic of Indonesia from the Indonesian Democratic Party of Struggle," he said.
Also Read: Moments of Anies and Sandiaga Gathering at the House of the Chairman of the PKS Syuro Council on the First Day of Eid