I've known Star Citizen for a long time, from how incredible the scale of the project is to the drawbacks that all its detractors put up. Being a mere spectator had an expiration date, especially having a friend who is completely inside. after several days browsing videos Until so many in the morning, the opportunity I was waiting for finally arrived: the Free Fly, a free access.
Last weekend (from the 14th to the 16th) was my chance to play until I bust… but on Friday afternoon I ended up in bed with a fever and wishing that the dullest ship in the entire game would fall on me. On Saturday I managed to find the strength to get out of bed and play for a while… And what an adventure I had!
My first day in Star Citizen: a roller coaster of absurdities
The first thing I remember as a character from Star Citizen is waking up in a room New Babbage in the middle of the night It's pretty messy and there's not much to see, so I head out into the hall. I call an elevator and choose the "Lobby" floor, assuming that the rest of the floors will be more rooms.
uThe first public area I see is huge. There are dozens of NPCs doing their thing, information stands, screens here and there… Everything has a futuristic look with predominantly white. I spend half an hour on the clock walking around and exploring the place until I decide it's time to go to the hangars.
I consult the typical map that usually puts "You are here". I don't know a damn thing because I'm too anxious and I'm too clueless to pay attention for more than two seconds to one thing among all the news. I decide go on an adventure and use common sense: I have to look for a meter. Along the way, I'm learning more about the controls.
Beginner's luck I get to the subway and I read "Spaceport" to the left. "Right away!" I tell myself. He train ride takes several minutes, but finally I arrive at the Spaceport, where there are several sections: renting or renting ships, hangars and a stall with food, drinks and toys. I have a drink of water and go to the hangar area.
My live experience has taught me that the ship is requested by the screens, they assign you a hangar and you take off from there. I follow the steps. Once sitting in the cockpit of one of the ships that the game gives you for the test (Nomad), I face the reality of my circumstances: how do you fly in this game?
The authorities put a warning on the screen: I have less than 30 seconds to take off because I'm obstructing the hangar. They transfer me to the Spaceport. And so begins my aventura roguelike and Star Citizen.
Second try: I learn how to start the ship, but I have no idea how to raise it.
Third try: I learn how to raise the ship and basic movement controls, but the door won't open.
fourth attempt: I learn to retract the landing gear and that the door definitely does not open by itself… even if you get very close with the ship.
fifth try: after watching a video on YouTube, I request that they open the door for me and I shoot my ship towards the stars.
And then I face the reality of my circumstances again: I have no idea where I have to go, or how to look for jobs, or how to navigate through space… for not knowing, I don't even know how to land the ship back in the hangar. I have certain ideas after playing Elite DangerousBut here things are a little more complex.
Summary: I ended up disabling my Nomad's engines to orbit New Babbage. My spatial ineptitude has managed to get the planet out of me, but now I'm just a hunk of metal circling a planet. It had been a long time since I felt so useless in a video game. And not for the game, but for me.
And the space plot twist arrives…
Just as I was about to give up, like a voice coming over the ship's radio, my friend asks me where I am, that he's arriving at New Babbage. I tell him my situation and he tells me not to worry. we add ourselves and I appear again in bed by joining his party. Thank you!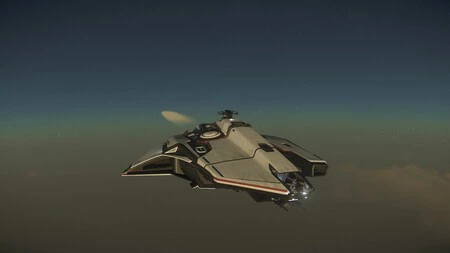 We meet at the base's Spaceport, he shows me some ships, I learn the basics to take off, fly and land without dying trying, and finally he utters the most beautiful words in the world: Let's go to work as a bounty hunter and I have to go in the turret. This game moment, this violent and frantic game moment, is called "Happiness."
I learn to use the turret, to fix enemies, the types of ammunition and shields… And a few minutes later we shot down the first ships with relative ease. After half an hour of fighting, my friend warns me that we are going for a very complicated contract and that this time we might not count it. "What are you saying, man of little faith!" I tell him.
The last match is really tough and there are a couple of moments where we both think we're going to take each other for granted, but finally we managed to keep the type. We have no shields in the rear of the ship and we have a lot of damage in the internal zone. We decided to go back to base.
Before finishing, my friend lends me a luxury ship to give me some tips on how to fly. The landing is a bit complicated for me because the base he doesn't want to give me authorization to land, so we decide to leave the ship outside and enter through a secondary area… but just as we park they give us authorization. I resist my urge to slam the ship into the hangar office and park.
We decided to end our adventure chatting in the souvenir area with a couple of juices and chatting. enough space adventures for a day for a person who has taken up to 5 attempts to get his ship out of the hangar. I really like Star Citizen, but playing it has shown me that it may require a lot more commitment than I imagined. Unfortunately, the Free Fly has ended.
In ExtraLife | The 23 video games you have to play if you like to travel to space
In ExtraLife | Do you win from Starfield? These are the 11 space games you can play while you wait for its release
In ExtraLife | All Call of Duty games in chronological order: from World War II to battles in space