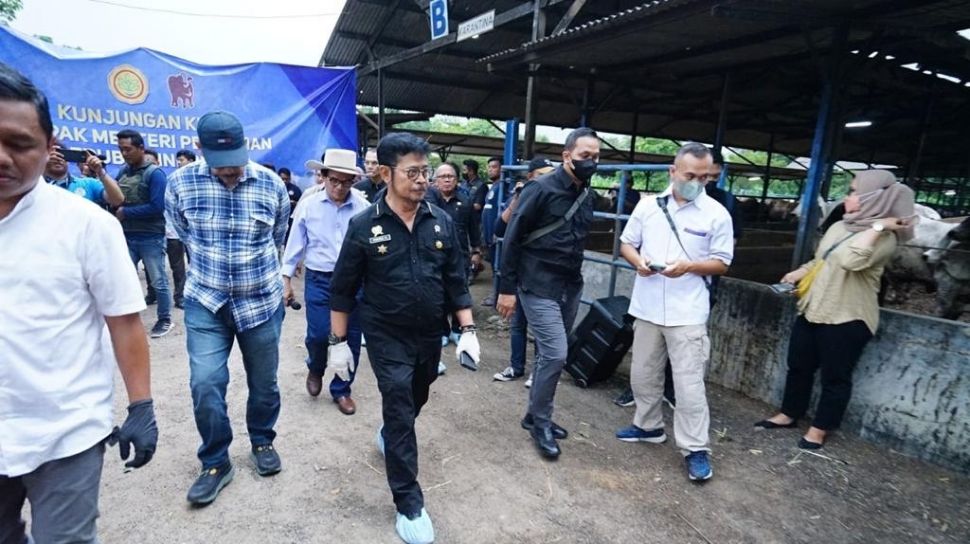 Suara.com – When inspecting a cattle farm belonging to a private company in Karangmekar Village, Kedung Waringin, Bekasi Regency, West Java, the Minister of Agriculture, Syahrul Yasin Limpo (Mentan SYL) ensured that the supply of beef ahead of national religious holidays (HBKN) was safe.
"All supply bags are in accordance with the balance we have, that availability ahead of Eid al-Fitr is in a safe condition. Between supply and demand, we can meet it properly. I ensure availability in Bekasi, Karawang is ready to supply to other areas," he said, Friday (14/4/2023).
Currently, said SYL, the only complaint raised by farmers in Bekasi is the feed problem. However, this condition is still in a safe position considering the supply of feed that continues to enter every day.
"Earlier there were a few complaints about the feed. But once again, I make sure that the livestock there are high enough, so that they can meet the needs of the community," he said.
Also Read: Minister of Agriculture Appreciates Food Always Available and Farmers' Welfare Increases
It should be noted that the stock of stables currently available at a Bekasi company reaches 2,403 heads with a stock of ready-to-slaughter cattle reaching 1,124 heads. This number will still increase considering the additional stock of local cattle coming from other regions.
"We hope, especially in Greater Jakarta, the availability of meat is better than last year, up to above 15 percent. What we are anticipating now is to prevent a high increase. Everything here must be prepared," he explained.
SYL added, the current task of the Ministry of Agriculture is to prepare availability so that there is even excess. Don't let, he said, entering the national holiday meat stocks are not counted properly.
On the same occasion, Suratno, the head of the cattle company PT Kariyana Gita Utama (KGU) said, the currently available stall capacity is 2,200 heads and 1,644 heads have been filled with details of 1,025 cows ready for slaughter and 619 heads in quarantine.
Suratno said, to increase the cattle population in the stables, his party would still import 250 head of cattle through the Port of Tanjung Priok.
Also Read: Ahead of Eid Al-Fitr, the Garut Police inaugurate the Construction of a Mosque in Leles which was previously burnt by ODGJ
"We have a pen in Curug Sukabumi with an area of ​​14.5 hectares and has a loading capacity of 4,850 head. So currently there are 4,350 head of stock in the pen, with 2,538 ready-to-slaughter cattle). And tomorrow we will add another 396 cattle. tail through the Port of Tanjung Priok," he said.
In general, said Suratno, currently there is no problem with the availability of cattle ready for slaughter because his party has pocketed 32 cattle importers who currently have 42,079 cows ready for slaughter and 1,528 buffaloes ready for slaughter.
"I corroborate what the Minister said that the availability of our beef is safe," he explained.