María Fernández has been dancing, singing and acting since she was little. Now, thirteen years old, she has decided to take a leap and introduce herself to 'La Voz Kids'.
The young woman has chosen a well-known song by Malú, 'Tejiendo alas', but she has not managed to convince any of the coaches after her performance.
Despite singing very well, Rosario has confessed that she has not been able to transmit because she was more aware of doing it well, something that the rest of the coaches have agreed on. During the night, Rosario has also surprised us by singing the song 'I love you, I love you' with a talent.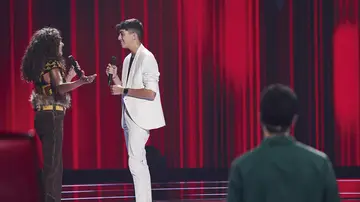 Yatra has encouraged him to move forward so that he can appear at the next edition of 'La Voz Kids'.
A night full of emotions, in which the coaches have shone together with the talents, that has been the case of Aitana, who has not hesitated to take the stage with Ana Valero to fulfill her dream.