Suara.com – Bali United has finally started its warehouse clearance after the BRI League 1 2022-2023 competition ended. So far, there have been seven players who have been officially kicked out by Serdadu Tridatu's management.
Most of the names of the players released by Bali United are quite senior in age. They are more than 30 years old, some are even close to 40 years old.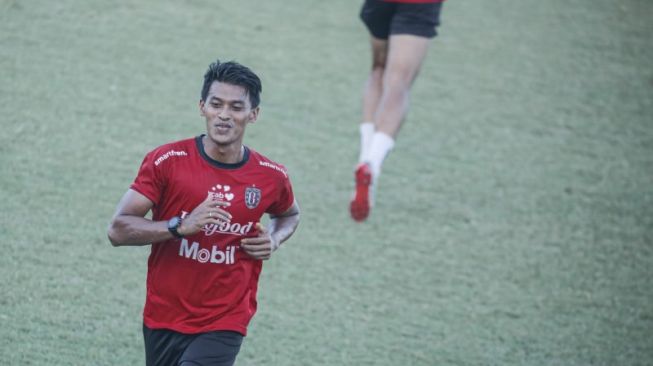 Bali United striker Lerby Eliandry (HO/Baliutd.com)
Even so, these players have played a major role in helping Bali United win two championships which were won back-to-back in the 2019 and 2021-2022 seasons.
For this season, not all of these players got regular playing minutes when Serdadu Tridatu ended his competition in fifth place in the BRI Liga 1 final standings.
Also Read: Fainting 'crashed' a ball, Vidal Reveals Experience of Playing in Indonesia's League 1
Next, Bolatimes.com presents the names of players who have been officially released by Bali United after the end of the 2022-2023 League 1 competition.
1. Ahmad Agung
Ahmad Agung was one of the first players announced to have ended his partnership with Bali United. This player who plays as a midfielder rarely appears.
2. Sandi Sute
Apart from Ahmad Agung, the first wave of releasing Bali United players also involved Sandi Sute. This former Persija Jakarta player also rarely plays.
Also read: 4 interesting facts about Bangbang Syamsudar, the best referee for BRI League 1 who graduated from doctoral degree
3. Gerry Mandagi
The third player to be announced with Ahmad Agung and Sandi Sute is Gerri Mandagi. The Bali United goalkeeper couldn't do much under the shadow of Muhammad Ridho and Nadeo Argawinata.
4. Gunawan Dwi Cahyo
After that, there is a player who has contributed greatly to Bali United winning two League 1 titles, namely Gunawan Dwi Cahyo. The 34-year-old defender had to part ways after four years together.
5. Rizky Pellu
After helping Bali United win the 2021-2022 BRI Liga 1 title last season, Rizky Pellu finally had to say goodbye to Serdadu Tridatu this season.
6. Lerbby Eliandry
Next, there is Lerby Eliandry, who has been confirmed not to continue his relationship with Bali United after many years of history.
7. Leonard Tupamahu
Most recently, there is a senior defender who has been officially released by Bali United. That figure is Leonard Tupamahu. The player who has contributed to delivering two championships is indeed old, because he has reached 39 years.
(Author: Muh Faiz Alfarizie)