We tested the JBL Quantum 360P Console Wireless headset, which is compatible with PS5, Xbox Series X|S, and Nintendo Switch. One of the best choices on the market.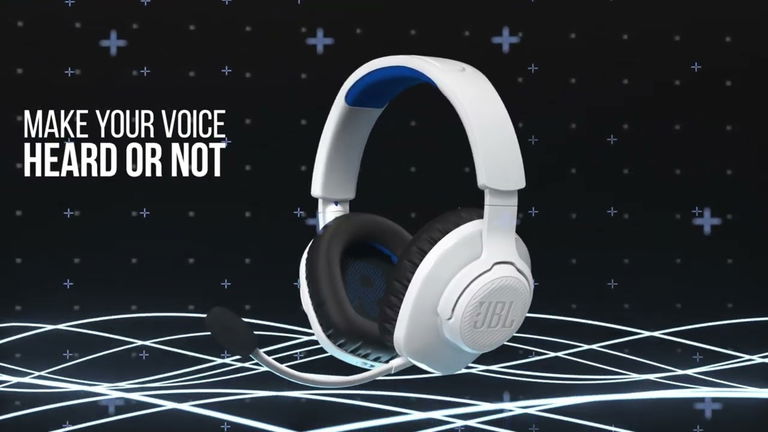 join the conversation
JBL is one of the leading brands as far as sound is concerned, since it has multiple devices dedicated to the best musical and sound experience that can be found on the market at the moment. Of course, in an audiovisual environment such as the one we are dealing with in the video game sector, having good audio quality It can be essential to give maximum expression to the title and its virtues. That is why in recent years the number of players who prefer to experience video games through the use of headphones and headphones is increasing. the JBL Quantum 360P Console Wireless is presented as an excellent option to fulfill this function.
I have been testing them for the last few days both in routine day-to-day tasks on the PC and in the different next-generation consoles for which they are compatible: PS5, Xbox Series X|S y Nintendo Switch. Once I have all the impressions that these great headphones have been able to leave me, I will tell you everything in the analysis of them so that you are clear if they are the choice you were waiting for both for your gaming sessions and for everything you want in your day-to-day life with your PC and your mobile.
technical specifications
JBL Quantum 360P Console Wireless Dynamic Frequency Response 20 Hz – 20 kHz Input Impedance (ohms) 32 2.4 GHz Wireless Transmitter Power <10 dBm/MHz and <20 dBm Noise Cancellation 2.4G GFSK Wireless Modulation Headset Weight 252g Built-in Microphone Playtime maximum 26 hoursCompatible with PS4, PS5, Xbox Series X|S, Xbox One, Nintendo Switch, Windows, Mac, Android and iOS
Box contents and first impressions
The packaging of the JBL Quantum 360P Console Wireless headphones is very careful, since the device arrives wrapped in cardboard so as not to damage any of its components and its first contact impresses, since they are really light and manageable, so from the first bars it is already intuited that comfort is the key note of this unit. And it is confirmed with the passing of the hours, since it is one of the few devices that adapts perfectly to the ear and does not show signs of discomfort, so there is a lot of work in terms of earphone pads per se, perfectly designed for long listening sessionssomething essential when it comes to video games.
On the other hand, they have very simple and effective handlingin addition to an almost immediate response time for your wireless connection with any device you want to use them on, just a second to make them available for use. This is especially important, since I have been able to test many other devices and the response time is not usually that fast, so it is a point in favor to take into account. On the right side, the headphones only have the on and off button, while on the left are those related to volume, tone, the USB connection and the integrated microphone, through which you can communicate with your friends in the games.
obviously, We are not facing one of the best microphones that can be found on the market, but it is not the main function of the JBL Quantum 360P Console Wireless, but a complement to give more meaning and depth to its connectivity with all current consoles: PS4, PS5, Xbox Series X | S, Xbox One and Nintendo Switch , in addition to any PC and mobile device. The truth is that we are before a most complete and effective productwith which the first impressions are really positive, something that is expanded by delving into its main characteristics.
User experience: comfortable headphones, with great autonomy and powerful sound
What is most valued when using headphones is that they have great sound quality, but in my opinion there is another essential element that is crucial to make the right decision and achieve that balance that is expected in all its features: the comfort when using them. In this sense, the JBL Quantum 360P Console Wireless stands out for having The most comfortable and resistant pads you thought for long sessions of usesomething that I have been able to verify both on PC and on the different consoles, with days of more than 8 uninterrupted hours without any type of problem or discomfort when using them. A very positive point for all those who are dedicated to audio or video editing and need a device that rewards comfort in several hours of use.
Focusing now on the other main point, the sound quality of the JBL Quantum 360P Console Wireless is indisputable. JBL suele bet for good bass balance on your devices and here it has a regulator that allows you to adjust the tones in the way that is best desired, but always with that power that the brand is used to displaying. I have been able to test them with different musical styles and the truth is that the result is really satisfactory, with superb performance and power that allows you to hear any type of content with total clarity without even having them glued to your earso that you can get an idea of ​​the great power that these headphones have.
Going to one of the parts that interest us the most at this point, taking into account that we are a portal dedicated to video games, the JBL Quantum 360P Console Wireless They are compatible with all current consoles, so they are a perfect complement to enjoy the most intense gaming sessions. But, do they meet what can be expected from headphones dedicated to gaming? Well, this is where this model has managed to surprise me the most, since perfectly emulates the 3D audio that is included in PS5, so that you can get that spatial audio system that produces a much more immersive experience. For his part, On both Xbox and Nintendo Switch the sound is superb and borders on perfectionwithout having to envy any of the other devices on the market that I have been able to test on any console.
Therefore, we have headphones that have great comfort, a good sound balance and meet what is expected of a gaming device. What remains for us to analyse? Another key element: the autonomy. In long sessions of use on the PC, The JBL Quantum 360P Console Wireless are capable of supporting more than twenty hours of content without requiring charging, although this is noticeably reduced on consoles, especially in the case of PS5. To enjoy the headphones on consoles, the battery can last about 18 hours, reducing to around 15 on PS5. It may seem like a negative note, but it is a greater autonomy than the official headphones of the Sony consoletaking into account the technology available, so it continues to be an option to take into account.
Conclusions of the JBL Quantum 360P Console Wireless
The experience with the JBL Quantum 360P Console Wireless headphones has been really positive, although it is true that it should be noted that the integrated microphone that it includes has a much lower quality than that offered by the audio. This can penalize performance on consoles if you want to stream or the like, but combining them with an auxiliary microphone can be a perfect option for any of these practices. The important thing is that it complies where it should, which is in offer a premium sound experience that manages to take the hearing level to another level.
Los JBL Quantum 360P Console Wireless son a great choice, based on comfort, power and great autonomy compared to other similar devicesso if you are looking for new headphones both for your gaming sessions and for other types of activities on your PC or mobile devices, in value for money you will find a model capable of meeting all expectations and any task that you propose
JBL Quantum 360P Console Wireless
Are the JBL Quantum 360P Console Wireless headphones worth it? For The comfort in long sessions of use. The great power and sound quality. A great autonomy compared to the competition. Against The microphone is below expectations. The autonomy decreases in consoles.ConclusionsThe JBL Quantum 360P Console Wireless headphones are a great option for all those who want a good balance in all the main functions in which a device of these characteristics should stand out: comfort, power and autonomy. If you are looking for an option that adapts to these characteristics, it is absolutely recommended.
join the conversation
This device has been thoroughly tested independent thanks to a transfer by the brand. The article contains purchase links for which Alfa Beta Juega may receive a commission. Join the Alfa Beta Juega bargain channel to find out about the best deals before anyone else.