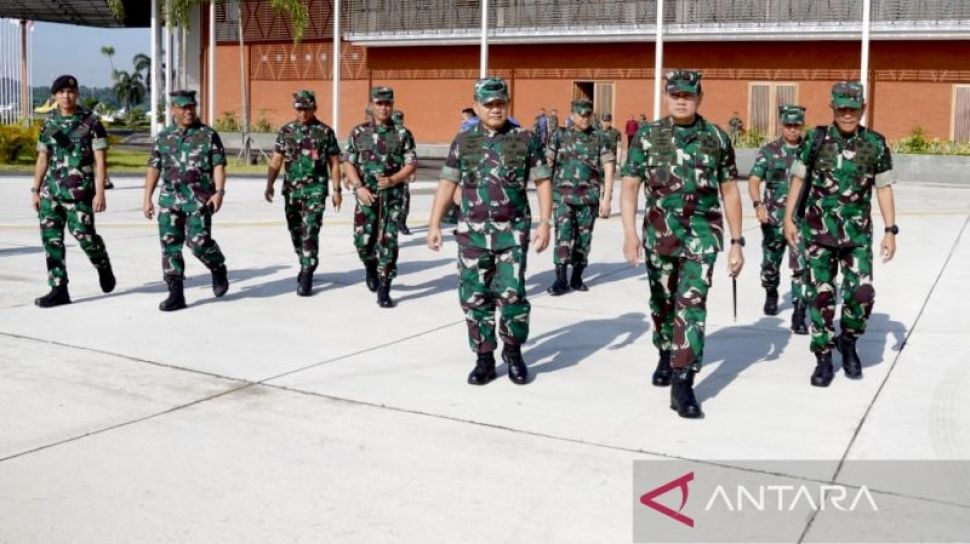 Suara.com – So far, the TNI has often used a subtle approach to dealing with the West Papua National Liberation Army-Free Papua Organization (TPNPB-OPM). However, TNI Commander Admiral Yudo Margono is now implementing a combat alert operation.
The combat alert operation was carried out in several areas that were considered prone to TPNPB-OPM terror acts in Papua.
According to Yudo, the increase in military operations aims to strengthen the combat instincts of the soldiers, so that they are always alert when dealing with the KKB.
"In certain areas, we have changed it to a combat alert operation. In Natuna there is a sea combat alert operation, here there is a land combat alert operation. That is, it has been increased from what was previously a soft approach, by dealing with attacks such as what happened on April 15. Then, of course, we will increase it to combat alert," Yudo said at a press conference at the Yohanis Kapiyau air base, Timika, Papua, Tuesday (18/4/2023).
Also Read: Condemning the TPNPB-OPM that Killed Pratu Miftahul Arifin, Vice President Ma'ruf: TNI-Polri Now Must Be Firm!
Despite implementing combat alert operations, the subtle and humane approach embodied in territorial operations and social communication in Papua continues, especially when soldiers are dealing with the community.
"All this time, we carry out territorial operations, social communication, we still carry out that; but when facing (an attack) like this, we must carry out a combat alert," he explained.
Previously, the TPNPB-OPM intercepted and attacked TNI troops who were combing the Muhi area, Nduga, Papua. The TNI troops are looking for Susi Air pilot Philip Mark Merthens who has been a victim of the TPNPB-OPM hostage since February 2023.
"On the road, our (soldiers) were intercepted by KST (terrorist separatist group) and there was gunfire. Of the 36 troops (at the location), one died, namely Private Miftahul Arifin," said Yudo.
From that incident, Yudo said that three soldiers received gunshot wounds and one was injured as a result of a fall. The four injured soldiers have now been evacuated and taken to the hospital for further treatment.
Also Read: Soldiers Become Victims, TNI Commander Evaluates Susi Air Pilot Rescue Operations
"Thank God, they are all in good health, they can still see me in person, say good afternoon Commander! It means they are still conscious. Earlier I picked them up there with Pak Kasad (TNI General Dudung Abdurachman). Some say Commando! It means they are still conscious. Thank God, hopefully they will be healthy again and recover from their injuries," said Yudo. (BETWEEN)