In New York, security measures have been stepped up in anticipation of the arrival in the city of former US president Donald Trump, who will have to appear in court on Tuesday to be detained. Trump, indicted last Thursday for an alleged illegal payment to porn film actress Stormy Daniels, will be the first former US president to face a criminal trial: even if he will be released immediately, the exceptional nature of the story has led the police to prepare to handle the expected traffic of journalists, curious and critics of Trump, but also the possible protests of his supporters.
In recent days, the New York police have blocked access to the streets near the Manhattan courthouse where Trump is expected on Tuesday and have installed concrete blocks and metal barriers to limit the presence of people around the Trump Tower, his skyscraper in New York. In addition, some courtrooms will be closed as a precaution while Trump is in the building, a judicial official was quoted by Reuters as saying.
An adviser to the former president also quoted by Reuters said Trump will arrive in New York from his Florida residence on Monday and will spend the night in Trump Tower. Then Tuesday morning he will go to court, where it is possible that he will be let in through a secluded entrance: his lawyers have in fact negotiated with Manhattan District Attorney Alvin Bragg the terms and conditions under which Trump will surrender to the authorities, a common practice for non-violent crimes and in this case also linked to its role. Trump, for example, will have to leave his fingerprints and take mug shots, the so-called "mug shot", which however probably will not be disseminated.
According to some people close to Trump quoted by the New York Times, the former president does not intend to speak at a press conference or address the public while he will be in New York. NBC says he will return to Florida immediately upon his release, where he will continue to discuss the case with his lawyers.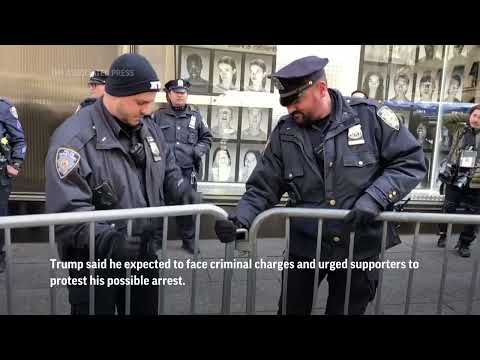 In addition to journalists, several people have already gathered around the Trump Tower these days to challenge the former president, while at least one demonstration by his supporters is expected on Tuesday. The New York Republican Youth Club, an organization that brings together Republicans between the ages of 18 and 40, organized a protest in support of Trump in a park near the courthouse: Republican parliamentarian Marjorie Taylor Greene, known for her her extremist ideas and supporter of QAnon, the complex of far-right conspiracy theories according to which, among other things, there is a conspiracy against Trump.
The Site intelligence group, an organization that observes the behavior of extremist groups online, observed that in recent days death threats have been made on social networks both to Bragg, who had reopened the case against Trump in January 2023 , which against members of the grand jury, the body that voted to indict the former president. There is therefore some concern that some violent episode could happen. It wouldn't be the first time for Trump's most extremist supporters, who stormed the US Congress in January 2021 during the certification of Joe Biden's victory in the previous presidential election.
Sources inside the New York police cited by CBS news said Friday that almost all the city's officers – 35,000 out of 36,000 – had been alerted to be ready to handle any protests. For the moment, however, according to the police department, there do not seem to be any concrete threats to the city.
– Read also: The Trump-Stormy Daniels case, in brief
The charges against Trump have not been disclosed, but it is known that they concern a case from a few years ago: the alleged payment of 130 thousand dollars to Stormy Daniels, which Trump allegedly made in 2016 through his former lawyer Michael Cohen to convince her not to mention a sexual relationship I had with him about ten years earlier. Manhattan prosecutors argue that the payment would not have been properly reported under the strict rules concerning the expenses of political candidates: the payment was made just towards the end of the 2016 presidential election campaign.
One hypothesis is that Trump is accused of not reporting his payment correctly to hide it, or of doing so to try to hide a second more serious crime, although it is not clear which.
Trump had not initially commented on the circumstances of his indictment. On Friday afternoon he wrote on Truth Social (his social network) that "incriminating a completely innocent man is a gesture of obstruction and blatant interference" in the election process. Trump, who in the meantime ran for the Republican party primaries in view of the 2024 presidential elections, has long claimed that he is the subject of political persecution and has defined the ongoing investigations as a "witch hunt" organized to damage the career of he.