The Pokémon Company has revealed the theme song for the new opening theme song for the Pokémon Horizons series. Will he become the best?
After Ash's emotional farewell and waiting for April 14 with the premiere of the next anime, The Pokémon Company wanted to offer a new preview of what is to come. Today we have been able to see, or rather hear, the first opening of the new Pokémon Horizons series.
The story that will take over from the adventures of Ash and Pikachu, starring Liko and Rod, enters with quite different airs to those we discovered the first time we heard that "I will become the best, the best there will ever be". Below, you can see how it has been presented, and listen to it in passing.
What do you think? Very soon we can begin to discover how are the new adventures of the Pokémon universe with this new anime. It's time to start a new generation of truth, a new era in which the coach of Pueblo Paleta and his loyal companion will no longer be there.
Will Liko, Rod and their two mystery items measure up? We will find out soon. Although in Spain we will have to wait a little longer.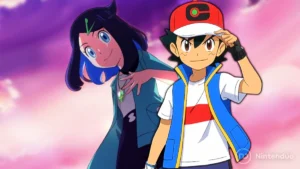 Liko's detail that linked her to Ash in the new Pokémon Horizons series has a much simpler explanation than it seems.