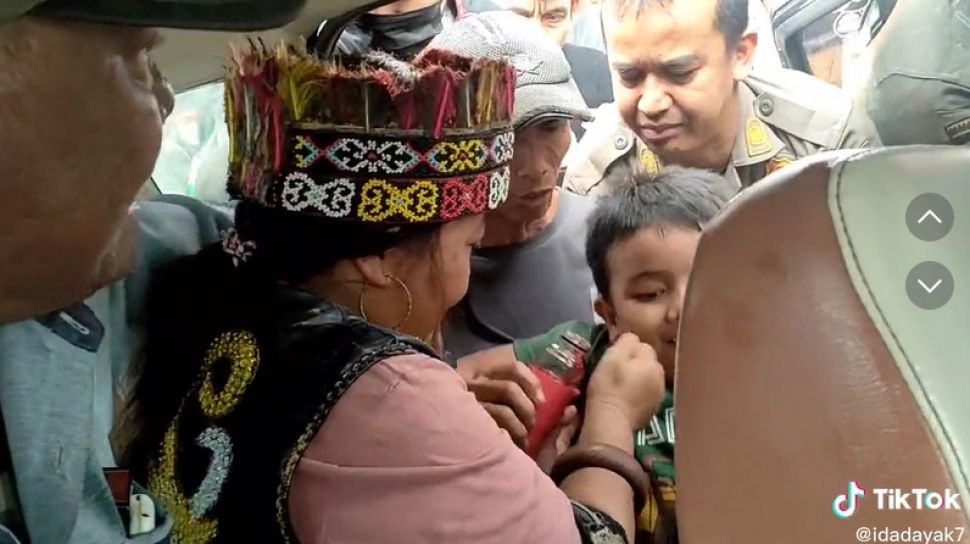 Suara.com – Ida Dayak is a viral alternative medicine provider from Paser Regency, East Kalimantan. His name became even more famous after the treatment held in Cilodong, Depok was filled with people who were willing to stand in line for hours but ended up being cancelled.
In carrying out her treatment, Ida Dayak uses the typical Dayak star oil. This oil is claimed to be able to cure broken bones, strokes, and other diseases suffered by patients.
Star oil is included in the Intangible Cultural Heritage of Indonesia, Ministry of Education, Culture, Research and Technology of Indonesia. This oil is thought to be one of the magical arts that developed in the Dayak Benuaq and Dayak Tunjung communities in West Kutai Regency, East Kalimantan.
History of star oil
Also Read: What is Star Oil? Mysterious Medicine After Ida Dayak Viral Treatment
This star oil is studied for self-defense and to attack enemies. In the past, this knowledge was studied because there were still many wars between tribes and to protect themselves.
The way to get star oil is to buy it or use it for 5 to 10 antang. At that time, its value was very valuable and not many people could afford this knowledge.
Someone who can have star oil knowledge in general is less interested in learning other sciences. The reason is, this star oil science is believed to be able to revive its owner after being killed.
If the stars in the sky appear, then the owner of this knowledge will come back to life. However, this knowledge is useless if the owner of the knowledge is killed and his organs are cut apart and buried far apart. Even the owner cannot live again even though he has this star knowledge.
The way to use this oil is to drink a few drops at night. With just a few drops of star oil, one can last a lifetime.
Also Read: CHECK THE FACTS: Ida Dayak Healed an Arab Prince with Magic Oil and Special Dance
According to heritagecultural.kemdikbud.go.id, although it is known for its potency, this oil has limitations. Star oil science is only useful for the owner of the knowledge but cannot help other people.
Based on this explanation, star oil can only help the owner, not anyone else. This is contrary to the concept offered and carried out by Ida Dayak.
Even so, Ida Dayak always recites tahlil, the effectiveness of this method cannot be ascertained. However, many people trust Ida Dayak and seek treatment from him.
Another magical story related to star oil is in the form of three groups. Group three is for injuries, group two is for immunity, and group one is believed to revive people who have died.
How to use it by applying it to the body with certain rituals. The goal is to repair damaged cells. This oil is all the more effective when done under the starlight of the evening sun.
Contributors : Annisa Fianni Sisma