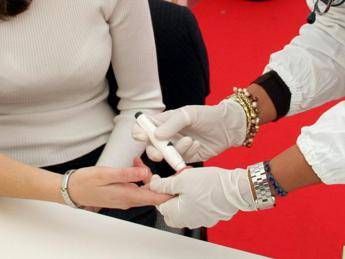 Novo Nordisk's insulin self-administration smart pens (NovoPen*6 and NovoPen Echo* Plus) are now compatible with Abbott's FreeStyle LibreLink App. The integration of advanced technologies such as sensor glucose monitoring and connected insulin pens confirms both companies' commitment to making diabetes management easier. Abbott announces it.
People with diabetes who use the free FreeStyle LibreLink app can now easily transfer insulin data recorded by smart-pens into the app with a simple scan. Thanks to this integration, it is possible to quickly see how the doses of insulin administered, food and physical activity affect glucose values, making it easier to make targeted and optimal treatment decisions on the insulin to be taken. A complete history is recorded in the app showing the time and dosage of insulin taken, as well as glucose levels. This information can help prevent insulin pooling or missing a dose, two problems that are especially important for those who inject insulin multiple times a day.
"Every day people with diabetes on multi-injection insulin therapy – says Luigi Russo, General Manager Abbott Diabetes Care Italy – have to make numerous decisions to better manage their glucose levels and maintain glycemic balance. From nutrition to the right dosage of insulin, from the right time to take your medicines to physical activity. This can be particularly burdensome and compromise the quality of life. Abbott's goal is to offer people with diabetes simple technologies that can positively change everyone's life by helping to reduce the daily impact of the disease. The new partnership with Novo Nordisk, and the others we are developing with different partners who produce insulin devices, will be essential in achieving this goal".
"Technological advances in diabetes therapy – adds Drago Vuina, General Manager and Corporate Vice President of Novo Nordisk Italy – have led to a clear improvement in glycemic control and today, thanks to this collaboration with Abbott, we are able to highlight the existing between each individual insulin administration and the data recorded by monitoring blood glucose, nutrition and physical activity for personalized disease management. At Novo Nordisk we are always committed to developing new technologies that can provide cutting-edge solutions to support the needs of people with diabetes and doctors, which reduce the invasiveness of the disease in their lives and prevent its complications".
Thanks to this new integrated digital system – continues the note – even doctors can easily view both blood glucose data and insulin dosage within the same report. In addition, with LibreView, Abbott's cloud-based glucose data download platform, your diabetes team will be able to view this information and make more informed, data-driven treatment decisions.
Glucose monitoring technology with FreeStyle Libre sensors is notoriously associated with a reduction in hospitalizations – assure Abbott – and better control of glycemic parameters such as glycated hemoglobin (HbA1C), traditionally associated with a greater risk of developing complications related to diabetes, such as cardiovascular, renal and retinal diseases. As a recent study published in the 'New England Journal of Medicine' further demonstrated, people with type 1 diabetes and suboptimal glycemic control who used the FreeStyle Libre 2 system had significantly greater Hba1C reduction compared to traditional systems. capillary glycemic self-monitoring (MBG). Use of the FreeStyle Libre 2 system has resulted in improvements in quality of life, treatment satisfaction, and reduced discomfort associated with glucose monitoring.
Abbott is collaborating with several leading insulin pump manufacturers to develop integrated solutions to simplify and improve diabetes management. Combining Abbott's sensor glucose monitoring technology with other innovative diabetes devices can make a significant impact on the lives of people living with diabetes by providing technology that helps them personalize their care. The FreeStyle Libre portfolio offers different devices for glucose monitoring with sensors for people with type 1 and type 2 diabetes. The different solutions include a sensor, which is applied to the back of the arm for up to 14 days, combined with a reader or a smartphone app that displays glucose readings and trends over time. Freestyle Libre is the most popular system in the world and is changing the lives of over 4.5 million people with diabetes in more than 60 countries around the world.