We played through the first 16 levels of Advance Wars 1+2: Re-Boot Camp in order to bring you our final impressions prior to the game review.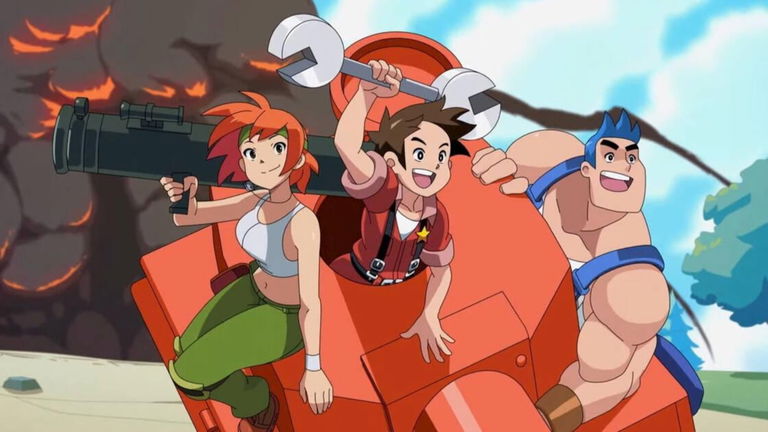 join the conversation
Nintendo continues to offer a large catalog for Nintendo Switch in what could be his last year alone, before giving way to his successor, as various rumors comment. However, before that happens, we have to enjoy great games like The Legend of Zelda: Tears of the Kingdom, which is just around the corner. Before Link's new adventure through Hyrule arrives, he has to stop before one of the releases that are closest in time and that has been delayed ad nauseam for obvious reasons.
Thus, We have already been able to play the first 16 chapters of the first installment of Advance Wars 1+2: Re-Boot Camp, to be able to offer our final impressions and that you can know how this proposal looks that the conflict between Russia and Ukraine ended up postponing more than it should. we are before a strategic game that will take you to the limit when it comes to positioning the troops on the board and being able to combat the enemy powers with cunning and a prudential time for any action. If you are a lover of war strategy, welcome to one of the masters of the genre.
Too much information, captain!
Advance Wars 1+2: Re-Boot Camp knows that entering its universe for those who have never done it can be something especially complexso in the first bars he tries to make you know the basic notions through a multitude of tutorials. With this, the role of the board is explained, divided into boxes in which you can place the different human, land, air or naval units. In addition, the role of the fog is also explained, which covers a certain part of the terrain invisible to the player and, of course, the actions that can be carried out both with the buildings and with the combat units.
This learning process is necessary, because as progress is made in the different missions the degree of complexity is greater, so it is essential to have all the well-learned concepts so that they can get you out of a bind in the most difficult moments. And it is that Advance Wars 1+2: Re-Boot Camp does not mess around, since once it unleashes the lions on you, it becomes a title where each movement counts and even the smallest detail can be crucial to emerge victorious in the fight. Except for special levels, there are two methods to win the game: eliminate the rival troops completely or take their general base, so strategy may vary depending on the units that are available and the course of the game.
The magic of Advance Wars is that it offers a simple proposal and, at the same time, with certain layers of complexity. For a player who tries to get into the strategy genre, it will be a most fun bet, but it will also saturate him due to all the amount of information that must be taken into account of each of the units, buildings, vehicles and all its implications on the ground. Of course, as soon as you get used to it, it is pure spectacle in the strategic environment.
A successful strategy
And it is that when the game really shines is when it leaves you at will to do everything you want, at your own risk. It is in these moments that you realize what the game can do, forcing you to think ahead for any type of movement, since the AI ​​does not mess with a lot of nonsense and is clear about what to do. In this way, you have certain units at some levels, while in others you have bases of operation where you can generate new troops or vehicles, investing the points you get as the game progresses.
Obviously, there are units that are more powerful compared to others and vice versa, but at the same time the terrain also matters, since human units can take better cover in rocky areas than in open fields, while submarines can submerge and avoid certain attacks. In addition, there are freighters that can transport troops and vehicles to other areas of the map, something especially useful if there is a sea in between and endless possibilities that turn the battlefield into a tidal wave of available options for its execution. Definitely, a festival at a strategic level that will delight all those who enjoyed the original proposals.
With all that, Advance Wars 1+2: Re-Boot Camp becomes a difficult game, since I have had to restart several of the missions that I have been able to play so far to try to find the perfect strategy to defeat the enemy army. This is also part of the magic of the saga, since trial and error is crucial to learn the behavior of the other side, know their units and be able to act accordingly. However, it is best not to get frustrated in this type of situation, because here a defeat serves as an immense learning to continue delving into your proposal and find new ways to win.
Sometimes it is better to adopt a defensive strategy until it is time to attack, while other times you have to exploit the weaknesses of the enemies. I thought I was going to find a game where I could beat all the missions in a certain way, but I found myself ambushing the enemy so I could move a unit to their base and take it while I entertained them in another remote place. In this field, Advance Wars 1+2: Re-Boot Camp moves perfectly, since it is able to adapt to any style of playso you can let your imagination fly to try to achieve victory.
Three protagonists with very different styles
In these 16 initial chapters that I have been able to try, the three main protagonists have already been presented, each with their own virtues in combat. Once you advance enough, you can choose which of the three you want to face the mission with. We have Andythe young boy who has no abilities, but no weaknesses either, being a balanced character who can repair drives when his special attack is executed. Yes, there is a special attack that can be activated once an energy bar is filled.
On the other hand is Max, the strongman of the army, which offers more attack power to direct combat units, although indirect combat units are not his specialty, so they will do less damage. His special attack is a Increased attack and movement capacity of your units. Lastly, we have Sami, who is the fastest of the group, allowing infantry units to be stronger and transport vehicles to move with more range. Her weakness, on the other hand, is direct combat. can do that units move faster and are not affected by terrain imposed by the opponent through his special attack.
As you can see, each of these characters has a certain combat style, so the choice can be crucial at the beginning of the mission to achieve victory more easily or sweat the fat drop for it. Of course, the enemies also have a specific battle style and special powers, so That trial and error I was talking about becomes even more important to be able to study all these options and determine which is the right character. to undertake the mission in question.
Advance Wars 1+2: Re-Boot Camp aim and shoot your bookshelf
There are still many aspects to be defined regarding the performance of Advance Wars 1+2: Re-Boot Camp, such as the technical part, but since I have only been able to access the first installment for the moment, I don't want to venture. For now I can say that On Nintendo Switch OLED the game looks wonderful and its color palette brings out the full potential of this screen in portable mode, while the performance is superb, although it is not a title that requires much in this regard. I will be able to tell you more when the analysis in this regard is published.
The impressions that Advance Wars 1+2: Re-Boot Camp leaves me are really positivesince it manages to capture the essence of the original games with this renewed graphic style and a strategic proposal that offers great options when executing the different options that are allowed. All this depends on your good work as a strategist on the battlefield, of course, but the games can last up to half an hour (or more) if you are not able to unclog the situation and the enemy troops resist your attacks. Thus, we are before a game that aims quite high to be the new presence you have been waiting for on your shelf of Nintendo Switch titles. This is all for now, we read in a day when I have entered even further into the fray to win this fun battle.
join the conversation