Suara.com – A video circulating with narration by Ida Dayak was hypnotized by presenter Uya Kuya until she cried. Later, the figure of Ida Dayak went viral on social media because he was considered to have the power to cure disease.
The video was uploaded by the Facebook account for the exam room (fb.com/Ruangujian01) on April 6 2023. The title of the video is "FULL TEARS!! Mrs. Ida's reason was surprising when Uya Kuya successfully hypnotized Mrs. Ida Dayak."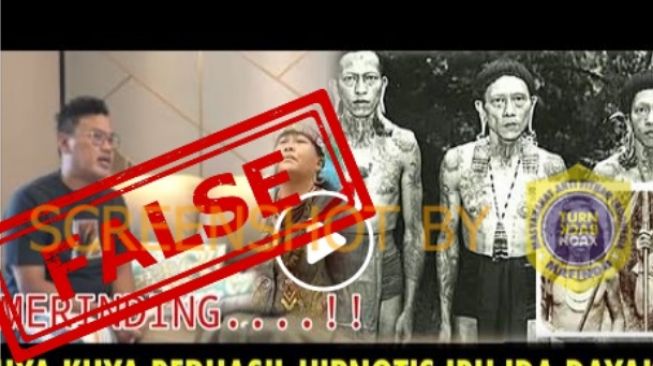 Hoax Ida Dayak was hypnotized by Uya Kuya.
So is the video claim true?
EXPLANATION
Also Read: FACT CHECK: FIFA Comes Again to Indonesia, President Joko Widodo Conveys This to the President of the International Football Federation
The results of Turnbackhoax.id's examination showed that the video which was claimed to be Uya Kuya's video that succeeded in hypnotizing Ida Dayak was manipulated content.
In fact, the video is an edited video. Because Uya Kuya's photo in the video is the result of manipulation of a video clip when Uya Kuya hypnotizes Ria Ricis.
The original video of Uya Kuya when he hypnotized Ria Ricis was titled HYPNOTIS !! RICIS ACKNOWLEDGES HARRIS VRIZA WAS READY TO BE PROPOSED. This video was uploaded on the Uya Kuya TV Youtube channel on May 24, 2021.
CONCLUSION
Based on this explanation, the video claim that Uya Kuya succeeded in hypnotizing Ida Dayak is false or a hoax. This video includes manipulated content.
Also Read: CHECK THE FACTS: Amanda Manopo Is Pregnant with Arya Saloka's Child, Shows Off Ultrasound Results, Not Engineering in the soap opera Ikatan Cinta?