Suara.com – It is said that Febri Hariyadi and Gian Zola have officially become Persija Jakarta's new recruits. Coach Thomas Doll is claimed to be eyeing both of them to add depth to his team. Is it true?
This news was conveyed by a YouTube channel that discusses football, PERSIJA CHANNEL, on Monday (24/4/2023) with the title:
"Persija news today !! Febri Haryadi is official to Persija, Gian Zola is official to Persija !!,"
Until this news was published, the 3 minute 18 second video had been watched by more than 3 thousand viewers on YouTube.
Also Read: FACT CHECK: Puro Mangkunegaran Bans Muhammadiyah from Eid Al-Fitr Prayers at Pemedan Field
FACT CHECK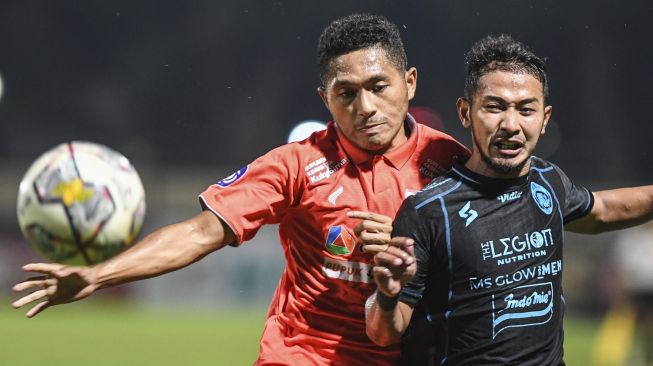 Arema FC footballer Gian Zola (right) fights for the ball with Borneo FC footballer Muhammad Fajar Fathur Rahman (left) in the continuation of League 1 at the PTIK Stadium, Jakarta, Friday (24/3/2023). The match ended in a 0-0 draw. BETWEEN PHOTOS/M Risyal Hidayat/aww.
The video uploaded by PERSIJA CHANNEL begins with a discussion of Thomas Doll's success in bringing Persija to finish as runners-up in 2022/23 League 1.
With this result, Persija Jakarta certainly has the opportunity to compete in the AFC Cup next season. It is said that Persija is also improving to increase its strength.
The narrator explains in the video that Persija has brought in two new players in the defender sector, namely Rizky Ridho and Akbar Arjunsyah.
The narrator then continues by discussing rumors that Persija's management is hunting for Febri Haryadi's signature. The reason why Febri Haryadi was targeted by Persija was because at Persib he rarely got minutes to play.
Also Read: FACT CHECK: Umrah Pilgrim Bus Accident Occurs in Saudi Arabia
Gian Zola then becomes the next name thrown by the narrator. The broadcast also explained the rumors of Persija management's interest in bringing in the former Persib player. However, the claim stated that the player had officially joined the Persija squad turned out to be just a rumour.