Suara.com – PT Angkasa Pura (AP) II recorded the number of airplane flights at Soekarno-Hatta Airport (Soetta) above 1,000 flights per day for three consecutive days on D-3 to H-1 Eid 2023.
AP II Main Director Muhammad Awaluddin said flight traffic on H-3 to H-1 was very close to 2019 when normal conditions had not yet had the COVID-19 pandemic.
"Before the pandemic, Soekarno-Hatta Airport served an average of 1,200 flights per day. Now, Soekarno-Hatta Airport has scored a hat-trick of traffic after the last 3 days' data showed that flights range from 1,000 -1,100 flights per day or are very close to normal conditions," said Awaluddin in his written statement in Jakarta, Saturday (22/4/2023).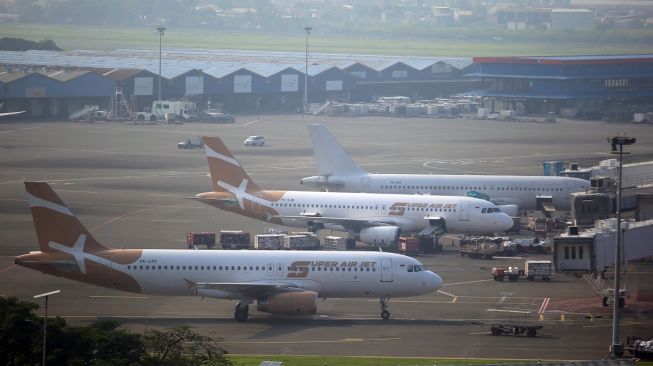 A number of Super Air Jet airline planes at Soekarno-Hatta airport, Tangerang, Banten on April 19, 2023. (Antara)
On D-3 or Wednesday (19/4), the movement of aircraft taking off and landing was recorded as 1,155 flights, then on D-2 or Thursday (20/4) there were 1,154 flights and on D-1 or Friday (21/4) as many as 1,039 flights.
Also Read: The number of public vehicle passengers up to H-1 Eid almost reached 6.5 million people
As for the midst of a pandemic in 2022 and early 2023, the number of flights on normal days is around 800-900 flights per day.
Furthermore, Awaluddin said Soekarno-Hatta Airport was supported by the Multicontroller Airport Command Center in managing airport operations to accommodate the high number of flights.
The Multicontrol Airport Command Center integrates technological infrastructure, namely the Airport Operation Control Center (AOCC), Airport Infrastructure Control Center (AICC), Land Transport Operation Center (LTOC), and Airport Security Operation Center (ASOC).
Based on data from the monitoring post as of April 22, 2023 at 07.00 WIB, during the Eid 2023 transportation period, during D-10 to H-2, Soekarno-Hatta Airport has served 10,014 flights or an increase of 5 percent compared to the same period during Eid 2022 transportation, namely 9,506 flights.
Meanwhile, the movement of passengers on D-10 to D-1 experienced an increase of around 19 percent to 1.39 million passengers from the previous 1.17 million passengers.
Also Read: 5 Recommendations for the Latest and Very Cheap Cellphones for Eid 2023: Duh Makes Money Not Comfortable in the Wallet!
Meanwhile, Soekarno-Hatta Airport Executive General Manager Dwi Ananda Wicaksana said the passenger load factor at the airline increased quite significantly in the 2023 Eid transportation.
"Flights increased by 5 percent, while passengers increased by 19 percent. This indicates the airline's load factor on each flight has increased and aircraft operations are getting more optimal, especially in transporting passengers," said Dwi.
He stated that during the peak season for the 2023 Eid transportation, Soekarno-Hatta Airport will also hold various events and activities in terminal 1, terminal 2 and terminal 3 as an effort to provide more services to travelers.
"Throughout the Eid transportation period, Soekarno-Hatta Airport held a bazaar and displayed various arts such as stringed music, drum rampak, Sufi dance, and many others. We hope that with these various events and activities travelers can be entertained amidst the peak season for the 2023 Eid transportation. ," said Dwi. (Between)