Rowe Racing's triumph in the first Endurance Cup event of the GT World Challenge Europe also gave BMW Motorsport a splendid one-two finish.
In Monza, in the 3h staged in front of the large audience who flocked not only to see Valentino Rossi up close, but also to admire the great GT3 world champions and new offspring, the Bavarian manufacturer's standard bearers satisfied both situations.
The BMW #98 driven by the excellent and experienced Philipp Eng, Marco Wittmann and Nick Yelloly got off to a great start from the Pole Position conquered in Qualifying leading for all 180′ of the race without running into problems, mistakes and penalties.
On the other side of the pits, the really great performance of the very young Max Hesse, Neil Verhagen and Dan Harper, guys who grew up in the BMW Junior program with brilliant results also scored along the Nordschleife and today engaged on the M4 GT3 #998 which they brought from 4th 2nd place on the grid at the finish line.
This also benefiting from the misadventures of the WRT BMWs, with the #46 retiring and the #32 leaving the place of honor in the finale due to a puncture, dropping to sixth.
But it must also be said that neither of the two Rowe crews committed the slightest driving or strategic mistake (apart from a slight 'long' from Wittmann in turn 1, but harmless) thus opening the 2023 season with a 1-2 that bodes well in view of the future in the SRO Motorsports Group series, where the good mix of experience and youth could benefit BMW a lot.
#98 Rowe Racing BMW M4 GT3: Philipp Eng, Marco Wittmann, Nick Yelloly
Photo by: SRO
"Incredible, unimaginable, there's nothing better! – said a beaming Hans-Peter Naundorf, team principal of Rowe Racing – It's great to get a one-two finish like this in a circuit with so much tradition. We would never have dared to dream of such a thing like that and I still can't believe it."
"Getting Pole Position and then having a race like this makes all the team members incredibly happy. It's the reward for all the hard work they've put in over the last few weeks. All the team members have done a fantastic job, with fewer mistakes than their rivals It's been incredibly enjoyable. For now, we're just going to enjoy this achievement and celebrate it."
Andreas Roos, head of BMW M Motorsport was also delighted: "It was a super race Sunday, and I don't think we expected to get such an important result this weekend. I'm happy for Rowe Racing who took the double, and very happy for the winning trio of Philipp, Marco and Nick, but also for Max, Dan and Neil, who finished second. They all put in a great performance."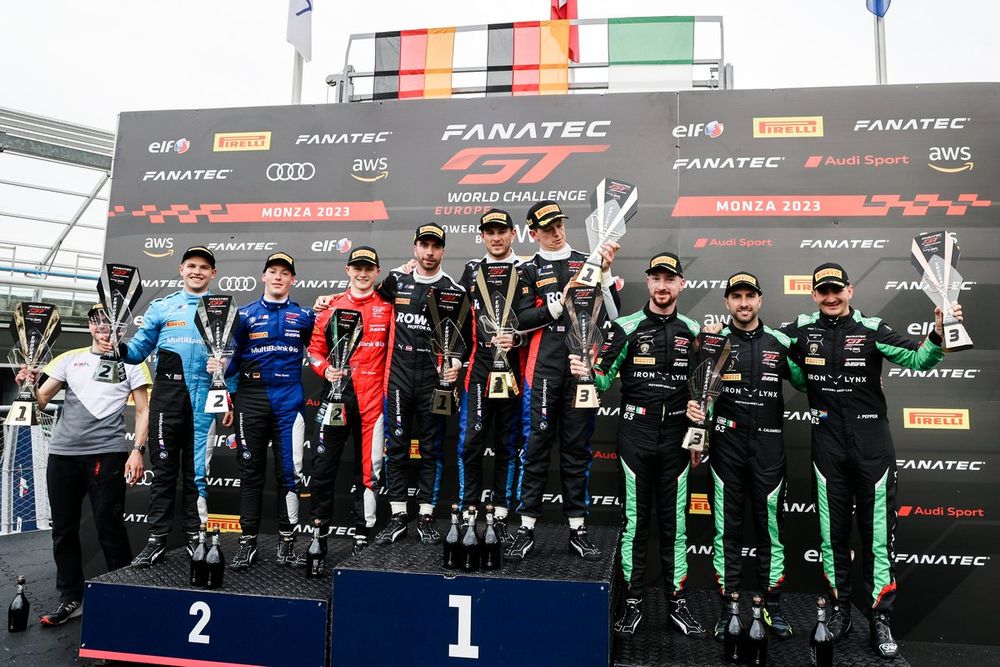 #98 Rowe Racing BMW M4 GT3: Philipp Eng, Marco Wittmann, Nick Yelloly, #998 Rowe Racing BMW M4 GT3: Daniel Harper, Max Hesse, Neil Verhagen, #63 Iron Lynx Lamborghini Huracan GT3 Evo2: Andrea Caldarelli, Mirko Bortolotti, Jordan Pepper
Photo by: SRO
On the drivers side, obviously hugs and pats on the back were wasted when Yelloly arrived in parc ferme once he crossed the finish line.
"It's an amazing start to the season. To be honest, my two teammates left me with a rather easy job. I knew I had a gap on Vanthoor of four or five seconds, my biggest problem was definitely overcoming the traffic because the cars weren't getting out of the way," said the Briton.
"Once I was able to pass a few and have a bit of a gap between Dries and myself, I knew I was going to be safe. The car was fantastic. I think this shows that BMW and Rowe Racing work very well together. also very happy for our Juniors, who I now call Seniors since they have been promoted to factory riders. A nice way to start the season".
Eng, who was responsible for the departure, adds: "I am extremely happy for the whole team. Since the first test I had at Paul Ricard, we have always worked in the right direction and today we were rewarded for that. We made no mistakes, we only got one booking for Track Limits, but the car was incredibly well balanced and we didn't make any strategic mistakes either."
"All the riders were fit and I think this is Rowe Racing's first one-two in this championship. For me it was very nice to start alongside Valentino Rossi, a great moment. He rode excellently and deserved a better result. I am also sorry for the pitting of the #32 WRT car, however, we will now celebrate the victory and I hope the same story repeats itself in the great race at Spa-Francorchamps."
#98 Rowe Racing BMW M4 GT3: Philipp Eng, Marco Wittmann, Nick Yelloly
Photo by: SRO
Wittmann comments: "It's been a dream start to the season for us. I think that, in general, we've improved the set-up and we're going in the right direction. We were there in qualifying when there was a very chaotic situation. First the delay for the blackout and then the cancellation of the third session. However, it was a super weekend for us."
"The GTWC couldn't have started better than with a first and second place. The fact that Team WRT had a puncture was a bit of an inconvenience. However, I think all three of us showed great pace today. the last 30′ served to avoid us also puncturing and to bring the car home. We hope to continue like this. To be honest, we have to say that we had a long period of inactivity in the GTWC and this obviously makes it even better to start the Endurance season with a brace for the team".
Finally, the young Hesse celebrates his first trophy of the year in the series as an official driver: "We are very happy, we took advantage of this morning's package very well and did a great job in Q1 and Q2. Maybe we were even a little unlucky because Q3 didn't take place, which relegated us to fourth on the grid. The first stint was really difficult, but we managed to stay in the leading group and in the end we hit the podium. I hope to experience more moments like this !"