The creators of Nioh have decided to go for another branch very similar to their popular franchise, Wo Long: Fallen Dynasty promises to be one more of the genre but with a different formula for a different audience.
Wo Long is a near-perfect blend of the incredibly fast-paced action of Team Ninja combined with some Souls-esque gameplay ideas to create what is sure to become a classic. Wo Long is not an easy game, nor is it a short game. Personally, I'm not that big of a fan of the Souls genre, but some day-to-day challenge is always incredibly necessary to live.
To know more about the game we must know the synopsis of it. Wo Long: Fallen Dynasty is a third-person action game set in China in the year 184 AD. C. during the Han dynasty. Chaos spreads as rebellion takes shape and demons infest the land. Imbued with a magical talisman, a nameless militia soldier faces off against monstrous creatures, hordes of the undead, professional soldiers, and dark sorcerers. The soldier uses martial arts, sorcery, and adaptability to overcome the increasingly dire challenges of the field.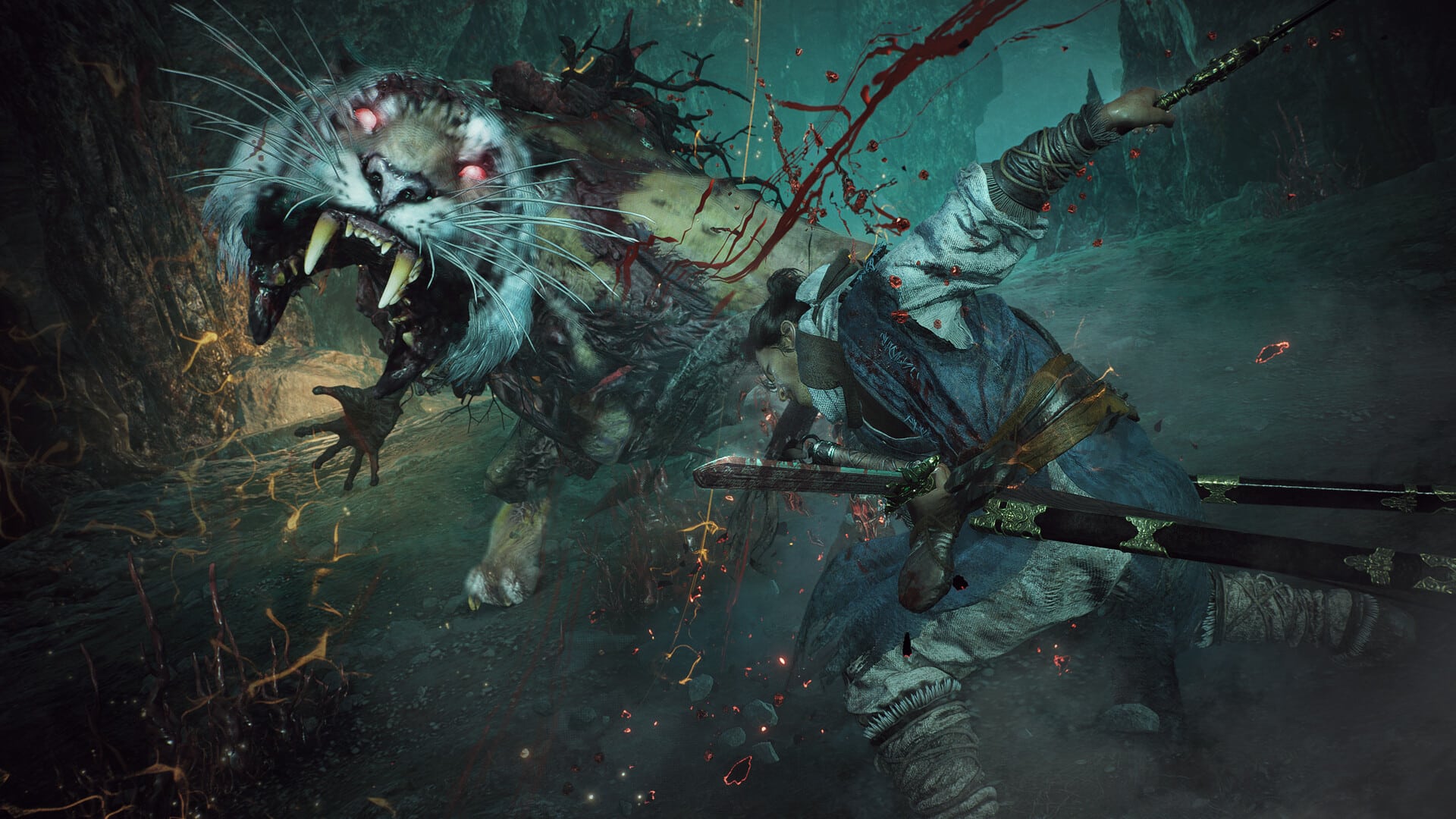 On the other hand, let's know a little about the specifications of the PC used for this review:
Saying a game belongs to Souls carries a lot of weight and these days it's been used very freely, to the point where it can become challenging to find any meaning in the descriptor after a while. It's like a word that you repeat so often that it suddenly becomes a strange sound, no longer shaped properly or full of meaning beyond the volume of the expression.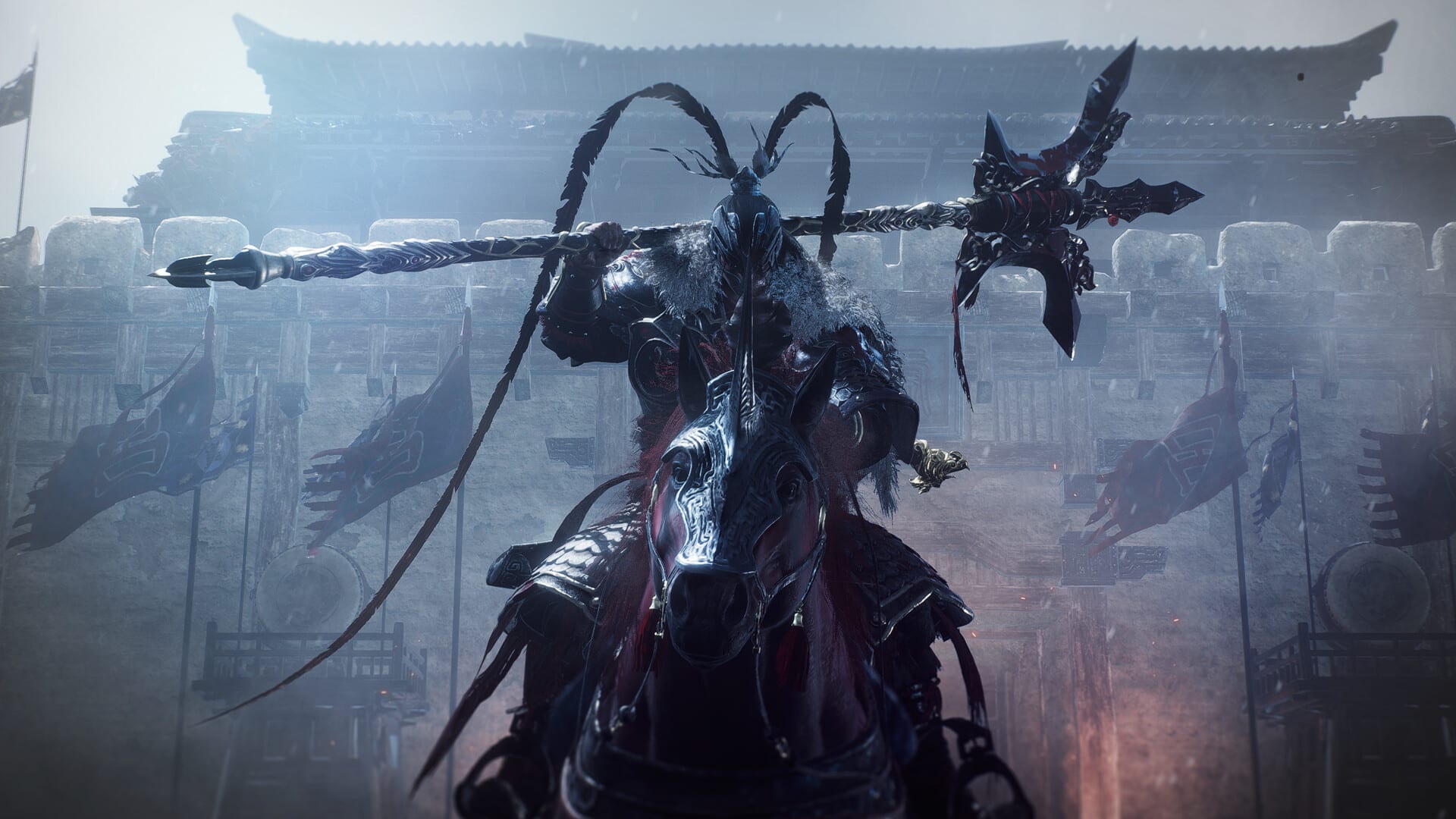 A Souls Like is a subgenre of action-adventure role-playing games known for its high levels of difficulty and emphasis on environmental storytelling, usually in a dark fantasy setting.
Suffice it to say that Wo Long: Fallen Dynasty certainly belongs to the same family of this genre. The game at its core is fraught with tension and every mistake could be the last. Managing our health and stamina bar intelligently is the key. The enemies are very ruthless no matter how many times we face them. Personally I did not find any confrontation that could be considered easy but on the contrary, each one increased the challenge more and more.
As usual we rest in the points assigned for that and thus take advantage of the moment to improve the character's abilities as we level up. Increasing the character's stats makes the gaming experience a little fairer. The enemies but mainly each Boss test our persistence, will and above all our pride.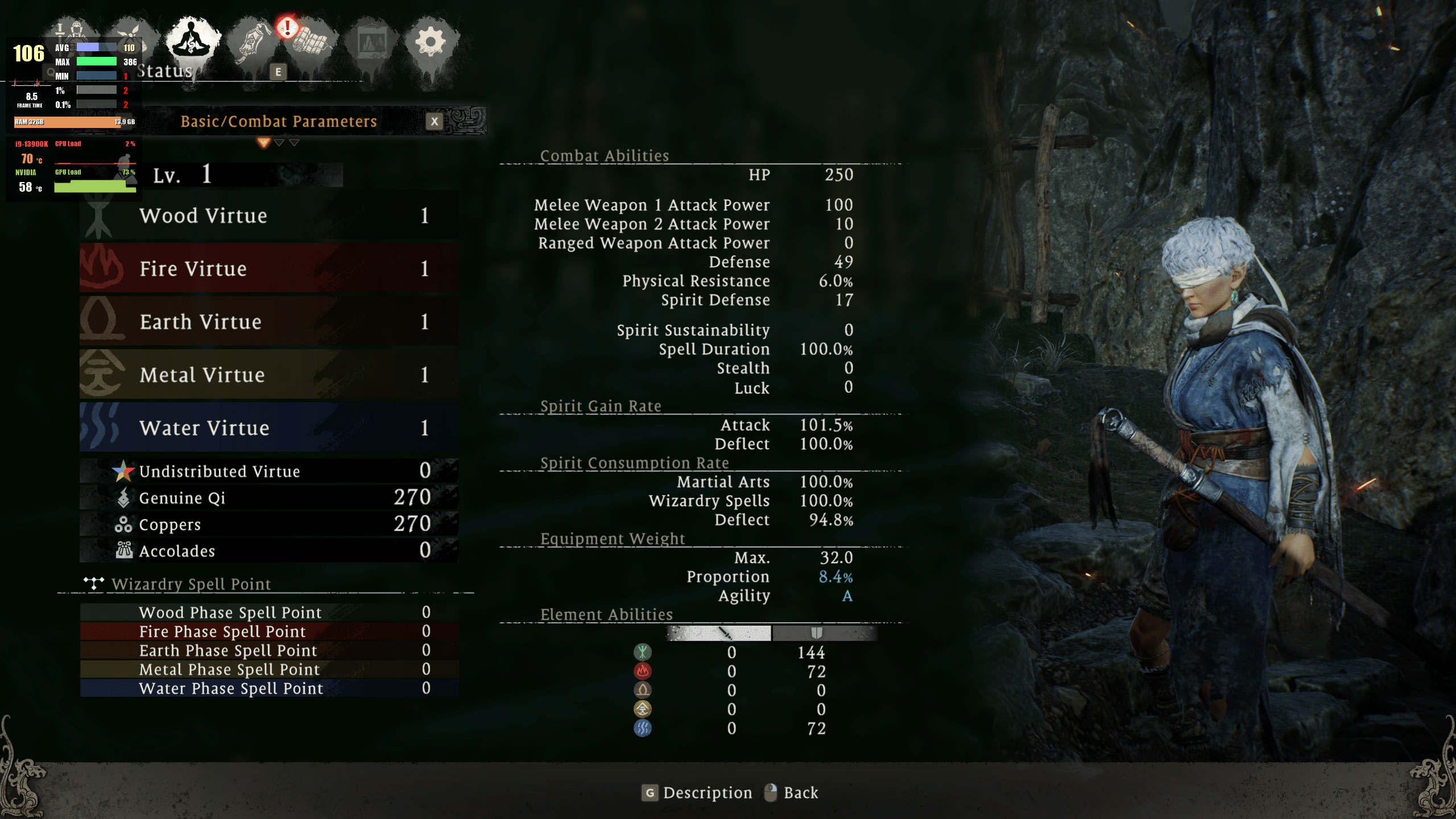 Team Ninja's work can be seen from afar in the game as it adapts game mechanics for people who like to discover and makes a lot of use of deliberation. Anyone might think that this installment will make use of more modern mechanics and that it would get a bit out of the ordinary in Souls, but it is not.
When we started the game we came across a fairly robust character creator ready to please most players who want to create a different warrior. After creating your character, you will immediately enter the game, which is divided into parts, each of which includes main battlegrounds and secondary battlegrounds. The general mission structure is similar to Nioh, with main missions required to progress and optional side missions, though I recommend tackling the side missions if you want a chance to complete the game with the least amount of frustration. Side quests are a great way to level up and get the items needed to upgrade your weapons and armor.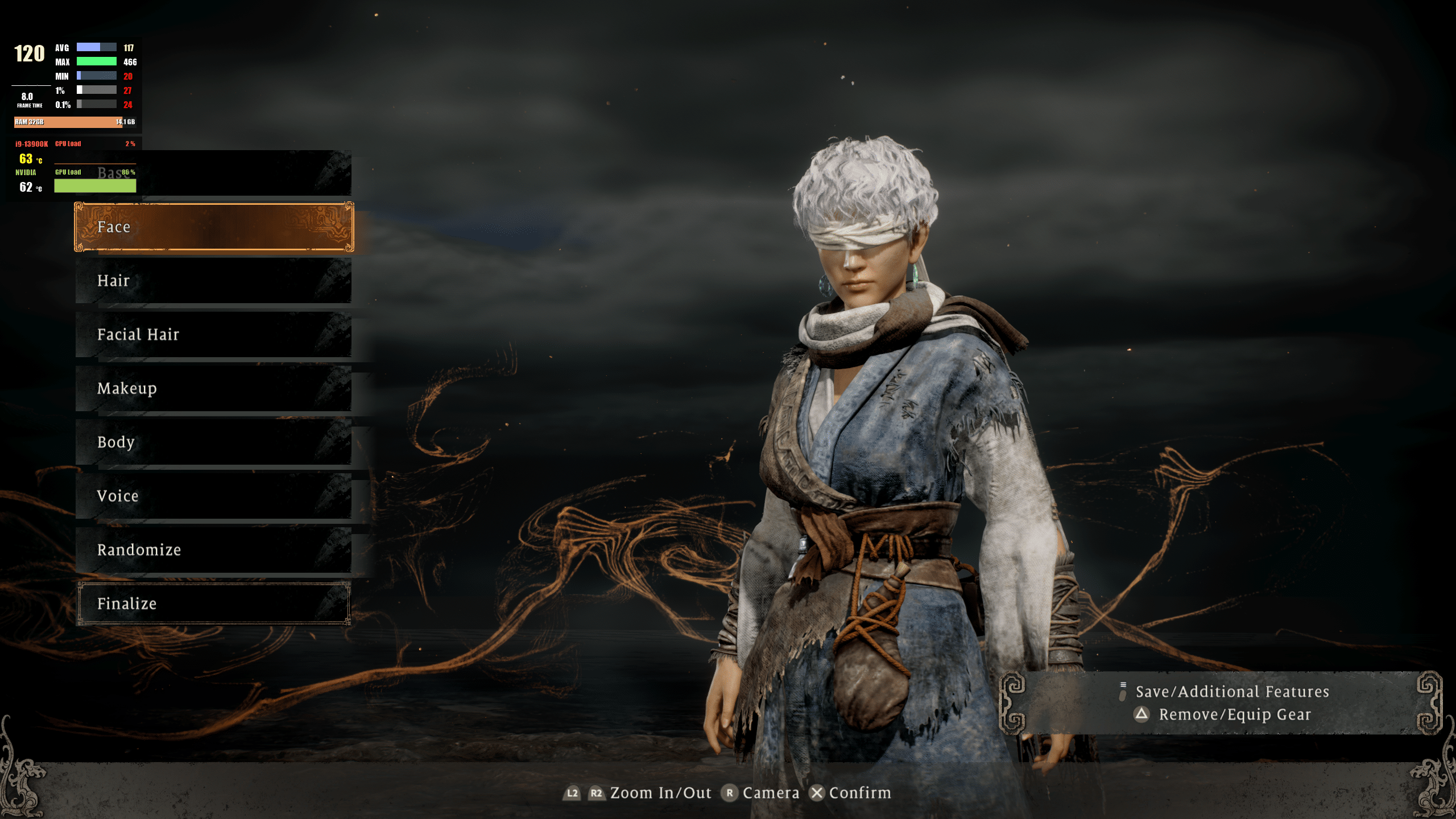 Quests open up gradually, with side quests popping up a few at a time after each main quest. These missions range from simple duels to decent length levels and are a welcome break from the main story missions and allow for small moments of character growth, helping to develop the many people you fight throughout the campaign. One late-game mission involves helping someone find their drunken teacher who went missing during a spree, while other missions involve light-hearted combat with your friends.
The story is quite simple, yet epic enough to drive the game forward. Betrayals occur, enemies become friends, new threats emerge, but it all revolves around a mysterious elixir that grants individuals incredible power, which they then use to dominate the battlefield. You and a merry band of warriors you'll meet along the way must work together to stop the threat. It's nothing to write home about, but it takes place over many years and takes you to a variety of locations, helping to keep a long campaign fresh with new vistas and enemies throughout.
Unfortunately, your character is a silent protagonist, which I kind of bummed out since the more emotional aspects of the story aren't equal and it leads to a lot of awkward scenes where the characters are talking directly to you and essentially your character is staring at them. There's a time and place for silent leads, but Wo Long's story would have greatly benefited from having a leading man who would at least speak from time to time. Still, cutscenes move quickly and no conversation drags on long enough for the player to linger too long on it, as there's rarely a break in the action.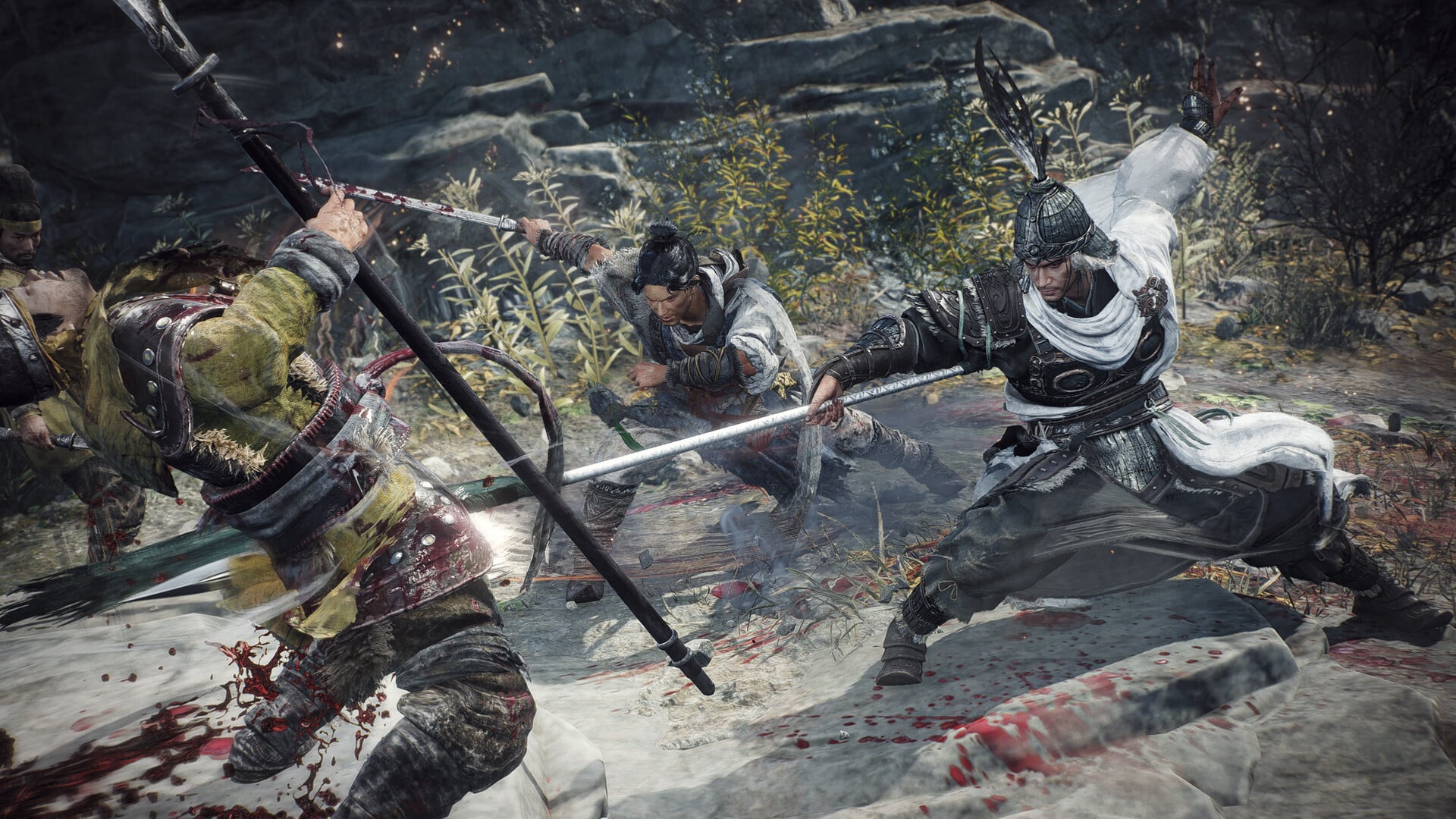 As expected from a Team Ninja project, the combat of Wo Long: Fallen Dynasty it's brutally fast and fluid, with fights often spiraling into impressively choreographed chaos. The combat is simple to learn and hard to master, sure to confuse players at first, but it starts to become second nature as you progress. This isn't a game where you can frantically button press and hope to survive, though you can mostly get by learning the basics of deflection and fatal blow systems if learning magic spells and the like isn't really your playstyle.
There are 13 categories of melee weapons and bows/crossbows, with each weapon having its own unique play style. Swords and sabers are the standard weapons, fast and easy to use. Spears have a long range and are relatively fast, although there is quite a bit of string compared to a standard sword.
Personally, I like to get very attached to the weapon that they give me in the introduction and learn to use it to the maximum so as not to change the gameplay of it. Although these games do not make your life easy, it is much more manageable to play with what is already known from the beginning than to change gameplay in the process.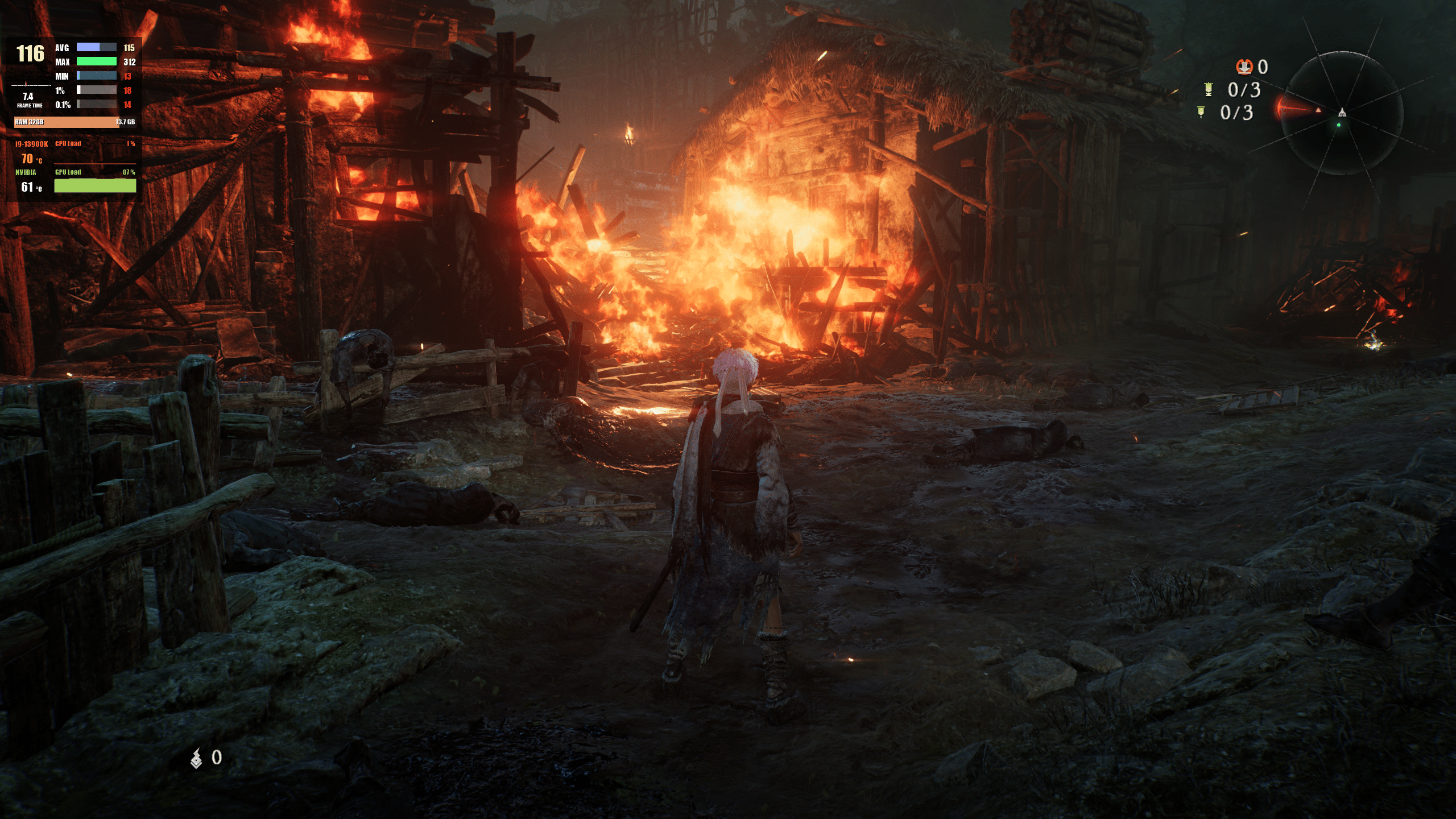 In the case of armor we have another headache as this affects your team limit and hinders our ability to dodge or deflect effectively. In the beginning, it may be best to focus on leveling up your Earth Virtue attribute to gain access to more effective equipment. There's a wide variety of armor, helmets, boots, and gloves to find, and those who love the Souls series for its fashion will also find something to love in Wo Long. You can upgrade all parts of your armor and decorate it to change its appearance, so I suspect many will spend quite a bit of time perfecting its appearance.
Combat is reduced to normal attacks, spirit attacks, martial arts, deflection, fatal blows, and magic spells. Basic combat will consist of using normal attacks along with deflect, which allows you to deflect an incoming attack and automatically lines you up for a hit. The flow of attack and deflection is essential for survival, and it is the only real way to defeat many of the most powerful enemies.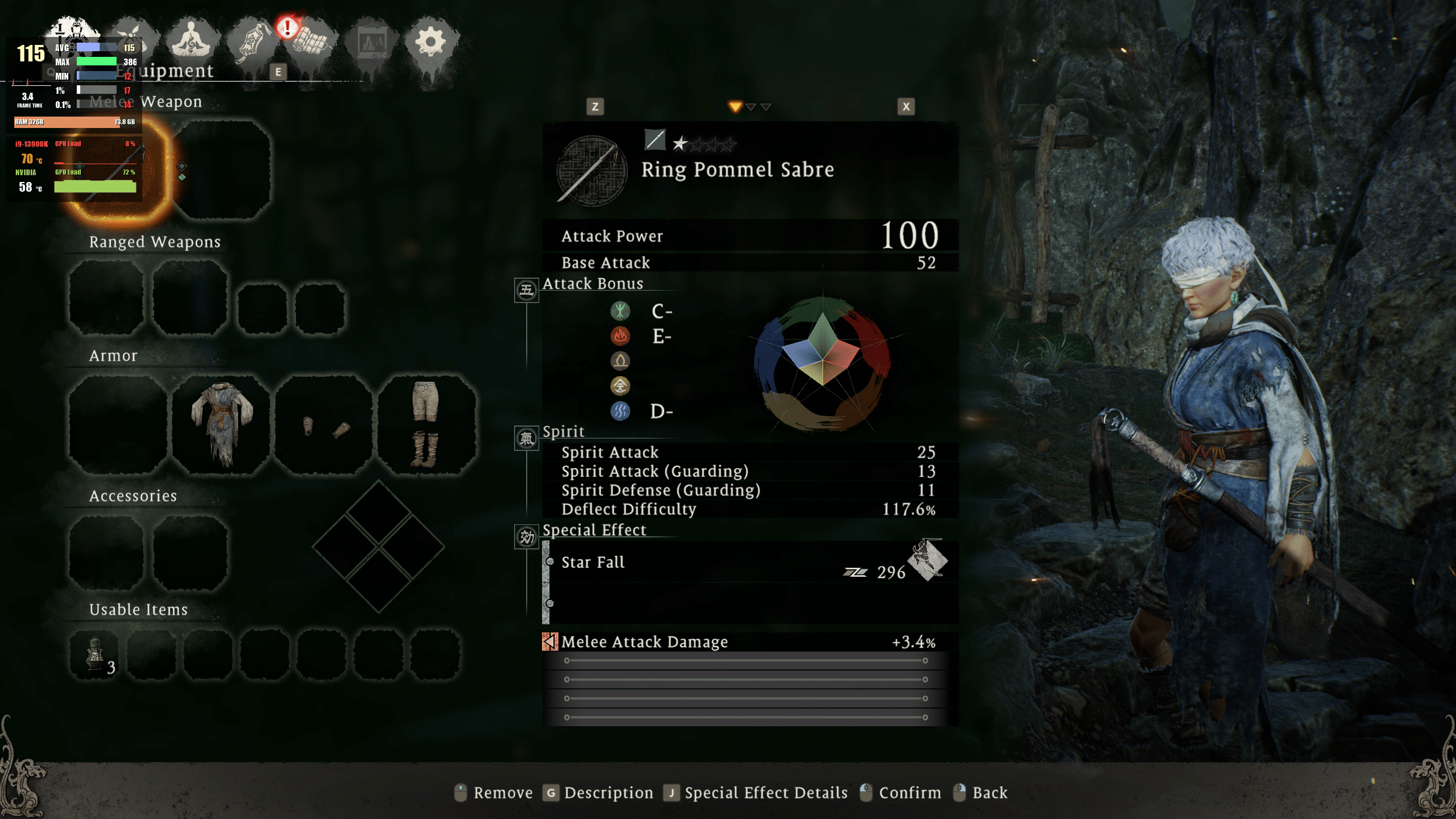 It is especially important to learn how to deflect enemy and boss critical hits, which are indicated by a flashing red icon on the enemy. Deflecting them stuns them for a moment, allowing you to use a spirit attack or flurry of regular attacks to negate the enemy's spirit gauge, which in turn will open up the enemy to a fatal blow, dealing massive damage and can quickly turn the tide of battle. It's a system that seems simple enough on paper, but becomes much more nuanced as you progress, as each enemy will have their own types of critical hits, their own set of moves, and timings for you to master.
Speaking of leveling up, you do so by defeating enemies and gaining genuine qi which can then be spent on a battle flag to raise one of five attributes: wood, fire, earth, metal, and water. These attributes increase your health, defense, gear limit, spirit gauges, and more. Upon death, you lose half of your Qi, which you must later regain by defeating the enemy that killed you. Enemies that deal the killing blow also gain a rank level of morale, making them a bit more difficult when challenged again.
Wo Long has an impressive variety of enemies, each with distinctive fighting styles and times to learn. From human soldiers to flying monstrosities, grotesque aquatic creatures, and large animals, almost every area will have a new type of enemy along with updated or tougher versions of older enemies. In some cases, there are leaders, indicated by a red triangle above their head, who are supported by followers, indicated by a white triangle. Defeating a leader will lower the enemy morale of all followers, making them easier to kill.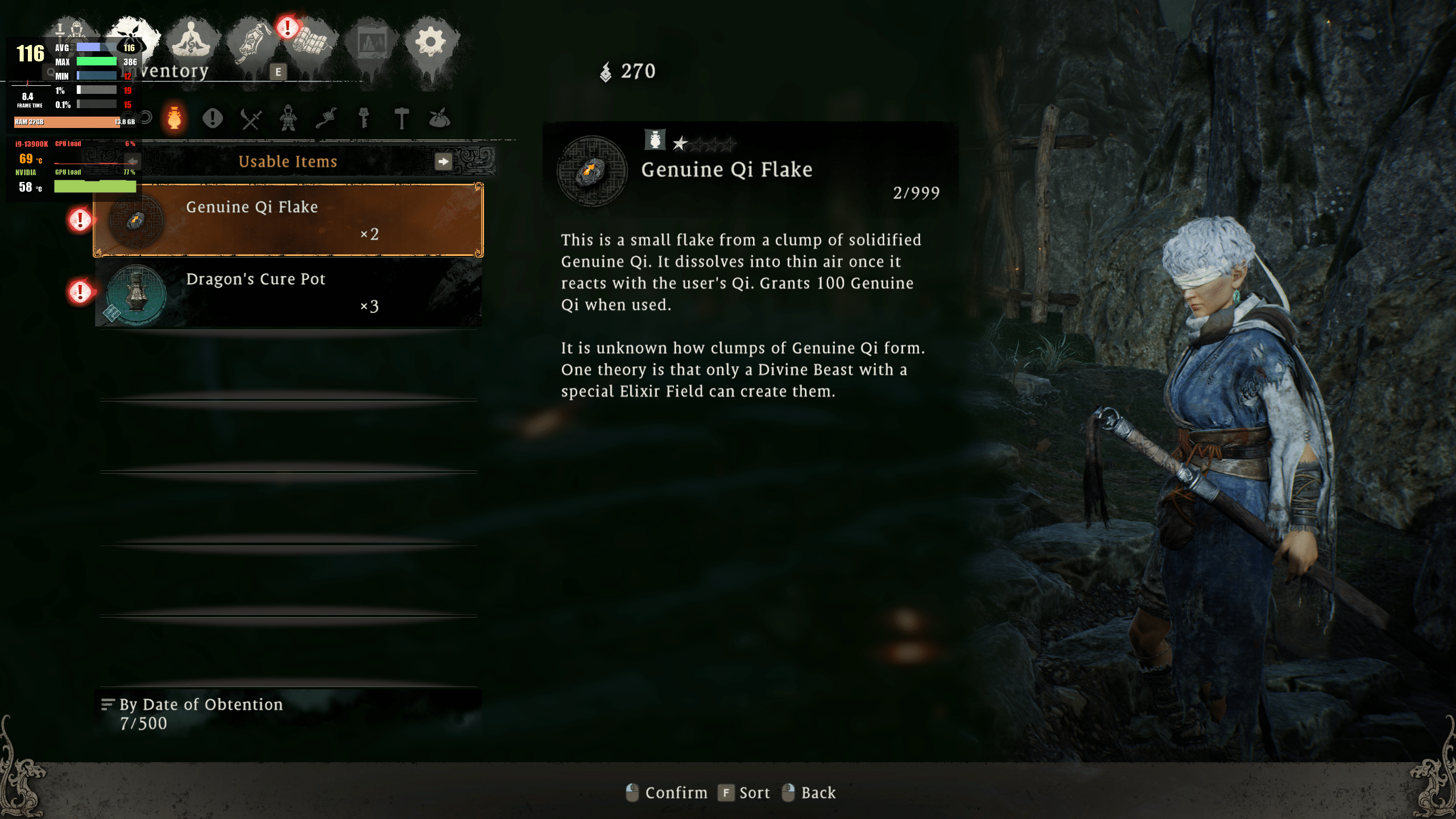 As for the performance on PC, I did find some specific details at the time of certain confrontations that caused incredible disgust in terms of gameplay. Miraculously these issues were not repeated that often but with such a powerful PC this kind of thing shouldn't happen. On a visual level, the game is amazingly beautiful, allowing me to delight in the environments full of fire and chaos that, regardless of dying, it was very nice to see these graphics once again.
Unlike other Souls, the graphic section is not as detailed or the fan simply does not pay attention to these details. The focus above all here is combat and we are clear that Team Ninja is an expert. Much of the game setting is focused like on consoles. Higher performance or higher visual quality, regardless of both, performance was always affected, not letting me go past 110 FPS in some cases, causing drops of up to 90 FPS. Another problem with playing on PC is that the controls are somewhat confusing since the game is directly focused on playing it with others that, even setting the mouse and keyboard settings, feels a bit weird as well as impractical.
In conclusion
Wo Long: Fallen Dynasty is one more game that extols the work of its creators, combat and action are present at all times, although it is a gameplay known by many. The essence of this genre is present at all times when playing, it feels complete in every way but unfortunately it lacks a reasonable optimization on PC. Performance is clearly an issue as it affects what is most important here which is gameplay. The story is interesting and good but at the same time it feels like they are taking us very fast but we won't take it fast either if we keep dying with the challenges that we are going to encounter as we progress. Team Ninja did an excellent job here based on the most noticeable aspects of the game, it's just simply not up to its rivals' standards for smoothness. This review was done on PC with the version of the game released on PC Game Pass.