Enter here world population, the presence of moles on the bodies of women and men stands out significantly. This feature is found in different places, such as the face, arms, chest, among others.
In that sense, you should know that among these there are some particularities. Thus, we found some located in the eyes. Likewise, we have others that are red in color, called blood or ruby ​​moles. Here's more about why certain people have it and when they're risky.
Why do some people get blood spots?
Red or blood moles are cutaneous vascular lesions. The reason for its presence is due to small blood vessels and capillaries inside the skin, which are responsible for the crimson color.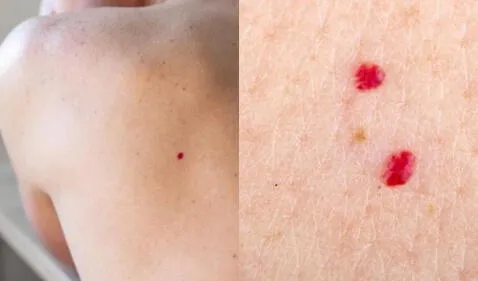 Blood moles usually have a lot of presence in areas such as the back or chest. Photo: Composition LR/Week/Broadcast
Although they have the appearance of a nevus or mole, these features are more like small vascular dilations called angiomas. Although its etiology is unknown, research highlights that different alterations in the mechanisms of angiogenesis and vasculogenesis determine its appearance locally.
According to the article entitled Campbell de Morgan spots, capillary hemangioma or senile angioma, these capillary lesions are wrongly called senile angiomas, since they can appear at any age and indiscriminately throughout life. However, they are less frequent in the first decades of life, and increase from the second or third decade of life until the elderly.
How dangerous are blood moles?
Although the specialties classify these lesions as eminently benign, they may have other causes of appearance, such as stress or exposure to certain chemical products (cyclosporine, bromides, mustard gas or 2-butoxyethanol). Only in exceptional cases, with a high number of lesions, its appearance has also been related to liver disease or cirrhosis.
Blood moles are not risky in and of themselves, but if they change in color, size, or appearance over time, they should be checked out by a dermatologist. Depending on the case you have, you can opt for treatments such as electrocoagulation, cryotherapy or laser application. On the contrary, if you have many red dots on your skin and they remain stable over time, you can be very calm.