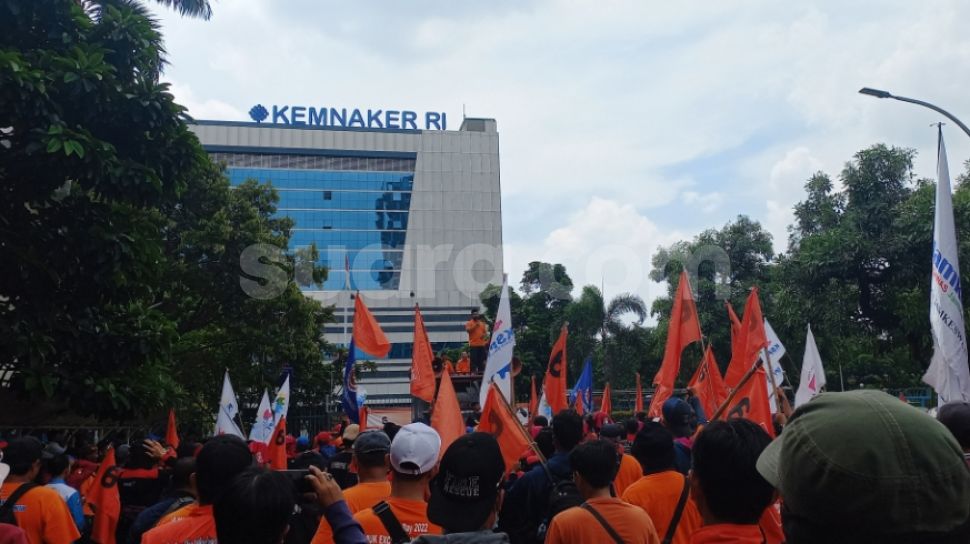 Suara.com – The Labor Party held a demonstration in front of the Ministry of Manpower (Kemenaker) office on Jalan Gatot Subroto, South Jakarta, Tuesday (21/3/2023).
The action was related to rejecting the Regulation of the Minister of Manpower (Permenaker) Number 5 of 2023 concerning cutting workers' wages and Government Regulation in Lieu of Law (Perppu) on Job Creation (Ciptaker) Number 2 of 2022.
Monitoring by Suara.com at the location, the mass of the Labor Party has now filled the parking area of ​​the Kemnaker office. The masses wore the typical orange Labor Party attributes such as flags, T-shirts and banners.
At the location, it was observed that there was only one command car. The orator enthusiastically shouted the slogan of the Labor Party and was reciprocated by other demonstrators.
Also Read: Pros and Cons of the Ministry of Manpower Allow Entrepreneurs to Cut Workers' Salaries, Causing Many Problems
"Labor Party," said the orator.
"The people are prosperous," said the masses.
"Ida Fauziyah," continued the orator.
"Retreat!" replied the crowd.
"Permenaker Number 5 of 2023," said the orator.
Also Read: AHY Criticizes the Ciptaker Law: Its Content is Not In Side with Labor
"Pull it out!" said the masses in unison.
The action began by singing the national anthem Indonesia Raya, the Workers' Party march and the Workers' March. The demonstrators who attended consisted of men and women.
A number of police officers were seen keeping watch around the action point. Meanwhile, the traffic flow on Jalan Gatot Subroto was closely monitored because of this action.
Previously, the DPR had passed a government regulation in lieu of law or Perppu Number 2 of 2022 concerning Job Creation. The validation was carried out in level II decision-making at the plenary meeting.
It is known that in decision making at level II, only seven out of nine factions agreed to ratify the Job Creation Perppu to become law. Meanwhile, the other two factions, namely the PKS faction and the Democratic Party faction, refused.
"Two factions, namely the Democratic Party faction and the PKS faction, stated that they had not received the work of the Panja and rejected the bill regarding the establishment of the Perppu Ciptaker in level II talks in the DPR RI Rapur," said DPD RI Chairperson Puan Maharani Tuesday (21/3/2023).
Despite being rejected by two factions, Puan as chairperson of the session continued to ratify the Perppu Cipta Kerja into law. He asked for the approval of DPR members in a plenary meeting.
"Honorable Council Session, honored audience, next we will ask once again to all members, whether the Draft Law on the Stipulation of Government Regulation in lieu of Law (Perppu) Number 2 of 2022 concerning Job Creation can become law. approved to be passed into law?" asked Mrs. who answered agreed.