After the busy week of Spring Sales on Amazon and the competition from other stores and platforms, the sales and discounts do not end. In fact, in some cases we are seeing even better prices than in these days gone by. To sample a button… or a few… Those of our bargain hunting that comes loaded with precious things so that you save a little money to spend this vacation.
television and sound
Samsung QE65Q60
Getting a good 65-inch smart TV is not going to cost us so much if we take advantage of this offer with the coupon DISCOUNT5 from the brand's website. with her, the Samsung QE65Q60 It can be ours for 683.05 euros instead of the 719 that it has been costing.
Belonging to the most modest QLED family in the house for 2022, this model offers us a 65-inch VA Edge LED panel compatible with HDR10 + content, the latest version of Tizen as an OS and some gaming technologies such as ALLM or VRR, but without HDMI 2.1.
Samsung Crystal UHD UE65BU8500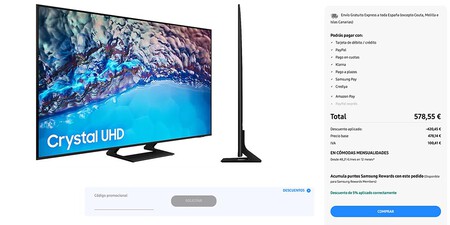 Another more modest model in features but with the same size is the Samsung Crystal UHD UE65BU8500 which can be ours for 578.55 euros also using the coupon DISCOUNT5 from the brand's website. With it we will obtain a reduction of about 30 extra euros on the already reduced 609 euros. (Normally it would cost 999 euros).
This model offers us a 65-inch 4K LED panel at 50 Hz, compatible with HDR10 +, 20 W of sound power, Tizen operating system and 3 HDMI ports, although none of them are type 2.1.
Samsung Crystal UHD UE65BU8500
Sony Bravia KD-75X81K
Another good option in smart TVs, although for those who are looking for very beastly diagonals and prefer to have a Sonywe found it in MediaMarkt for the Bravia KD-75X81Kwhich we can find for a tight 999 euros, with 300 euros discount on the previous 1,299 euros.
This model offers us a 75-inch 4K Direct-LED panel, compatible with HDR10 and Dolby Vision, Dolby Atmos sound with 20 W of power, or 4 HDMI ports.
LG S40Q
In sound bars, this week we find the basic one discounted again LG SQ40, although much more than 7 days ago. Specifically, we found it 40 euros cheaperfor 149 euros instead of the official 249 euros and with the matched offer on Amazon, with a total discount of 100 euros.
This bar offers Dolby Digital 2.1 sound with 3000 W of total power and has a remote control and 2 HDMI connectors, one input and one output, Bluetooth 4.1 or optical input.
Sharp HT-SB110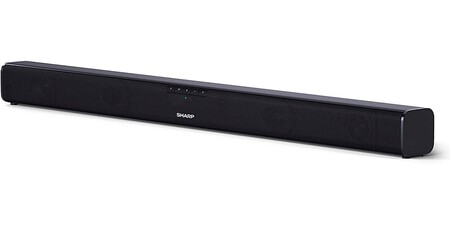 But if we want a really cheap soundbar, we can for the Sharp HT-SB110which Amazon now offers us for 49.99 euros with extra 10 euro discount on the already reduced 59.90.
This soundbar is a very basic model, with no separate subwoofer. It offers us 90 W of power, has a remote control and has an HDMI ARC connector.
Sharp HT-SB110 – Home theater soundbar (Bluetooth, HDMI, ARC/CEC, total maximum output power: 90W, remote control, 80 cm) black color
AirPods (2nd generation)
This week, we have a great deal again to get some AirPods second generation at a good price: the headphones of Apple They can be found in El Corte Inglés, (with a matched offer on Amazon) for 109 euros, with 50 euro discount.
As you well know, Apple's true wireless headphones are true best sellers that offer excellent value for money, up to 24 hours of battery life, touch control, and the most transparent connection system possible if we use them with an iPhone or some other device. Apple, although they are also compatible with Android.
Apple AirPods with Wired Charging Case (2nd generation)
Smartphones, smartwatches and accessories
iPhone 11
For those who prefer to stretch out their smartphone as much as possible and who do not give importance to being up-to-date, if they are looking for a terminal for Applehe iPhone 11 It is a bargain on Amazon, now that it is reduced to 499 euros from 559 at 60 euros.
It is the model from three years ago and has a 6.1-inch Liquid Retina screen, which lacks 5G, and offers a double main camera and Face ID. We have it reduced in the version with 128 GB capacity, the highest of those that can still be found for sale.
Apple iPhone 11 (128GB) – in Black
Xiaomi Redmi Note 10 Pro
For those who prefer an Android terminal, the Xiaomi Redmi Note 10 Pro It has a great price right now at MediaMarkt. There they leave it for 259 euros instead of the usual 339. We will have a saving of 80 euros and we will also take it in the most powerful version.
In this case, we are talking about the version with 8 GB of RAM and 256 GB storage of a model that has a 6.67-inch AMOLED FHD+ screen at 120 Hz, mounts a Qualcomm Snapdragon 732G processor, offers us a quad camera with 108+8+5+2 Mp and a 16 Mp front and a 5,020 mAh battery with fast charging at 33 W.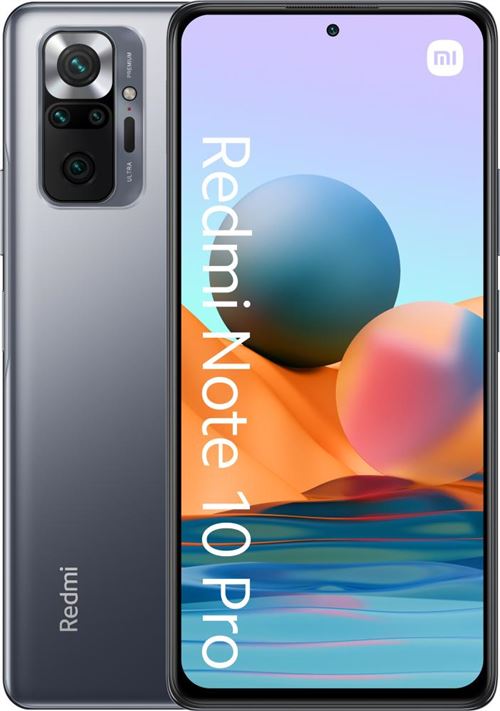 Little C40
And for those who want a really cheap terminal, a good option can be the Little C40 of Xiaomi, now that PcComponentes has it for less than 100 euros; Specifically, for only 95.98 euros with a 43% discount, reduced from the usual 169.99.
This modest terminal offers us a 6.71-inch screen plus a huge 6,000 mAh battery, along with an eight-core JLQ JR510 processor, and 4 GB RAM. Its storage is 64 GB and it comes with a double rear camera, with 13 + 2 Mp and a front one of 5 Mp.
Xiaomi Poco C40, Libre, Smartphone 4GB/64GB 6,71″ Display 6000mAh 18W Fast Charging (Coral Green)
Fitbit Versa 3
Today we can also get a smart and sports watch like the Fitbit Versa 3 that Amazon leaves us for 125 euros instead of the usual 169.99. They are 45 euros less the ones that cost at the moment.
This model offers us integrated GPS and heart rate sensor, it is compatible with Alexa, it allows you to load music in its internal memory and its autonomy is more than 6 days.
Fitbit Versa 3 Health & Fitness Smartwatch with 6-months Premium Membership Included, Built-in GPS, Daily Readiness Score and up to 6+ Days Battery, Black
Laptops, gaming and computing
ASUS ZenBook 14 UX425EA-KI495
To work, we have a very attractive laptop such as the ASUS ZenBook 14 UX425EA-KI495 749 euros on Amazon, with a discount of about 151 euros from the previous 999.99.
This model offers us a 14-inch Full HD screen, comes without an operating system and mounts an Intel Core i5-1135G7 processor with integrated graphics Iris Xe Graphics along with 16 GB RAM and a 512 GB SSD capacity.
ASUS ZenBook 14 UX425EA-KI495 – 14″ Full HD Laptop (Intel Core i5-1135G7, 16GB RAM, 512GB SSD, Iris Xe Graphics, No operating system) Lila Neblina – Spanish QWERTY keyboard
Acer Predator Helios 300 PH315-54
A powerful gaming laptop that we can find at a much more attractive price is the Acer Predator Helios 300 PH315-54, which PcComponentes leaves us for 1,199 euros instead of the usual 1,879. It has a 36% discount that leaves it to us 680 euros cheaper.
This computer has a 15-inch IPS Full HD screen at 144Hz and has an eleventh generation configuration, based on an Intel Core i7-11800H processor, with an NVIDIA GeForce RTX3060 video card with 6 GB of dedicated memory, 32 GB of RAM memory and an SSD with 1 TB capacity, although it comes without an operating system.
Acer Predator Helios 300 PH315-54 Ordenador Portátil Gaming 15.6″ IPS Full HD 144 Hz, Gaming Laptop (Intel Core i7-11800H, 32GB RAM, 1TB SSD, NVIDIA GeForce RTX 3060, Sin SO) PC Portátil Negro, QWERTY
Samsung 980 PRO 2 TB
Ideal for both computers, especially gaming, or to expand the capacity of the PS5, an SSD like the Samsung 980 Pro con 2 TB It may be the perfect purchase now that Amazon has it at a minimum price, for 170 euros instead of the previous 213.44: they are more than 43 euros of savings.
This SSD features PCIe 4.0 interface and comes with a built-in heat sinkits form factor makes it suitable for the PlayStation 5 and offers memory type V-NAND 3-bit MLC, and sequential read speeds of up to 7,000MB/sas well as writing up to 5,000MB/s.
Samsung 980 PRO SSD with Heatsink 2TB PCIe Gen 4 NVMe M.2 Internal Solid State Hard Drive, Heat Control, Max Speed, PS5 Compatible, MZ-V8P1T0CW
home and others
Xiaomi Mi Smart Air Fryer
To equip our kitchen with a air fryerLidl continues to leave us at a very good price the Xiaomi Mi Smart Air Fryer. Specifically, we can buy it for 79.99 euros with only 3.99 euros of shipping costs and a 20-euro discount on the usual 99.99 euros.
It is a medium-sized air fryer with a 3.5-liter capacity, which offers us WiFi connectivity and control from the smartphone among its features. It has an OLED screen and offers 1500 W of power, temperatures from 40 to 200º and compatibility with Alexa and Google Assistant.
Xiaomi Mi Smart Air Fryer – Intelligent air fryer, control via application, OLED display, cooking temperature between 40 and 200 °C, double cooking space, Italian version, White Color
more offers
If you sign up for Amazon Prime, you have a 30-day free trial (after 49.90 euros per year) to enjoy free fast shipping, priority access to offers, services such as Prime Video, Prime Music and unlimited photo storage. Also, if you are a student, becoming a Prime Student costs half as much and you have a 90-day trial. You can also try services like Kindle Unlimited or Audible free for 30 days.
You can be up to date and at all times informed of the main offers and news of Xataka Selección on our Telegram channel or on our profiles TwitterFacebook and Flipboard magazine.
Some of the links in this article are affiliated and may benefit Xataka.
Images | Samsung, Sony, LG, Sharp, Apple, Xiaomi, Fitbit, ASUS, Acer,
In Xataka Selection | Samsung's portable SSD that can handle it all has never been so low
In Xataka | Best price-quality laptops: which one to buy based on use and nine recommended models