The Legend of Zelda Tears of the Kingdom is one of the most anticipated titles on Nintendo Switch, and the reason is really obvious. The Legend of Zelda Breath of the Wild changed the world of TLOZ forever and opened up our horizons of open world exploration, as well as changing a well-tested and loved gameplay. A direct sequel that takes us back to the same land of Hyrule is a dream come true for many of us. Nonetheless, until recently, very little was known about the game: it almost seemed that Nintendo wanted to keep it hidden until the last moment. But just over two months from the fateful date, finally Eiji Aonuma (a bit aged but still in great shape) appeared on video to show us what we can expect. We are talking about a gameplay of just over ten minutes, certainly not able to fully define a title of such depth and with (hopefully) an enormous amount of content. But it was enough to make it happen millions of analyses, intense discussions and more or less realistic hypotheses. For my part, I admit it, I'm really fascinated by the potential of Tears of the Kingdom.
The Legend of Zelda Tears of the Kingdom: The new powers of the hero
The first real novelty shown in Aonuma's gameplay video is the presence of some on the map Celestial Islands, which add a new level of verticality to the world of Hyrule. These small floating regions are visible from the surface and are home to both man-made structures and groves of beautiful golden-capped trees. New enemies were also shown, little robots attacking Link with their long telescopic arms. We don't know anything else for now about the new setting, which seems consistent in style with the rest of the game world. To reach the islands, Link uses the first of the new powers that will be introduced in The Legend of Zelda: Tears of the Kingdom, called Reverto. Activating it on a target, such as in this case a rock, its movements are precisely reversed, allowing us, for example, to go back to where this object fell from.
Shortly after, another new power is shown, namely Compositor, with which Link can combine tools or objects with each other, giving them new functions. Aonuma in the gameplay shows us how to create powerful (and quite bizarre) weapons by combining branches with stones or with other ready-made weapons in our arsenal, but it is obvious that the possibilities are endless. By combining a shield with a particular mushroom, we can create smoke screens that protect us from enemy attacks, while by combining arrows with eyes dropped by some enemies, we can make them follow the target automatically when we throw them. Being able to create our own weapons simplifies life a lot and will undoubtedly be appreciated by those who hated it poor durability of the tools in Breath of the Wild, mechanic that is still present. Nonetheless, I wonder if it spoils a bit the thrill of trying to defeat powerful enemies to steal their weapons, which I liked about the gameplay. I guess a good balance can make everything enjoyable and not too easy.
Similar to Compositor but even more broad-ranging is power Ultramano, with which we can glue objects of various shapes together, such as trunks. Link can therefore build curious vehicles, powered by wind turbines or engines, to move at full speed in Hyrule. Ultramano can really make the exploration experience completely different from what I expected, as well as open the door to endless combinations and bizarre results that users will surely publish online with gameplay videos. There are now infinite ways to move from one area to another, and this is also demonstrated by the last power shown in the videogameplay. With ascent Link can climb the ceilings of dungeons, houses and caves and go straight to the top. I find the idea of ​​crossing hard matter as if nothing had happened bizarre, but at the same time this ability can save a lot of time and avoid the tedium of long climbs, which also require stamina galore.
A title with great responsibilities
Overall, my opinion of this first look of the game is positive. Some players have not particularly appreciated the same style of Link and Hyrule that has remained more or less unchanged, judging The Legend of Zelda: Tears of the Kingdom a sort of gigantic DLC. I find that opinion to be rather unfair. Breath of the Wild was an epochal title, and, if there's any game that deserves a direct sequel, it's it. Finding ourselves exploring and fighting in the same atmosphere is a real pleasure; I almost cried just hearing the familiar sound effects of picking up an item or hitting an enemy. Lots of nostalgia.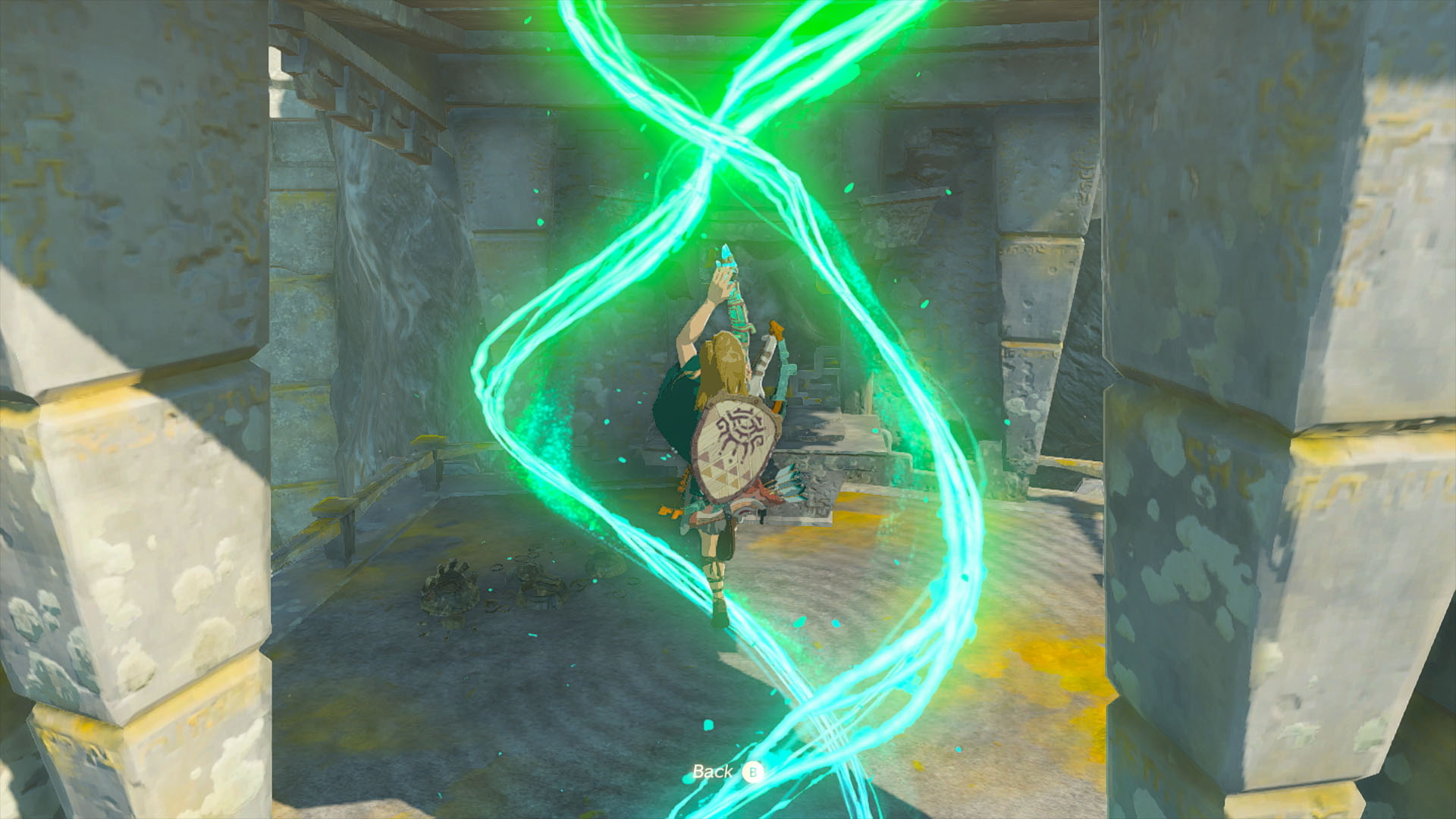 Furthermore, it is really too early to judge the actual innovations of the title, which could be really powerful, in addition to the story which will certainly be completely new and perhaps fill some gaps in the predecessor. I feel that unfortunately for this title it will not be easy to be fully appreciated: expectations are too high and for some of us it will be impossible not to be disappointed, even in the presence of excellent development work from all points of view. That Nintendo focuses so much on The Legend of Zelda Tears of the Kingdom appears more than obvious, especially as it will be realized a Limited Edition themed OLED Nintendo Switch, truly majestic and splendid to collect. Not to mention the limited edition of the title itself, of the themed Pro Controller, which will certainly be followed by other gadgets and stickers to keep close. The game could be the swan song of Nintendo Switch, one of the last great first party releases before the new generation. I'm willing to bet that there are many surprises in store for us and that we have nothing to worry about, but let's always remember to be ready to know our limits as a fan: it's really difficult for a TLOZ game to reflect what we want in all respects.
PLATFORMS: Nintendo Switch
DEVELOPER: Nintendo
PUBLISHER: Nintendo
Release date: May 12, 2023
The Legend of Zelda Tears of the Kingdom is one of the most anticipated titles of the year and that weighs on its shoulders. This responsibility seems to be repaid with a great development work and the addition of numerous novelties to the gameplay of BOTW, which made us sigh so much. We just have to wait confident to return to the most beautiful Hyrule ever.