Have you seen the final scene of Ash and Pikachu in Pokémon? Have you noticed this emotional and curious detail that it hides?
You may still be wasting tissues while watching Pikachu and Ash's ending, or you may still have to watch it because you are busy reading the story of the new Pokémon Horizons series. Be that as it may, those responsible for the anime have slipped a emotional detail in the final scene of Ash and Pikachu in the Pokémon series that only the most astute fans have managed to capture.
Akilvers on Twitter, a Nintendo Russia worker and specialist in Pokémon, has shared her discovery on the social network. During Pikachu and Ash's final scene, some cherry trees what bloom just when the two protagonists pass by them. It is not something done to get a more beautiful frame, it is a detail that points to the lyrics of the original opening of the seriesMezase Pokémon Master.
The lyrics, in Japanese, read as follows: "Like a bud that will bloom one day, my dream will come true." Obviously, with this the series means that Ash has finally achieved his dream of being a Pokémon Masteralthough he has decided that his adventures with Pikachu will continue for a long time.
Have you noticed that detail? If you want to listen to the original song, we leave you below the first opening of the anime of Pokémonwhich was versioned for the miniseries Ash's farewell party, as you can see in the following link: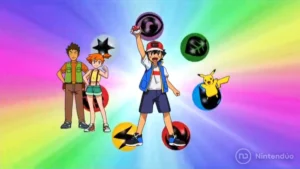 Ready for a punch of nostalgia? Take a look at the great opening of Ash's farewell series in Pokémon.